DUE TO OVERWHELMING DEMAND "HARRY STYLES LIVE ON TOUR" TO RELEASE ADDITIONAL SEATING FOR 2018 NORTH AMERICAN DATES INCLUDING LITTLE CAESARS ARENA SHOW JUNE 26
Tickets On Sale Now
Nov 24, 2017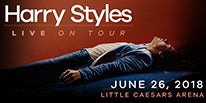 (DETROIT – November 24, 2017) — Due to incredible demand, Harry Styles Live On Tour will be opening additional seats in a 360 setup for the 2018 North American dates, allowing more fans to have the opportunity to see Harry perform live; including Little Caesars Arena's performance on Tuesday, June 26 at 8 p.m. with special guest Kacey Musgraves.
To ensure tickets get in the hands of fans directly, Ticketmaster Verified Fan Registration will be available starting Friday, November 24 HERE and supplies are limited.
Harry Styles released his first piece of solo music with his self-titled debut album Harry Styles in May 2017. The 10-track album features the platinum single "Sign of the Times," and new single "Kiwi." The album made history in the U.S. with the biggest debut sales week for a U.K. male artist's first full-length album since Nielsen Music began tracking sales in 1991, topping official charts at #1 in more than 55 countries. Following the album's release, Styles made his acting debut in Christopher Nolan's critically acclaimed film Dunkirk in July 2017. Dunkirk topped the U.S. box office in its first weekend and was one of the top grossing films of the summer, rounding off an incredible year for Styles as the first British artist with a #1 debut single, album and film in the same year. Check out the music video for "Kiwi" here.
For more information, visit www.hstyles.co.uk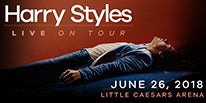 Little Caesars Arena
Harry Styles Live On Tour with special guest Kacey Musgraves