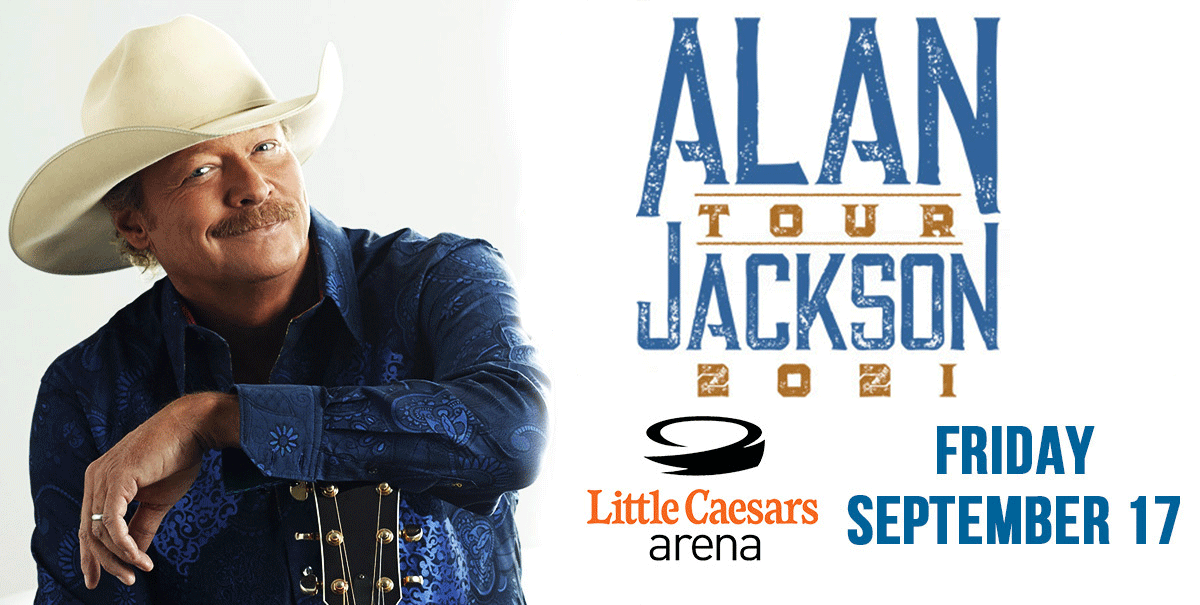 Alan Jackson
Alan Jackson
Event Details
Country music superstar Alan Jackson's August 28, 2020 concert at Little Caesars Arena is being rescheduled; the show will now take place on Friday, September 17, 2021.
The postponement stems from an ongoing need for caution and a desire to look out for the well-being of all concert attendees, venue personnel and staff, band and crew, and all involved in the show given continuing uncertainty regarding COVID-19 related health and safety concerns. Organizers appreciate the patience fans have exhibited while those behind the scenes worked to provide a new date.
Tickets for the August concert will be honored at the rescheduled date in 2021.
Alan Jackson's concerts find the country icon performing hits that have gained him legions of longtime fans, songs that continue to draw new crowds as new generations discover his music. Jackson's repertoire stands the test of time; it has impacted all sorts of artists who cite Jackson as an influence. It's these same songs – many written by Alan – that have earned him his place alongside country music's greatest names and cemented his place in its history with membership in the Country Music Hall of Fame and the Songwriters Hall of Fame. Fans will hear the songs they love from the man who wrote them and made them famous – enduring hits such as his debut single "Here in The Real World"…signature songs "Chattahoochee," "Drive" and "Gone Country"…party anthems "It's Five O'Clock Somewhere" and "Good Time"…and many, many more.
Jackson will be joined by special guest Tenille Townes, who is opening a majority of his shows in 2020. His Michigan tour stop will also showcase a rising star who plays at AJ's Good Time Bar, his self-owned honky-tonk on downtown Nashville's famed "Lower Broadway."
Alan Jackson's songs have gained him worldwide acclaim, from critics and fans alike. In 2020, he'll continue his tradition of "keepin' it country" as he brings 30 years of hits to the Motor City!
About Alan Jackson
A member of the Country Music Hall of Fame and an inductee to the Songwriters Hall of Fame, Alan Jackson's membership among music's all-time greats is part of a long line of career-defining accolades that include three CMA Entertainer of the Year honors, more than 25 years of membership in the Grand Ole Opry, a Billboard ranking as one of the Top 10 Country Artists of All-Time, induction to the Nashville Songwriters Hall of Fame, and the Heritage Award as the most-performed country songwriter-artist of ASCAP's first 100 years.
The man from rural Newnan, GA has sold nearly 60 million albums worldwide, ranks as one of the 10 best-selling male vocalists of all-time (rock, pop and country). He has released more than 60 singles – registering 50 Top Ten hits and 35 #1s (including 26 Billboard chart-toppers). He has earned more than 150 major music industry awards – including 19 Academy of Country Music Awards, 16 Country Music Association Awards, a pair of Grammys® and ASCAP's Founders and Golden Note Awards.
Jackson is one of the most successful and respected singer-songwriters in music. He is in the elite company of Paul McCartney and John Lennon among songwriters who've written more than 20 songs that they've recorded and taken to the top of the charts. He's also the man behind one of Nashville's most-popular tourist stops, AJ's Good Time Bar, a four-story honky-tonk in the heart of downtown featuring daily live music and a rooftop view of Music City.
Canadian-born and Nashville-based Tenille Townes is one of country music's most-promising new artists. With a stunning voice and wise, insightful lyricism beguiling in someone her age, Townes is quickly making a name for herself as a writer with the fortitude of Patti Griffin or Lori McKenna and the soulful nature of Chris Stapleton or Adele. She has garnered widespread attention including praise from Billboard, The Tennessean, Sounds Like Nashville, The Boot and NPR Music who declares that she is "…one of the most promising arrivals in mainstream Nashville's burgeoning singer-songwriter movement." Working with award-winning producer Jay Joyce on her debut LP, Townes crafted songs and stories that belie her years. Her debut single "Somebody's Daughter" was a chart hit in the U.S., reached No. 1 in Canada and earned her four Canadian Country Music Awards in 2019. Townes has released four tracks from her debut LP, set for release in 2020 via Columbia Records Nashville, including her current single, "Jersey on the Wall."