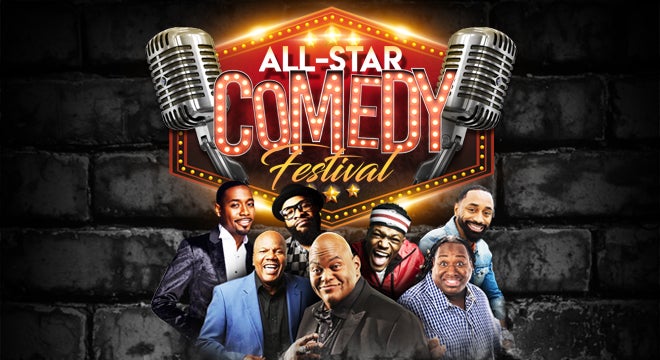 All Star Comedy Festival
featuring Lavell Crawford, Earthquake, Bruce Bruce, Kountry Wayne, D.C. Young Fly and Chico Bean
All Star Comedy Festival
featuring Lavell Crawford, Earthquake, Bruce Bruce, Kountry Wayne, D.C. Young Fly and Chico Bean
Event Details
"All-Star Comedy Festival" featuring comedians Lavell Crawford, Earthquake, Bruce Bruce, Kountry Wayne, D.C. Young Fly and Chico Bean will perform at the Fox Theatre in The District Detroit on Saturday, December 7 at 8 p.m. Lineup subject to change.
Comedian Lavell Crawford gained huge national exposure on NBC's hit reality series Last Comic Standing. Not only did NBC take notice, promptly signing Lavell to a holding deal with the network, but also Comedy Central, offering him his own half-hour standup special, Comedy Central Presents: Lavell Crawford. He appeared on the crime drama series Breaking Bad and has reprised his role on Better Call Saul as Saul Goodman's bodyguard Huell Babineaux.
Comedian Earthquake, known by his fans as "Quake," is beloved in the stand-up comedy arena. Known for years as "The Comedian's Favorite Comedian," his numerous television appearances on HBO, Comedy Central, BET, Showtime and the late-night talk show circuit have won him a loyal fan base. Chosen by Whoopi Goldberg for a stand-up comedy segment of The View, Earthquake has secured a place in the heart of comedy lovers across race, culture or social status. Earthquake hosts Quake's House weekdays from 4-6 p.m. ET on Kevin Hart's Laugh Out Loud Radio, SiriusXM channel 96.
Bruce Bruce is a name synonymous with keeping audiences rolling with laughter thanks to his captivating improv skills and larger than life comedic style. Bruce's steady style of comedy has been showcased across the country, and he has been entertaining audiences young and old, and of all backgrounds, for years. His wit, spontaneity and dazzling personality set him apart from other standup comedians. Although Bruce is known for his adult comedy, he prides himself on not using vulgarity to win a laugh, and is no stranger is winning over new audiences with every appearance he makes. For more information, visit www.bruce-bruce.com and follow on Twitter at @mybrucebruce.
Early on, King Kountry Wayne had visions of being a huge success in the music industry. Following that dream he placed his life savings behind a music venture. However, that did not yield him the success he had hoped for. During a time of soul searching he realized he was blessed with the gift to make people laugh and it blossomed from there.
A comedian, actor, social media influencer, musician and podcast host, D.C. Young Fly has proven that innate comedic ability, abundant creativity, and a passion for generating laughter in others can be translated across multiple mediums. He is a veteran cast member of Nick Cannon's Wild 'N Out, which is entering production for its 13th season, and has brought the humor to MTV's Total Request Live as one of its main hosts.
Although Anthony "Chico" Bean has only been doing stand-up for six years, he has compiled the experience of a well-seasoned comedian. Through his budding success as an opener for Chris Wiles, Chico became a founding member of the NC Comics All-Stars as well as NC's Freestyle Funny Comedy Show. He has performed all over the country at comedy clubs, colleges and universities.