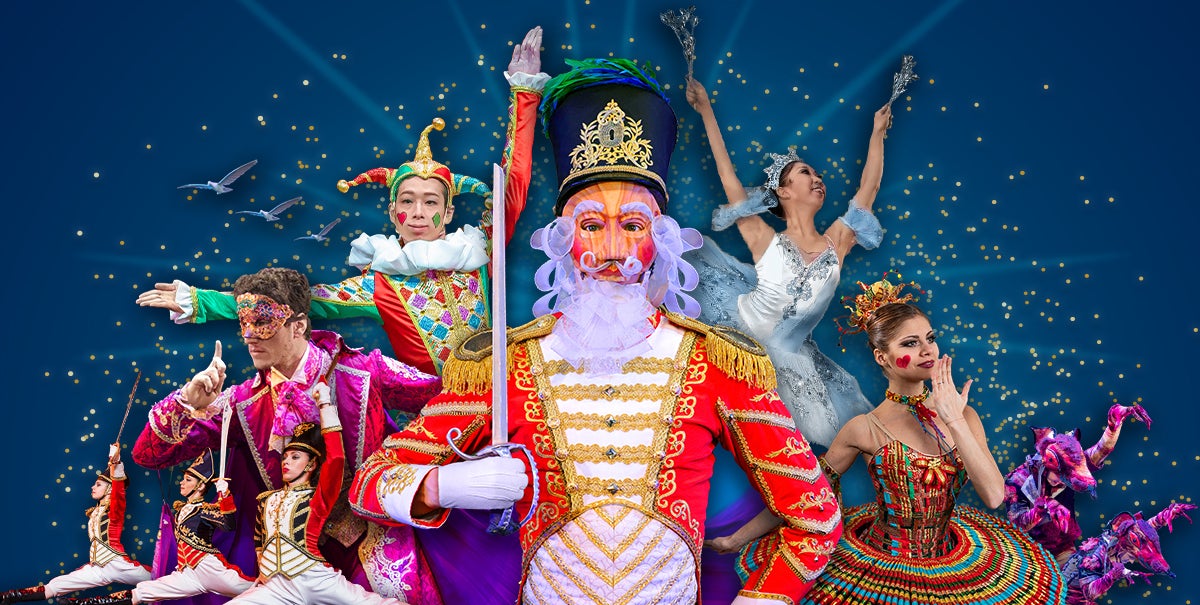 NUTCRACKER! Magical Christmas Ballet
NUTCRACKER! Magical Christmas Ballet
NUTCRACKER! Magical Christmas Ballet returns to Detroit with performances that bring holiday magic to life and create unforgettable memories for all ages. The company will perform three shows at the Fox Theatre on Sunday, December 10, 2023 at 12 p.m., 4 p.m. and 8 p.m. Comerica Bank is the exclusive presenting partner of the Fox Theatre.
The beloved family tradition is back: NUTCRACKER! Magical Christmas Ballet! The story follows Clara through the Snow Forest to the Land of Peace and Harmony, featuring the classic life-sized Kissy Doll, fierce red-eyed Rat King, and the Slavic Troika Sleigh. There she encounters 10-foot-tall puppets, exotic flying birds, and dancing couples from five great heritages of the world. Impressive acrobatics integrated into classical ballet make the production fresh and new.
NUTCRACKER! Magical Christmas Ballet features award-winning Principal Ballerinas and Danseurs from the top ballet academies of 11+ ballet capitals spanning Eastern Europe and Asia and a large corps de ballet. Two groups travel simultaneously to 80+ cities across the US and in Canada in November and December. NUTCRACKER! Magical Christmas Ballet is the most significant touring production of its kind and the only nationally touring Nutcracker production, acclaimed for its exquisite Dove of Peace adagio and unique setting of Act II in the Land of Peace and Harmony. New and returning audiences will love the world-class dancers, acrobats, dramatic storytelling, and visually stunning larger-than-life puppets. Exclusive to the show are a flock of white doves and a cadre of delicate marionettes crafted by Master Puppeteers in the World UNESCO Heritage city of Prague, Czech Republic.
In addition to the production of NUTCRACKER! Magical Christmas Ballet and other classic ballet performances, Talmi Entertainment advocates for community engagement in the arts and sends advanced dancers to tour cities. These dancers conduct auditions for local ballet students to participate in the performances. (Click Dance-with-Us for more information on this program.)
Additional Ticket Information
Group Tickets
Discounts are available for groups of 10 or more and are on sale now! For more group sales information and FAQs, please visit 313presents.com/Groups.
2023 marks the 31st annual North American tour of NUTCRACKER! Magical Christmas Ballet. The world-class Principal artists of the company bring the theme of Peace and Harmony to life, including gold-medalist Batur Buklu, Karyna Shatkovskaya from the Ukrainian ballet capital of Kharkiv, and rising star ballerina Olena Pecheniuk, 2022 Honored Artist of Ukraine. Rustem Imangaliyev, a highly awarded danseur from Kazakhstan, completes this esteemed cast.
Talmi Entertainment is the exclusive representation for NUTCRACKER! Magical Christmas Ballet's North American Tour, touring annually in over 80 cities. Under Talmi Entertainment's management, NUTCRACKER! Magical Christmas Ballet delivers unparalleled Vaganova artistry in the classic story ballets NUTCRACKER! Magical Christmas Ballet, Romeo and Juliet, Sleeping Beauty, Cinderella, Swan Lake, and more. Talmi Entertainment has a legacy stretching back to the early 1970s of presenting the finest artists working in dance. With a message of transcendent humanism and liberation from the Iron Curtain, the Glasnost and Leap to Freedom ballet tours of the late 80s launched newly freed former Soviet ballet artists onto the international stage. In 1993, "Moscow Ballet's Great Russian Nutcracker" was born of the desire to share this world-class art form and message of freedom with a new and diverse audience. "2022 marked a new epoch in which artists and creators move into the future with NUTCRACKER! Magic of Christmas Ballet." - Founder, Akiva Talmi (producer, composer, and recipient of the Metropolitan Opera Guild, Richard Rodgers, and Leonard Bernstein Awards) www.talmientertainment.com