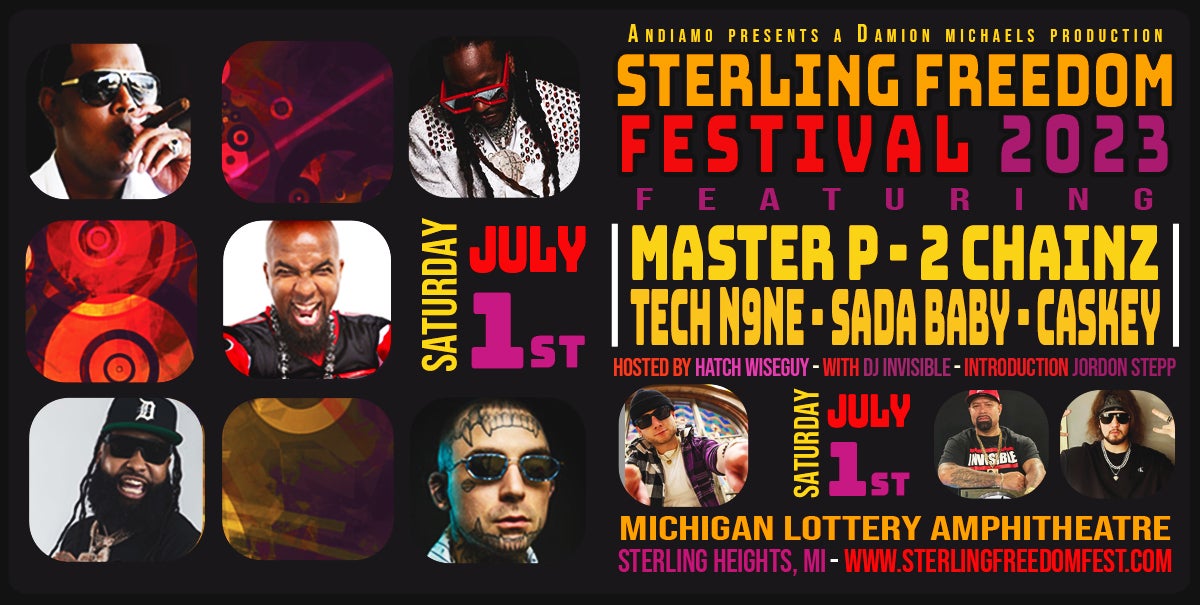 Sterling Freedom Festival
Featuring Master P, 2 Chainz, Tech N9ne, Sada Baby & Caskey
Sterling Freedom Festival
Featuring Master P, 2 Chainz, Tech N9ne, Sada Baby & Caskey
Get ready to experience the ultimate celebration of Hip Hop as the Sterling Freedom Festival takes center stage at the Michigan Lottery Amphitheatre on Saturday, July 1 at 7 p.m. This momentous event, brought to you by Damion Michaels Productions and Andiamo Presents, promises an electrifying evening filled with chart-topping artists, iconic performances and a fusion of old-school classics and cutting-edge beats.
The Sterling Freedom Festival marks a significant milestone, commemorating 50 years of Hip Hop's influential presence in the music industry. With its rich history and dynamic evolution, Hip Hop has become a global cultural phenomenon, shaping generations and transcending boundaries. This festival will pay homage to the genre's roots while showcasing its vibrant future.
The lineup for the Sterling Freedom Festival is a true testament to the diverse and powerful voices that have shaped the genre. Prepare for an unforgettable night as industry titans take the stage, including Master P, a legendary pioneer, entrepreneur and philanthropist who has left an indelible mark on Hip Hop and beyond; 2 Chainz, with his distinct style and undeniable charisma, 2 Chainz has become a household name, delivering hits that dominate the airwaves; Tech N9ne, known for his lightning-fast rhymes and energetic performances, Tech N9ne is a force to be reckoned with in the world of rap; Sada Baby, an emerging star who brings his unique Detroit sound, captivating audiences with his raw talent and infectious energy; and Caskey, whose introspective lyrics and captivating flow have garnered critical acclaim and a dedicated fan base.
The Sterling Freedom Festival is set to ignite the stage with an unparalleled atmosphere, pulsating beats, and an immersive experience that will transport attendees on a journey through the heart and soul of Hip Hop.