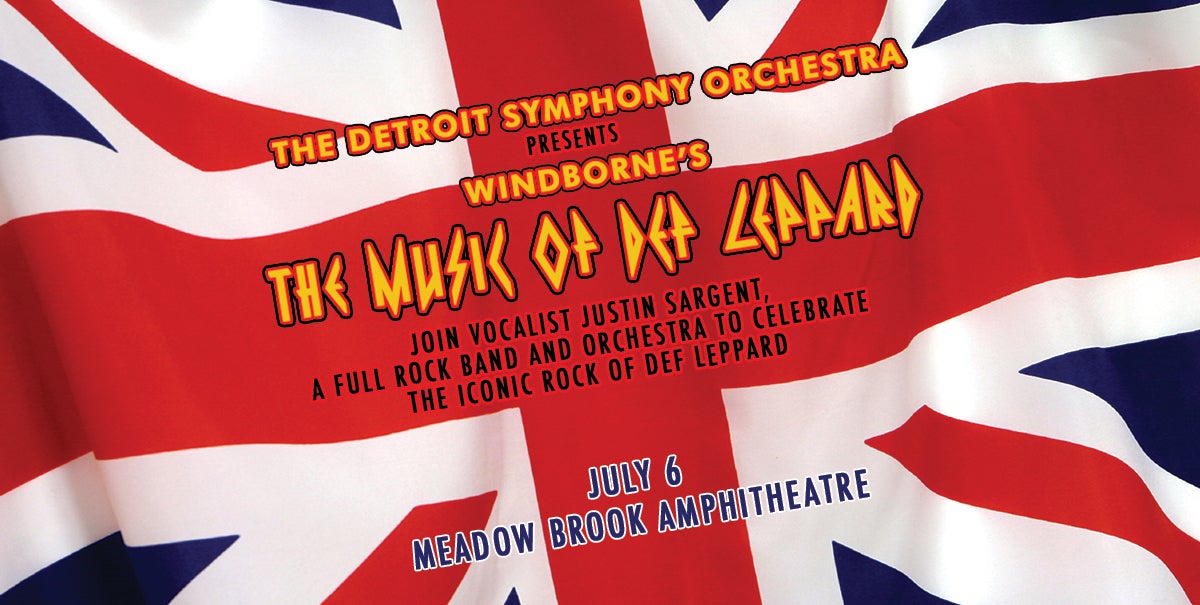 The Detroit Symphony Orchestra presents Windborne's The Music of Def Leppard
The Detroit Symphony Orchestra presents Windborne's The Music of Def Leppard
Experience the iconic music of Def Leppard like never before with the Detroit Symphony Orchestra (DSO) at Meadow Brook Amphitheatre on the campus of Oakland University on Thursday, July 6 at 8 p.m. Oakland University Credit Union is the exclusive presenting partner of Meadow Brook Amphitheatre.
In celebrating the Music of Def Leppard, the DSO will perform with Windborne Music for this special concert. Conductor Martin Herman will lead the orchestra as the show surges through hit songs "On Through the Night," "High 'n' Dry", "Pyromania," "Hysteria," "Adrenalize" and more. The performance will also be headlined by Broadway sensation Justin Sargent (Spiderman: Turn Off the Dark as "Peter Parker," "Drew" in the mega hit rock musical Rock of Ages, and an original member of the Broadway cast of Bonnie & Clyde) who's vocal range astounds audiences and soars through the stratosphere. He has performed alongside music legends such as John Legend, Alice Cooper, Sara Bareilles, Dee Snider, Kip Winger, Graham Russell, and has been a guest singer with the band Air Supply.
As with all Windborne's productions, the featured music is kept as close to the original as possible and wrapped with full orchestras to bring additional depth to the music. The Music of Def Leppard was arranged by Brent Havens.