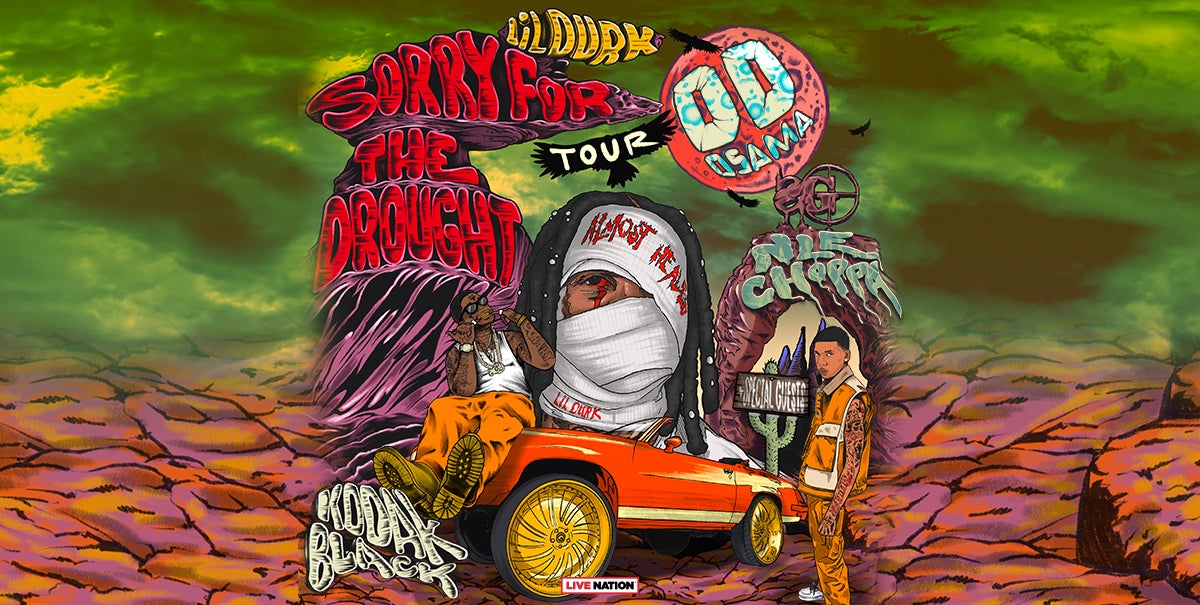 Lil Durk Brings "Sorry For The Drought Tour" To Pine Knob Music Theatre August 15
Tickets Go On Sale Thursday, May 18 at 10 a.m.
(DETROIT – May 16, 2023) – Following the release of his new single and music video "All My Life" featuring J. Cole and ahead of his highly-anticipated new album, Almost Healed releasing May 26, Lil Durk announced his "Sorry For The Drought Tour" hitting the road this summer with special guests Kodak Black, NLE Choppa, and DD Osama. Produced by Live Nation, the tour makes a stop at Pine Knob Music Theatre on Tuesday, August 15 at 7 p.m. Pine Knob Music Theatre is presented by Proud Partners United Wholesale Mortgage, Trinity Health and Ally.
Tickets go on sale Thursday, May 18 at 10 a.m. at 313Presents.com, LiveNation.com, Ticketmaster.com, and Almost-Healed.com.
The 2023 tour run comes after his successful 'The 7220 Tour' which hit North America in 2022 featuring special guests Doodie Lo & Booka600. Last year, Lil Durk owned the charts with the platinum-certified 7220, which crashed the Billboard 200 as his first #1 debut on the chart and boasted "AHHH HA," "What Happened To Virgil" [feat. Gunna], and the cross-genre smash "Broadway Girls" [feat. Morgan Wallen].
About Lil Durk
Chicago's Lil Durk is not only one of the forefathers of Chicago's drill movement that influenced a generation of rappers across the world, he's also one of rap's current stars. 2020 saw Durk release two gold-certified albums - Just Cause Y'all Waited 2 and The Voice - which both peaked at #2 on the Billboard 200 chart and produced 12 Billboard Hot 100 entries. In 2021, Durk released his first ever chart-topping album, The Voice Of The Heroes with Lil Baby, which earned him a BET Hip-Hop Award for Best Rap Duo. Thanks in part to his prolific run of high-profile collaborations, including songs with Drake, Kanye West, and the 3x-platinum "Back in Blood" with Pooh Sheisty, Durk earned the honor of having the most Billboard Hot 100 chart entries in 2021 with 42. In addition to his own releases, Durk has experienced success through his Only The Family label venture, which catapulted the late King Von to mainstream recognition shortly before his untimely passing. The 2021 OTF compilation Loyal Bros debuted #12 on the Billboard 200 chart. Last year, 7220 debuted #1 on the Billboard 200 charts and subsequently went #1 again four weeks later. Boasting features from Morgan Wallen, Gunna, and Future, the gold-certified album is Durk's most successful to-date, with over 1 Billion streams in 2 months.
About Kodak Black
An MC who broke out of Pompano Beach, Florida when he was just 18, Kodak Black (born Dieuson Octave) attracted listeners with a sound that harked back to the Dirty South of the '90s. Controversy and legal troubles followed the rapper on every step of his journey to stardom, but his ruthless flows and snarling attitude propelled albums like 2020's Bill Israel and 2022's Back for Everything and Kutthroat Bill: Vol. 1 into the upper reaches of the charts. Kodak Black began sharing his music with the public in 2013, when he was just 16. Recording demos in the back of a drug house and repeated visits to juvenile court gave weight to his violent lyrics and stories of inner-city life -- two things that fueled his 2014 mixtape, Project Baby. The mixtape Heart of the Projects followed in 2015, featuring "SKRT," a hit track that got massive exposure when superstar Drake shared it on the web and played it on his OVO Sound Radio show. In 2016, Kodak Black appeared on French Montana's hit single "Lockjaw" before releasing his fourth mixtape, Lil B.I.G. Pac. The following year he put out his debut studio album, Painting Pictures, which featured guest spots from Jeezy, Future, and Young Thug. The set topped the R&B/Hip-Hop chart and rose to number three on the Billboard 200. Kodak quickly returned with Project Baby 2 later in 2017, the fifth mixtape and sequel to the 2014 Project Baby release. In October of 2021, Kodak appeared as a featured artist on eight of the eleven tracks that made up the Halloween-themed mixtape Sniper Gang Presents Syko Bob & Snapkatt: Nightmare Babies. One of those tracks, "Super Gremlin," quickly became a platinum hit, rising to the number four position of the Billboard charts. Fourth studio album Back for Everything arrived in February of 2022 and peaked at the number two spot on the Billboard 200. After appearing on Kendrick Lamar's Top Ten hit "Silent Hill," Kodak returned later that year with the solo singles "Walk" and "Spin," which landed on his fifth official full-length, Kutthroat Bill: Vol. 1. The Top Ten set also featured guests Lil Crix ("Play"), VVSNCE ("Starter Kit"), NFL Tuewop ("Ammunition"), and Prince Swanny ("Bad Man"). ~ David Jeffries
About NLE Choppa
NLE Choppa is relentless. With more than 5.5 billion total streams, 14 RIAA-certified plaques, 18 million combined followers, and two 2023 singles that found a comfortable home on Billboard's Hot 100 chart, the superstar 20-year-old MC from Memphis has already accomplished a lot. And yet he's constantly working to satiate the needs of his fans and prove wrong any remaining doubters. Choppa's recent work—culminating in his new album, Cottonwood 2 is still an ante-up on every conceivable level. Choppa's emergence in the rap game is the stuff of legend, but for the uninitiated: His Platinum-certified single "Shotta Flow" became one of the biggest rap songs of 2019 without a premiere, co-sign, or major label push. Desiring creative control and ownership, he partnered with Warner Records to distribute his music and future releases on his label, No Love Entertainment. Fast forward to 2023 and the technical pyrotechnics remain, but Choppa has spent more time turning inward, reflecting on his devotion to family and spirituality, and sharing more of himself than he ever has. His songs about overcoming struggles and celebrating wins have won support from Billboard, The New York Times, Forbes, GQ, and Complex. Now, he just wants the rap conversation to reflect his immense talent. "When you mention the greatest artists, or when you mention the hottest artists out right now, I have to be in that conversation," he declares.
About DD Osama
DD Osama is far from your average drill rapper—he has transcended into a superstar and heartthrob of New York. Born and raised in the Sugar Hill district of New York, DD Osama is one of the first drill rappers to make waves out of Harlem, first garnering local buzz alongside his brother, Notti Osama, in early 2022 with collaborations such as "Dead Opps" (over 12M streams). This past July, the tragic murder of Notti Osama shook the community to its core. As DD coped with this earth-shattering loss, he released a string of touching singles in Notti's honor, including "Letter 2 Notti" (over 14M streams). As he continues to skyrocket, DD Osama is committed to fulfilling his late brother's dreams of a successful music career. DD has sold out every single one of his shows—throughout the Tri-state area, in Chicago, and even in Los Angeles—and all of them have been packed wall to wall with screaming teenage girls. Across social media, there are dozens of fanpages made in DD's honor, many of which have racked up follower counts in the six-figure range––and on TikTok alone, #ddosama has 3.3B views. After releasing a string of viral singles, including his biggest song to date, "40s N 9s" (feat. Sugarhillddot) (over 18M streams), he blew up seemingly overnight. In just a matter of months, he went from sporting his school uniform to modeling Drake's NOCTA x Nike 'Street Uniform' collection alongside fellow Harlem rappers and lifelong friends Sugarhillddot & the late Edot Baby and sporting shades for Kanye's YZY SHDZ campaign.