313 PRESENTS ANNOUNCES SELLOUT FOR INAUGURAL HITACHI COLLEGE BASKETBALL SHOWCASE AT LITTLE CAESARS ARENA
Busy Day in Downtown Detroit; Fans Encouraged to Arrive Early – Little Caesars Arena Doors Open at 10:30 a.m.
Dec 16, 2017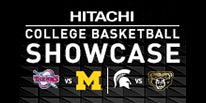 DETROIT – 313 Presents today announced a sellout for the inaugural Hitachi College Basketball Showcase at Little Caesars Arena, which will be held tomorrow, Saturday, Dec. 16. The doubleheader will feature University of Detroit Mercy vs. University of Michigan at Noon and Oakland University vs. Michigan State University 25 minutes following game 1.
"Saturday is going to be a great day in The District Detroit," said Tom Wilson, president and CEO for Olympia Entertainment and interim president of 313 Presents. "We're excited about the first two college basketball games at Little Caesars Arena, and encourage fans to arrive early and enjoy everything that The District Detroit has to offer."
Doors will open at 10 a.m. for Mike's Pizza Bar and Sports & Social and 10:30 a.m. at Little Caesars Arena, The District Market and Kid Rock's Made in Detroit Restaurant.
In addition to the doubleheader, the Detroit Lions will host the Chicago Bears at Ford Field at 4:30 p.m. Later that evening, Mannheim Steamroller Christmas by Chip Davis will perform at the Fox Theatre as part of the Fifth Third Bank Fox Theatre Series at 7:30 p.m.
Guests are encouraged to download The District Detroit Mobile App presented by XFINITY, available now in the App Store and Google Play Store. Before leaving home, fans can use the app to find events in The District Detroit, purchase tickets and parking, and even find the best route to parking lots and venues.