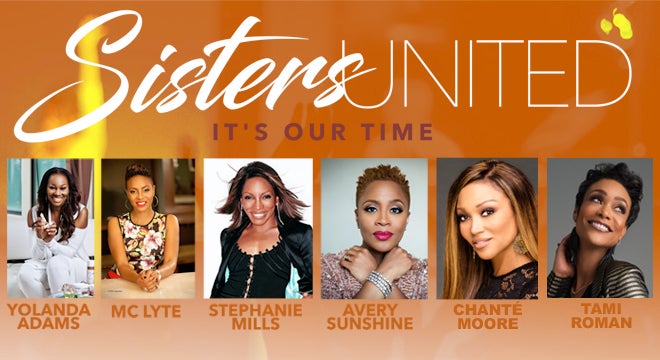 "Sisters United: It's Our Time" - CANCELED
with Yolanda Adams, MC Lyte, Stephanie Mills, Avery Sunshine, Chanté Moore and Tami Roman
Sep
16
, 2018
Fox Theatre
"Sisters United: It's Our Time" comes to the Fox Theatre on Sunday, September 16 at 7:30 p.m. The lineup includes: Yolanda Adams, MC Lyte, Stephanie Mills, Avery Sunshine, Chanté Moore and Tami Roman.
Lineup is subject to change.
Yolanda Adams is a five-time Grammy® Award-winning artist who has triumphantly carried the torch for contemporary gospel and inspirational music with her thirteen studio albums. This Houston-native and one-time school teacher has earned numerous accolades including the first American Music Award for Contemporary Gospel Artist and four Gospel Music Association Dove Awards. Her pioneering blend of modern gospel with R&B infused with a touch of jazz continues to inspire her fans and transform the musical landscape. The "Yolanda Adams Morning Show," a program of her creation and ownership, can currently be heard on radio stations across the country.
MC Lyte first appeared on the scene in 1988 with her debut album Lyte As A Rock. Her inspiring 1993 classic anthem, "Ruffneck," was nominated for a Grammy® for Best Rap Single. In fact, she was the first female solo rapper ever nominated for a Grammy®. Ten years later her 2003 album Da Undaground Heat Vol.1 hosted by Jamie Foxx, garnered her second career Grammy® nomination. It was released on her own label SGI/CMM. The single "Ride Wit Me" also received a BET Award nomination for Best Female Rap Performance. In 2006, MC Lyte became the first solo female rapper to be honored/inducted on VH1's Hip Hop Honors.
Stephanie Mills hails from Brooklyn, New York and grew up singing in her home church. She signed with 20th Century Fox Records in 1979 and by 1984, she had climbed the charts with major hits: "Sweet Sensation," "Never Knew Love Like This Before" (a Gold single), "Two Hearts" (a duet with Teddy Pendergrass), and "How Come U Don't Call Me Anymore?". Stephanie scored three bestselling albums in a row with "Whatcha Gonna Do With My Lovin," "Sweet Sensation," and "Stephanie" in a span of just two years.
Avery Sunshine and her guitarist (now husband) Dana "Big Dane" Johnson have collectively collaborated with everyone from Anthony Hamilton, KEM, Gregory Porter, DJ Jazzy Jeff, and Roy Ayers to B.B. King, Michael Bublé and Jennifer Holliday. Avery Sunshine's #1 hit single "Call My Name" from her critically heralded sophomore project, The SunRoom, was awarded ASCAP's Rhythm and Soul song of the year award. Career milestones have included opening for Babyface at Madison Square Garden, performing for Smokey Robinson at his Rock 'N Roll Hall of Fame tribute to being invited to perform for the Queen of Soul, Aretha Franklin, twice in one year. In the same year, Avery was nominated for a Soul Train award and a BET Centric Award.
Veteran, songwriter, producer and singer Chanté Moore has more than 20 charting singles and collaborations with the likes of Prince, The Isley Brothers, R. Kelly and Babyface. Her 1992 debut album Precious went Gold. Her third studio album, This Moment Is Mine (1999), featured the Gold-selling "Chanté's Got A Man." In 2004, she won a Soul Train Music Award for Best R & B/Soul Single for the song "Contagious." That same year Chanté signed with Arista Records and starred on the Las Vegas Strip in Bally's Jubilee. The NAACP Image Award and American Music Award winning artist has lent her unique vocal skills to the soundtracks of such films as Waiting to Exhale, Beverly Hills Cop III, How Stella Got Her Groove Back, Romeo Must Die and Big Momma's House. Moore release her seventh album, The Rise of the Phoenix, in September 2017 and an EP, 1 of 4, this past April.
Tami Roman is the dynamic personality of VH1's number one reality show, Basketball Wives, and has a career that has spanned over 18 years, getting her start as a reality show pioneer on MTV's hit The Real World. Roman has gone on to build a diverse resume starring as a series regular on CBS' vampire hit Moonlight and Fox's Sex Lies and Secrets with Denise Richards. Additionally, Tami has starred in projects with Courtney Cox, Alex O'Loughlin, Terrence Howard, Kevin Hart, Laz Alonso, Taraji P. Henson and Vivica A. Fox.
Event Times
Sunday, September 16, 2018

TBA