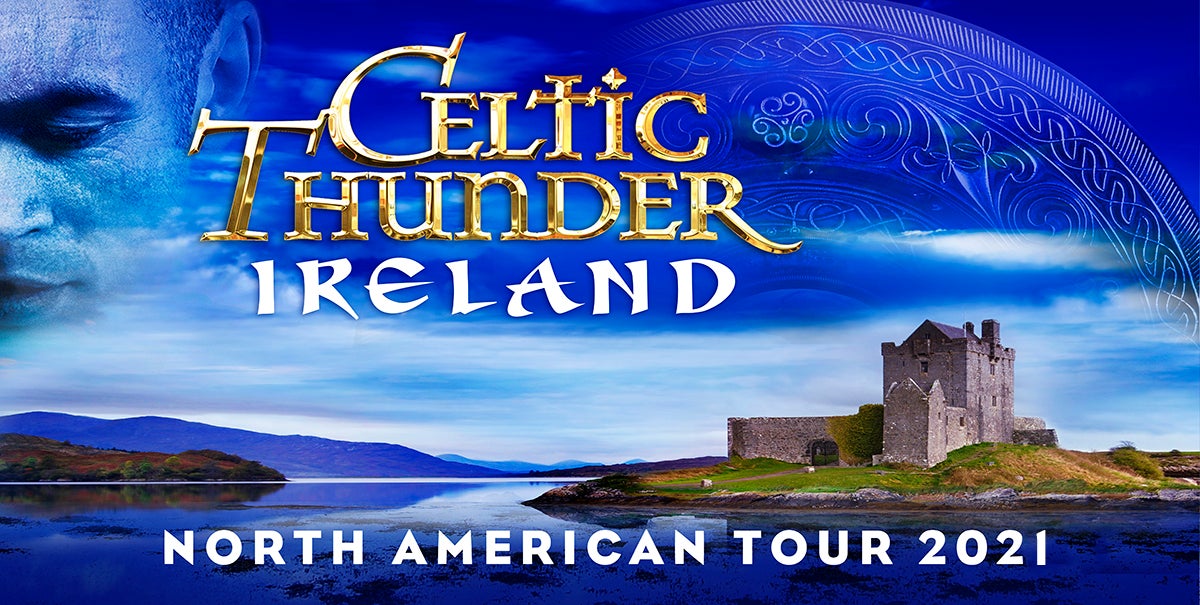 Celtic Thunder: IRELAND
Celtic Thunder: IRELAND
Event Details
Celtic Thunder's show at Little Caesars Arena on November 24, 2020 has been rescheduled to play at the Fox Theatre on Friday, December 17, 2021.
Due to the ongoing world health crisis and the continued upwards trend of COVID-19 cases in many US states, Irish Supergroup Celtic Thunder has taken a decision to move its 2020 US and Canadian tour dates to Fall/ Winter 2021. Show producer Sharon Browne cites current US Visa Entry Restrictions for non-US residents, the uncertain timeline for reopening of venues across North America and varying quarantine regulations for movement between States as contributing factors for moving the tour to 2021. All tickets sold for 2020 tour dates will be automatically transferred to the revised 2021 show dates.
"IRELAND" is a brand-new revue show that revisits their most popular Irish and Celtic songs of the past decade and celebrates the influence of Irish and Celtic music around the world.
The Celtic Thunder "IRELAND" live theatrical show embodies the essence of the Public Television darlings, delivering a blend of lively, fast paced and upbeat songs "A Place in The Choir" "The Galway Girl" and "Raggle Taggle Gypsy" classic ballads "Mountains of Mourne" and "The Wild Rover" and renowned Irish love songs such as "She Moved Through The Fair" and "Danny Boy". All with a special Celtic Thunder twist, of course.
Drawing from their most popular Television Specials and hits since their inception, "IRELAND" features the songs and performances that launched Celtic Thunder into the hearts and homes of audiences across the US and Canada, winning them the mantle of Top World Music Act in Billboard five times over.
Both the ensemble and solo performances in this thrilling evening of entertainment highlight the diversity of Irish and Celtic music and song. Memorable moments include the group's unique take on beloved Irish classics such as "Mo Ghile Mear" and "May The Road Rise", their powerful and inspiring anthems of "Ireland's Call' "Caledonia" and "My Land" and new and contemporary numbers such as "Galway Girl" "Toora Loora Lay" and "Castle On The Hill".
Renowned for their blended harmonies and wonderful arrangements, the ensemble numbers in "Celtic Thunder IRELAND" reflect the power of the soloists, who range in age from mid 20's to 40's and feature songs that depict both their musical footprint over the past 12 years as well as their amazing musical heritage. Celtic Thunder vocalists are backed, as always, by the amazing 8-piece Celtic Thunder band, ensuring that "Celtic Thunder IRELAND" has something special something to offer to everyone.
Formed in Dublin in 2007, Celtic Thunder is a multi-dimensional musical and theatrical ensemble celebrated around the world for emotionally powerful performances and a state-of-the-art production. Billboard magazine has named Celtic Thunder the Top World Album Artist (in 2008, 2009, 2011, 2015 and 2016) while the group has had LPs placed in the World Album Top 10 every year since 2008.
Discounts are available for groups of 10 or more. If you are interested in bringing a group to an upcoming event, please click the "Get Group Tickets" button below to fill out our interest form and a Group Sales Executive will contact you within 48 hours. If you would like to speak with an executive directly, please call 313-471-3099. For more group sales information and FAQs, please visit 313presents.com/Groups.