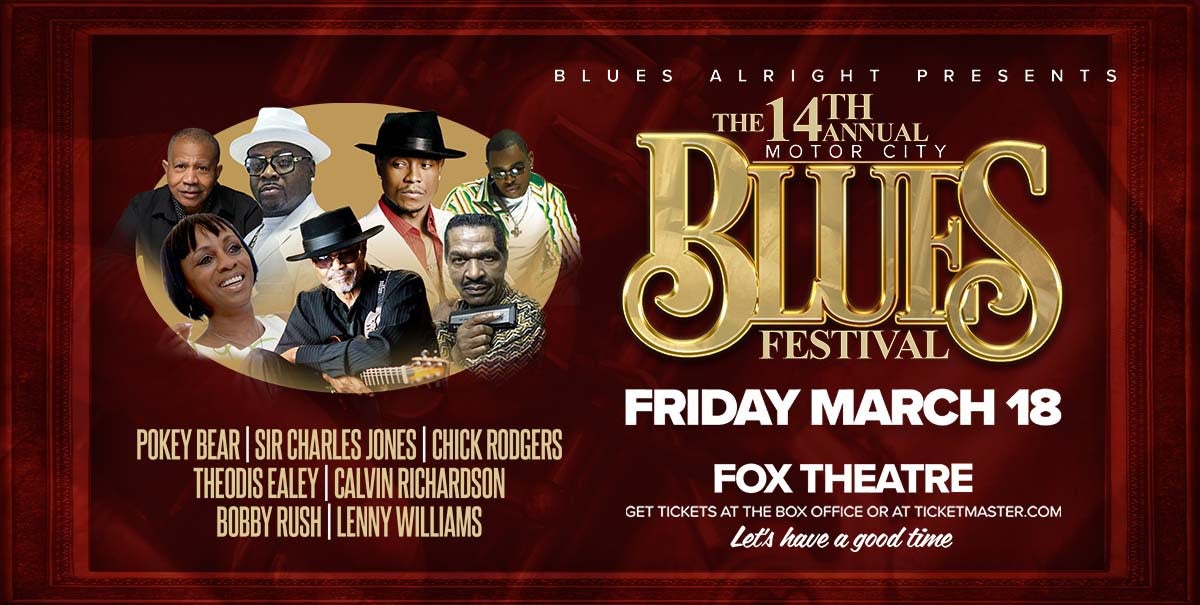 14th Annual Motor City Blues Festival
featuring Bobby Rush, Calvin Richardson, Pokey Bear, Melvia "Chick" Rodgers-Williams, Sir Charles Jones, Lenny Williams and Theodis Ealey
14th Annual Motor City Blues Festival
featuring Bobby Rush, Calvin Richardson, Pokey Bear, Melvia "Chick" Rodgers-Williams, Sir Charles Jones, Lenny Williams and Theodis Ealey
The 14th Annual Motor City Blues Festival featuring Bobby Rush, Sir Charles Jones, Calvin Richardson, Pokey Bear, Melvia "Chick" Rodgers-Williams, Lenny Williams and Theodis Ealey scheduled for March 20, 2021 at the Fox Theatre has been rescheduled to take place on Friday, March 18, 2022 at 7 p.m. Comerica Bank is the exclusive presenting partner of the Fox Theatre.
All previously purchased tickets from the three previously scheduled dates (March 14, 2020; October 16, 2020 and Saturday, March 20, 2021) will be honored for the newly scheduled date and fans are encouraged to hold onto their tickets. Ticket holders unable to attend the rescheduled date have until Wednesday, February 24 to request a refund at point of purchase. All venue box offices are currently closed. Please email Ticket Operations at ticketoperations@olyent.com to schedule an appointment for any box office refund inquiries.
Bobby Rush is a Louisiana native who earned the title "King of the Chitlin' Circuit" after relocating to Jackson, MS in the early 1980s. His distinctive "folk funk" style makes for an upbeat and often provocative live performance. Blues audiences around the country recognize his songs such as "Big Fat Woman" and "What's Good for the Goose Is Good for the Gander."
Sir Charles Jones is an artist who has mastered the collaboration of throwback and modern in his traditional Southern style of R&B. He is a vocalist, songwriter, producer, multi-instrumentalist and self-proclaimed "Undisputed King of Southern Soul." His sophomore album, Love Machine (2001), reached #9 on the Billboard Independent Albums chart. Three years later, Jones released his third album, A Southern Soul Party, which peaked at #11 on the US Blues chart. His fifth album, My Story (2008), reached #13 on the US Blues chart.
North Carolina native Calvin Richardson is a gritty, gospel-minded urban contemporary/neo-soul vocalist and songwriter whose influences have ranged from Sam Cooke, Bobby Womack, Donny Hathaway and Marvin Gaye to Jodeci and K-Ci & JoJo. He has released seven studio albums to date, including his latest, All or Nothing, in 2017.
Southern bluesman Pokey Bear injects a larger-than-life swagger into his R&B-infused bayou soul. One-third of the Louisiana Blue Brothas with Tyree Neal and Adrian Bagher (the trio issued Love on the Bayou in 2014), Pokey Bear also released the solo effort Josephine Son Pokey in 2014. The album included sensual dance tracks like "The Gingerbread Man" and "Mr. Hit It and Quit It" as well as his de facto theme song, "They Call Me Pokey." Mr. It Ain't Fair arrived in January 2016. The album featured local dancefloor hit "Good Foot" and "Shake That Money Maker" with Mystikal.
Melvia "Chick" Rodgers-Williams, to give her full name, was born in Memphis. She began to sing in church with her father then grew musically in the `80s, becoming soloist in the group Clockwise. In 1989 she moved to Chicago, home of the blues and here her fame grew thanks to her strong soul voice. She began to be known outside the United States with tours in Europe and Japan. She performed as supporter of the great Koko Taylor and participated in many important international blues festivals. Not content with singing only blues, she began to gain familiarity with jazz repertoires and participated in important American television musicals.
Ultimate soul crooner and Oakland native Lenny Williams possesses one of the most distinctive voices in contemporary music. With his rich, passionate vocal style, he is rightfully regarded as one of R&B's most influential soul men. Williams began his musical career making records that have become R&B and Pop classics, including "Cause I Love You" (recorded on his solo album) and "So Very Hard To Go," which he recorded as the lead singer of Tower of Power. Williams' style has transcended into the new millennium, influencing many of today's most popular R&B and hip hop artists.
Theodis Ealey is hailed as a blues singer, guitarist, and bandleader. Blues fans know him by his nickname "The Bluesman Lover," for his brassy R&B love tunes. In 1994, Ealey won the Male Vocalist Top Star Award in San Francisco, and three years later he was named the Mo' Better Blues Male Artist of the Year in Atlanta. In 2004, Ealey released the album Stand Up in It, and the title track, a playfully raunchy bit of bedroom advice, became a surprise hit single, spending 21 weeks on the R&B/Hip-Hop chart and peaking at number one.