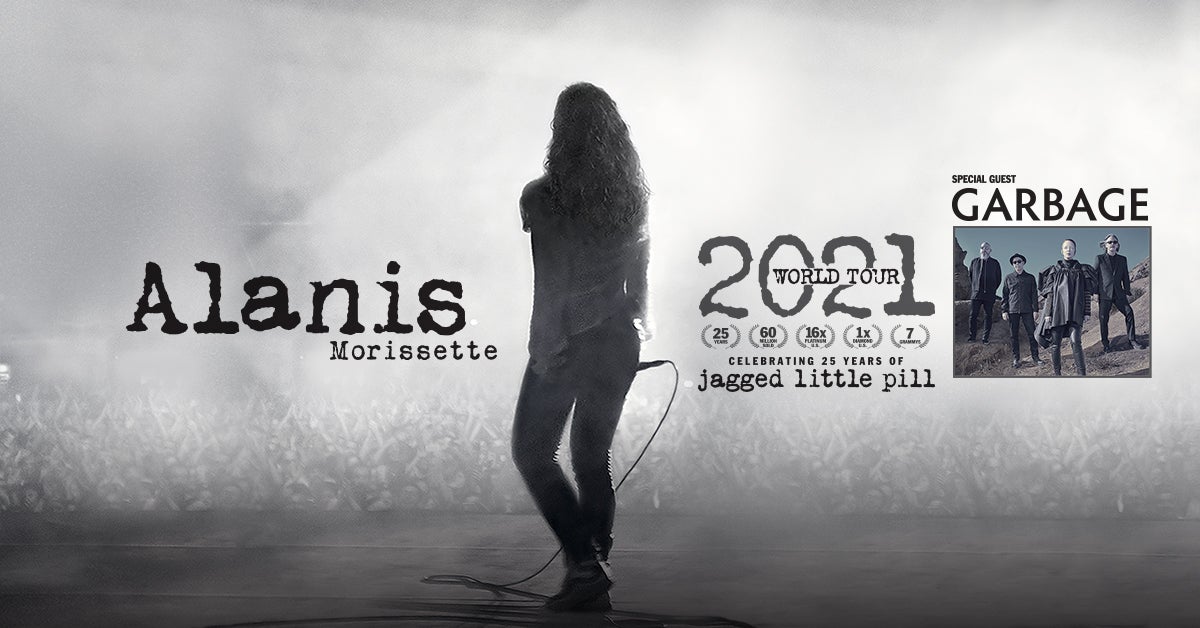 Alanis Morissette
with special guest Garbage
Alanis Morissette
with special guest Garbage
Event Details
Alanis Morissette at DTE Energy Music Theatre on July 21, 2020 has been rescheduled to Sunday, September 12, 2021.
Tickets for the previously scheduled date will be honored at the rescheduled date and fans are encouraged to hold onto their tickets.
Seven-time Grammy® Award-winning singer and songwriter Alanis Morissette will embark on a 31-date North American tour to celebrate 25 years of Jagged Little Pill. Support will be provided by special guest Garbage.
Alanis's new song, "Reasons I Drink" via Epiphany Music, was co-written by Alanis and Michael Farrell (Morrissey, Macy Gray) and produced by Alex Hope (Troye Sivan, Ben Platt, Tove Lo). The track comes off Alanis' highly anticipated ninth album, Such Pretty Forks In The Road. This will be Alanis' first original album since 2012's Havoc And Bright Lights. In 2019, Alanis was honored with the Billboard's Women In Music Icon Award.
Jagged Little Pill made its Broadway debut in December 2019 at the Broadhurst Theatre in New York City. Featuring lyrics by Alanis and music by Alanis and six-time Grammy® winner Glen Ballard, Jagged Little Pill is directed by Tony Award-winner Diane Paulus (Waitress, Pippin) and features an original story by Academy Award-winning writer Diablo Cody (Juno, Tully). Jagged Little Pill is a breathtaking new musical inspired by the themes and emotions revealed in Alanis Morissette's album of the same name. Variety notes "[a]lways engaging, often moving and even rousing, the show boasts dramatic interest and integrity on its own theatrical terms."
Since 1995, Alanis Morissette has been one of the most influential singer-songwriter-musicians in contemporary music. Her deeply expressive music and performances have earned vast critical praise and seven Grammy awards. Morissette's 1995 debut, Jagged Little Pill, was followed by nine more eclectic and acclaimed albums. She has contributed musically to theatrical releases and has acted on the big and small screen. Outside of entertainment, she is an avid supporter of female empowerment, as well as spiritual, psychological and physical wellness. In 2016, Alanis launched Conversation with Alanis Morissette, a monthly podcast that features conversations with a variety of revered authors, doctors, educators, and therapists, covering a wide range of psychosocial topics extending from spirituality to developmentalism to art. On December 5, 2019, Jagged Little Pill the musical made its Broadway debut at the Broadhurst Theatre in New York City. She is currently working on a studio album of new music scheduled for Spring 2020. For more information see www.alanis.com.
Listen to "Reasons I Drink"
Multiple Grammy-nominated, alternative rock band Garbage consists of lead singer and feminist icon Shirley Manson, multi-instrumentalists Duke Erikson and Steve Marker and drummer Butch Vig who is a highly successful music producer in his own right. Shirley Manson is considered a music and fashion icon, feminist and outspoken advocate for the LGBTQIA community, mental health care, women's and animal rights. Garbage have been together as a band for over 25 years, selling more than 20 million albums. In 2017 they embarked upon a co-headline tour of North America with iconic post-punk band Blondie as well as releasing their universally well-received coffee table book, This Is The Noise That Keeps Me Awake. Their most recent studio album, Strange Little Birds debuted at No. 1 on Billboard's Top Rock and Alternative Albums chart. Described as the "alternative to everything" by Pitchfork Magazine, Garbage set up their own, independently-run record label, STUNVOLUME through which they have been releasing their own records since 2012. They are currently putting the finishing touches to their yet untitled 7th studio record which is currently slated for a late 2020 release.
Liz Phair is a Grammy® nominated singer/songwriter whose debut album, Exile In Guyville, is considered by music critics to be a landmark of indie rock. She has been a recording artist and touring performer for twenty-five years, paving the way for countless music artists, particularly women, who count her among their major influences. Her deeply clever and often brutally candid songs have been garnering critical praise since she began her career in the early 1990s. This year, saw the release of her critically acclaimed memoir, Horror Stories. in their review, NPR said, "there are so many things to admire about Horror Stories, it's hard to list them all. But the real star of Horror Stories is Phair's elegant but unpretentious writing, which proves she's as adept at writing prose as she is at writing songs. And anyone familiar with her music knows how great a thing that is."