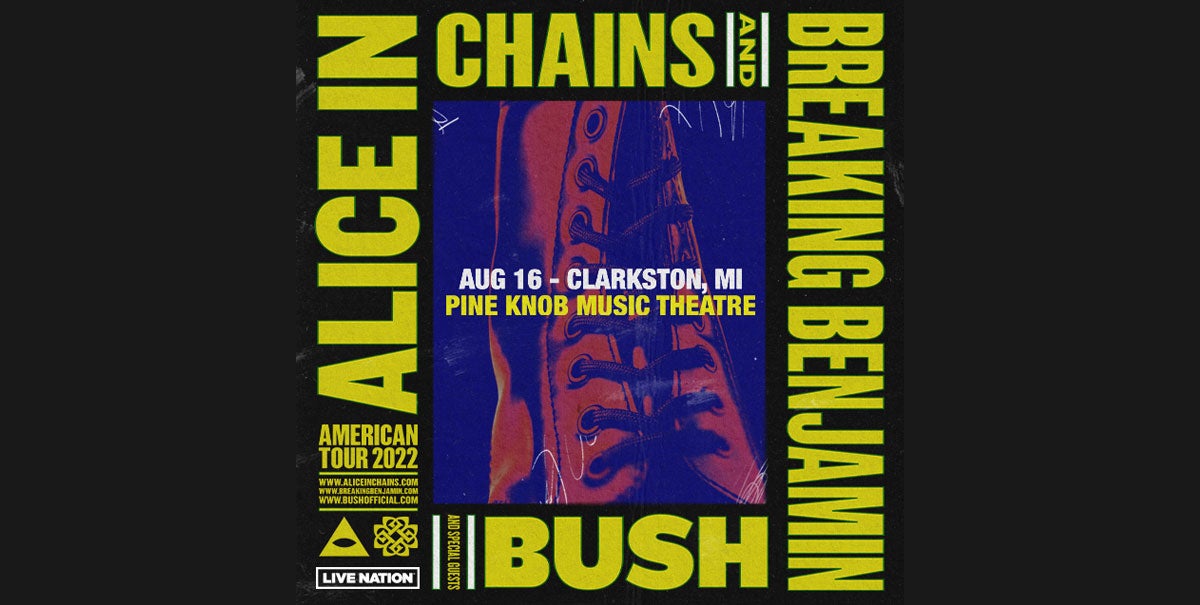 Alice In Chains and Breaking Benjamin
with special guests Bush and The L.I.F.E. Project
Alice In Chains and Breaking Benjamin
with special guests Bush and The L.I.F.E. Project
Event Details
Iconic American rock bands Alice In Chains and Breaking Benjamin come together for the first time for a co-headlining tour with special guests Bush and The L.I.F.E. Project to put on an incredible night of rock across the country, making it one of the hottest tours of the summer. Produced by Live Nation, the 30-city tour will make a stop at Pine Knob Music Theatre on Tuesday, August 16 at 5:30 p.m. Pine Knob Music Theatre is presented by Proud Partners United Wholesale Mortgage, Trinity Health and Ally.
The tour kicks off on August 10 at The Pavilion at Star Lake in Burgettstown, PA winds across the U.S. in Camden NJ, Milwaukee, Salt Lake City, Dallas, Seattle, Irvine, CA and more before wrapping up in Mansfield at the Xfinity Center on October 8.
With over 30 years behind them and 30 million records sold, the upcoming tour marks Alice In Chains' first tour dates in nearly three years. The band will be playing iconic songs from their classic albums like Dirt and Facelift as well as fan favorites from their more recent releases Rainier Fog and Black Gives Way To Blue. Alice In Chains were honored in December 2020 with the Museum of Pop's annual Founders Award. The celebration was streamed worldwide, viewed well over one million times, and offered fans a chance to see acoustic performances from Alice In Chains, as well as covers from musicians and friends of the band.
Sean Kinney, founding member and drummer for Alice In Chains said about the tour, "We're looking forward to finally hitting the road again this summer. It's been too long and we can't wait to get outdoors and share a night of music with our fans again."
Alongside Alice In Chains, Breaking Benjamin are looking forward to performing live, coming off of a pair of successful tours in Fall 2021. Their most recent work, Aurora was released in January of 2020. Comprised of reimagined versions from their critically acclaimed catalog, Aurora quickly became a fan favorite and featured the brand new, "Far Away." As always, the band will be performing a set chock full of hits all summer long.
Ben Burnley of Breaking Benjamin says, "We are so extremely excited to be hitting the road with Alice In Chains and Bush. It's such an honor to share the stage with such amazing bands that we grew up listening to and have influenced us so very much! We can't wait to see you all out there!!"
Over the course of their remarkable career, Alice In Chains (vocalist/guitarist Jerry Cantrell, drummer Sean Kinney, bassist Mike Inez and vocalist/guitarist William DuVall) have garnered multiple Grammy® nominations, sold more than 30 million albums worldwide, and amassed a diehard international fanbase whose members number in the millions. Their discography features some of the biggest and most important albums in rock history, including 1992's quadruple-platinum-certified Dirt, 1994's triple-platinum-certified EP Jar Of Flies, which was the first EP in music history to debut at No. 1 on the Billboard Top 200 and 1995's self-titled double-platinum-certified Alice In Chains, which also entered the Billboard Top 200 at No. 1. They returned in grand style in 2009 with the critically acclaimed Black Gives Way To Blue, which hit No. 1 across the rock and alternative charts, earned a Grammy® nomination, was certified Gold and hailed by Vice as "a record that's as powerful as anything the band has done." The band's latest album released in 2018, Rainier Fog, hit No. 1 across Billboard's Rock, Alternative and Hard Music Charts and No. 1 on the iTunes Rock Album Chart and earned them a Grammy® nod for "Best Rock Album." Alice In Chains remains one of the most successful and influential American rock bands of all time.
Breaking Benjamin are no strangers to the upper echelons of the rock charts. Since bursting onto the scene with2002's Saturate, the band has amassed an impressive string of mainstream rock radio hits, with 10 songs hitting #1, numerous platinum and multi-platinum songs and albums, 8.5 billion combined streams worldwide and a social imprint of over 6.5 million -- a testament to the band's global influence and loyal fan base. Their most recent release, Aurora, gave Breaking Benjamin their 10th #1 song at rock radio with "Far Away ft. Scooter Ward." Breaking Benjamin's last studio album, Ember debuted at #3 on the Billboard Top 200 and marked the multiplatinum band's fourth Top 5 debut on the Billboard Top 200, following 2015's #1 debut for Dark Before Dawn (Gold), 2009's Dear Agony (Platinum) at #4 and 2006's Phobia (Platinum) at #2. Ember spun off two #1 hits at Active Rock Radio with "Red Cold River" and "Torn in Two." Aurora and Ember charted Top 10 across numerous countries worldwide and topping #1 charts across multiple genres, including Top Alternative Albums, Top Rock Albums, Top Hard Rock Albums and Top Digital Albums. For more information, check out the band's website, breakingbenjamin.com.
With a discography that includes such seminal rock albums as 1994's 6x platinum-selling Sixteen Stone, `96's triple-platinum-selling Razorblade Suitcase and `99's platinum-selling The Science Of Things, Bush has sold over 20 million records in the U.S. and Canada alone. They've also compiled an amazing string of 23 consecutive Top 40 hit singles on the Modern Rock and Mainstream Rock charts. Eleven of those hit the Top 5, six of which shot to No. 1: "Comedown," "Glycerine," "Machinehead," "Swallowed," "The Chemicals Between Us'' and "The Sound of Winter." The latter made rock radio history as the first self-released song ever to hit No. 1 at Alternative Radio, where it spent six weeks perched atop the charts top spot. The song appeared on 2011's "comeback album," The Sea Of Memories, which was Bush's first studio album in 10 years. That year Billboard ran a story about the band under the headline, "Like They Never Left" – a fitting title as the multi-platinum quartet (vocalist/songwriter/guitarist Gavin Rossdale, guitarist Chris Traynor, bassist Corey Britz and drummer Nik Hughes) promptly picked up where they left off. They've continued to dominate rock radio and play sold-out shows to audiences around the world ever since. Their latest album The Kingdom followed 2017's Black And White Rainbows, which People magazine hailed as "a triumphant return."