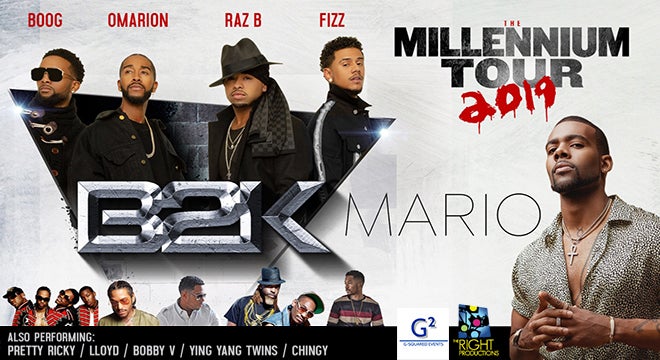 Buy Tickets
Apr

24

, 2019

Little Caesars Arena

Starting at $49.50 plus fees

Tickets can be purchased at Little Caesars Arena XFINITY box office and Ticketmaster.com. To charge tickets by phone, call (800) 745-3000.
Seating Chart
B2K
"The Millennium Tour" with special guests Mario, Pretty Ricky, Lloyd, Ying Yang Twins, Chingy and Bobby V
Apr
24
, 2019
Little Caesars Arena
Multi-platinum R&B group B2K (Omarion, Boog, Fizz and Raz-B), will kick off a limited engagement tour March 2019, entitled "The Millennium Tour." The Iconic group along with special guests; Mario, Pretty Ricky, Lloyd, Ying Yang Twins, Chingy and Bobby V - will visit over 25 cities across the U.S., including a stop at Little Caesars Arena in The District Detroit on Wednesday, April 24 at 8 p.m. The tour is produced by G-Squared Events in association with Omarion Worldwide, The Right Productions, Hall of Fame Entertainment and Blvd. Music.
"Omarion Worldwide and Omarion are excited to be a part of what will undeniably be a nostalgic and electrifying performance that will awaken cherished memories and create new indelible ones for the next generation," says Michelle Le Fleur, COO, Omarion Worldwide. "While admiring their solo successes', the fans have consistently demanded a B2K reunion, and with the determination of an incredibly talented team, that dream is now a reality."
B2K was the quintessential R&B Boys Group of the 2000's whose impact on the culture has remained steadfast. Although the group disbanded over a decade ago, their music has consistently stayed on top of streaming playlist and they remain a hot topic of mainstream conversation on reality TV and social media. Known for their chart-topping tracks including "Bump, Bump, Bump," "Uh Huh," "What A Girl Wants," "Why I love You" and "Girlfriend" – B2K kept the girls screaming. Not only were they breaking hearts – they were breaking records, electrifying the airwaves and blazing the stage with their signature dance moves. In 2000, B2K made a cameo appearance in Lil Bow Wow's music video "Ghetto Girls" and opened on "Scream Tour I," and the stage was set. B2K would become one of the most unforgettable and highly sought-after groups in the 2000's.
B2K went on to break pop charts in 2001 with their single "Uh Huh." The group's debut album, B2K was released on March 12, 2002 and peaked at #2 on the Billboard 200 and #1 on the U.S. Hot R&B/Hip-Hop Songs albums chart. The album included follow-up singles "Gots Ta Be," charting at #34 on the Top 40. The single "Why I Love You" was released in the spring and the album was certified Gold by the summer.
B2K released their second album, Pandemonium! on December 10, 2002 and it debuted at #10 on the Billboard 200 and at #3 on Top R&B/Hip Hop albums. The group released their fourth single, "Bump, Bump, Bump" which featured P. Diddy. The single became B2K's first top 10 hit on the Billboard Hot 100 singles chart ultimately reaching number one February 1, 2003. The single, "Girlfriend," was released in 2003 and broke the Top 40 and the R&B Top 20 by charting at #30 and #19, respectively. The music video had loads of star power including Will Smith, Vivica A. Fox and Ronald Isley.
In 2003, B2K filmed the millennial cult classic You Got Served. The star-studded cast included; IMx members Marques Houston and Jerome Jones, Steve Harvey, and actress Meagan Good. The film spawned a soundtrack, which included the single "Badaboom," featuring rapper Fabolous. The single reached #51 on the Billboard Hot 100. B2K rounded the year off with a Kids' Choice Award for Favorite Music group.
The magic they made on and off the stage could not prevent the group from disbanding as the members sought to pursue their solo careers. Since then, the fans have craved more of what they served in the 2000's. More than a decade later, and after long-awaited reunions and biopics from figures of hip-hop and R&B's golden years, like Tupac, Guy, RBRM and Xscape – the `90s and early 2000's are primed for reflection and a reunion tour from B2K is right on time.
"The Pandemonium continues!" adds Damuer H. Leffridge, Managing Partner, Blvd. Music. "The undeniable and highly desired reunification of B2K is finally here! Realigning the guys was nothing short of magical. We're excited to make this tour happen for the fans. On behalf of Boog and the team at Blvd. Music, we're thrilled to announce that the fans relentless petition for a reunion has not gone unheeded. Through collaborative efforts B2K answered the call. The stage has been set, the journey continues, please get ready for the triumphant return of B2K."
Fans can expect to hear the group's biggest hits as they perform together for the first time in over a decade. For full concert details, including ticketing outlets, visit www.gsquaredevents.com
www.facebook.com/gsquaredevents
www.twitter.com/gsquaredevents
www.instagram.com/gsquaredevents