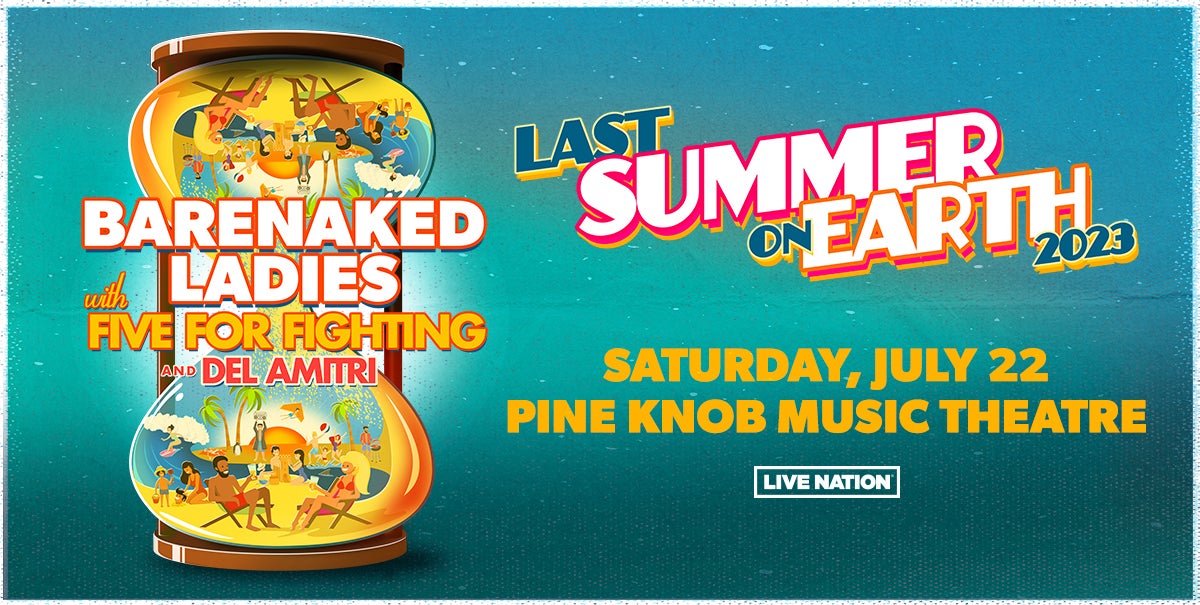 Barenaked Ladies
"Last Summer On Earth 2023" with special guests Five For Fighting and Del Amitri
Barenaked Ladies
"Last Summer On Earth 2023" with special guests Five For Fighting and Del Amitri
Event Details
Those beloved, fun-loving rockers Barenaked Ladies are at it again as they announce their seventh almost-annual, expansive Last Summer on Earth 2023 American Tour. Continuing the trend that they began a little more than a decade ago, the Toronto-based eight-time JUNO winners and two-time Grammy® nominees are eager to hit the road this summer, playing three dozen shows in major venues all over the United States, including a stop at Pine Knob Music Theatre on Saturday, July 22 at 7 p.m. Pine Knob Music Theatre is presented by Proud Partners United Wholesale Mortgage, Trinity Health and Ally.
This summer, headliners Barenaked Ladies shake things up a bit by having not one, but two direct support acts, with American bands Semisonic (June 2-June 26) and Five for Fighting (June 28-July 22) splitting the shows. Scottish rockers Del Amitri will open all the shows.
Barenaked Ladies launched their Last Summer on Earth tours in 2012, the year the ancient Mayan calendar had predicted Earth would cease to be. Naturally, BNL seized the opportunity to have a little fun with the idea, and they wound up having so much fun that they've repeated the tour seven of the last 12 summers.
On their previous Last Summer on Earth tours — a phrase so fraught with irony that it fully befits this band of clever, scholarly rockers — Barenaked Ladies have enjoyed inviting friends along for the ride. Gin Blossoms and Toad the Wet Sprocket warmed up the crowds last summer, and Cracker, Big Head Todd & the Monsters, Blues Traveler, Guster, Ben Folds Five, Violent Femmes, Colin Hay, OMD, Howard Jones, Better Than Ezra, and KT Tunstall have all gone out with BNL on previous Last Summer on Earth tours.
And now, in the summer of 2023, the Canadian Music Hall of Fame inductees, the band who taught us the value of a million dollars, who explained The Big Bang in under two minutes, and who made us say "underwear," will bring their show full of hits and fan favorites to American audiences.
Premium seats, merch packages, pre-show soundcheck parties, meet-and-greets, and more will highlight a variety of VIP packages for Barenaked Ladies' Last Summer on Earth 2023 American Tour.
Barenaked Bytes is the free, official Barenaked Ladies app, and it is where you'll find BNL news, information, and merch, and, with the purchase of a Barenaked Bytes bundle, first access to tickets and VIP packages starting January 31 at 10 a.m. local time. The Bytes bundle will also contain an exclusive BNL t-shirt, which will only be available via the app. Barenaked Bytes is available at the App Store and Google Play. It's free to download and use: www.barenakedbytes.app In-app purchases available.
For Last Summer on Earth 2023, Barenaked Ladies are once again happy to tour in the most sustainable way possible with the help of their partner, REVERB. Since 2004, Barenaked Ladies have proudly partnered with REVERB to reduce the environmental impact of touring, giving back to local communities across the US and Canada in the process.
About Barenaked Ladies
Over the course of 35 years, the Toronto quartet has sold 15 million records worldwide and built up an arsenal of hits such as "If I Had $1,000,000," "One Week," "Pinch Me" and "The Big Bang Theory Theme." Widely acknowledged as one of the best live acts on the planet, BNL has hosted a cruise, had its own ice cream flavor, won eight JUNO Awards, and was inducted into the Canadian Music Hall of Fame in 2018. In 2021, the band released Detour de Force, their 16th studio album.
CONNECT WITH BARENAKED LADIES:
OFFICIAL SITE INSTAGRAM TIK TOK TWITTER FACEBOOK TOUR PAGE
About Five For Fighting
John Ondrasik is a singer/songwriter from Los Angeles who plays piano and acoustic guitar. And he goes by the name of Five for Fighting. Known for his soft rock ballads, including the Grammy®-nominated "Superman (It's Not Easy)," "100 Years," "The Riddle," "World," and "Chances." As Five for Fighting, Ondrasik has released six studio albums, an EP and several live albums, and his songs have been featured in 350 films, TV shows and ads.
About Del Amitri
Scottish alternative rock band Del Amitri formed in Glasgow in 1980. The band has enjoyed five consecutive top 10 UK albums, plus a top-10 Billboard US chart hit with "Roll to Me." Other signature hits, including "Kiss This Thing Goodbye," "Nothing Ever Happens" and "Always the Last to Know," have propelled the band to more than six million worldwide album sales. No one in the band is named Del Amitri.