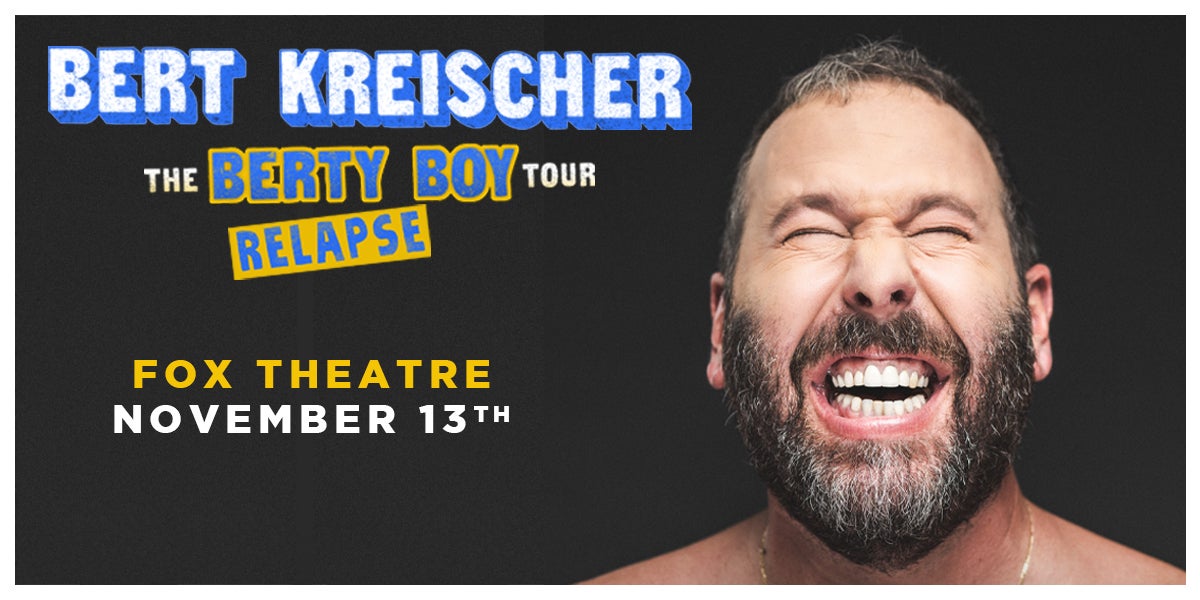 Bert Kreischer
Bert Kreischer
Event Details
Coming off of his hugely successful outdoor run, the "Hot Summer Nights Tour 2020," as the first-ever stand-up comedian to embark on a drive-in comedy tour, renowned comedian, podcast host, and author Bert Kreischer announced "The Berty Boy Relapse Tour" including a stop at the Fox Theatre on Saturday, November 13, 2021 at 7 p.m. and at 10 p.m.
Kreischer is known for his unique brand of comedy, which interweaves party-boy antics with humorous anecdotes about family and fatherhood. Currently, Kreischer is filming Legendary Entertainment's movie, The Machine, alongside Star Wars actor, Mark Hamill – an adaptation of the viral story Bert told onstage about getting involved with the Russian mob while studying abroad in College, which has been viewed more than 85 million times online. Most recently, he hosted the Go-Big Show on TBS Network, an extreme talent show with celebrity judges Snoop Dogg, Rosario Dawson, Jennifer Nettles and Cody Rhodes, which premiered this past January. In October 2020, Bert released his hit 5-episode Netflix mini-series, The Cabin with Bert Kreischer, which featured cameos from a star-studded cast of Anthony Anderson, Caitlyn Jenner, Tom Segura, Joey Diaz, Nikki Glaser, Fortune Feimster, Bobby Lee, Donnell Rawlings, Kaley Cuoco, Joel McHale, Ms. Pat, Deon Cole, Big Jay Oakerson and LeeAnn Kreischer. He also released his second Netflix Original stand-up comedy special Bert Kreischer: Hey Big Boy in March 2020. The special earned rave reviews from critics and fans alike.
Additionally, Kreischer is one of the most prominent comedians in the podcasting landscape. He is the producer and host of Bertcast, a weekly comedy podcast on the All Things Comedy Network. He also co-hosts the 2 Bears 1 Cavepodcast with Tom Segura, and the Bill and Bert podcast with Bill Burr.
Bert Kreischer is an American stand-up comedian, actor, writer and host who performs to sold-out crowds across the country. His brand-new stand up special "Hey Big Boy", as well as "Secret Time" and "The Machine" are currently streaming globally on NETFLIX. Bert recently debuted his new Netflix docu-series "The Cabin," which shot straight to the top 10 within 24 hours and was the most-watched unscripted series on the platform the week it premiered. Bert Kreischer hosts Go-Big Show (picked up for Season 2 by TBS) with celebrity judges Snoop Dogg, Rosario Dawson, Jennifer Nettles and Cody Rhodes.
Described as having a "rare and incredible talent" (Interrobang), Bert has evolved from being named Rolling Stone's1997 "Number One Partier in the Nation" to one of the top names in comedy. Between his four stand-up specials, his three podcasts: Bertcast, 2 Bears 1 Cave, and BillBert, his YouTube cooking show: Something's Burning, his book Life of the Party: Stories of a Perpetual Man-Child (2014), Bert has succeeded in finding the elusive blend of "being a cringe comedian with real insight" (Interrobang). Lauded as one of the best storytellers of his generation, Bert seamlessly and sincerely shares anecdotes about his family and fatherhood while showing his ability to prove "that there's a way to take his [party-boy] antics into middle-age," (Forbes). His infamous story about robbing a train with the Russian Mafia was recently optioned by Legendary (the studio behind The Hangover Series, Jurassic World, and Straight Outta Compton) to be turned into a movie. After the successful debut of The Body Shots World Tour in 2019, where he quickly sold out theaters and added shows in almost every market, Bert performed 59 shows of his "Hot Summer Nights" a socially-distanced outdoor tour spanning 35+ cities across 18 states and reaching 80,000+ individuals. He then launched a brand-new tour in 2020, "The Berty Boy Tour" -- now, "The Berty Boy Relapse Tour" –which includes shows in even larger venues across the country.