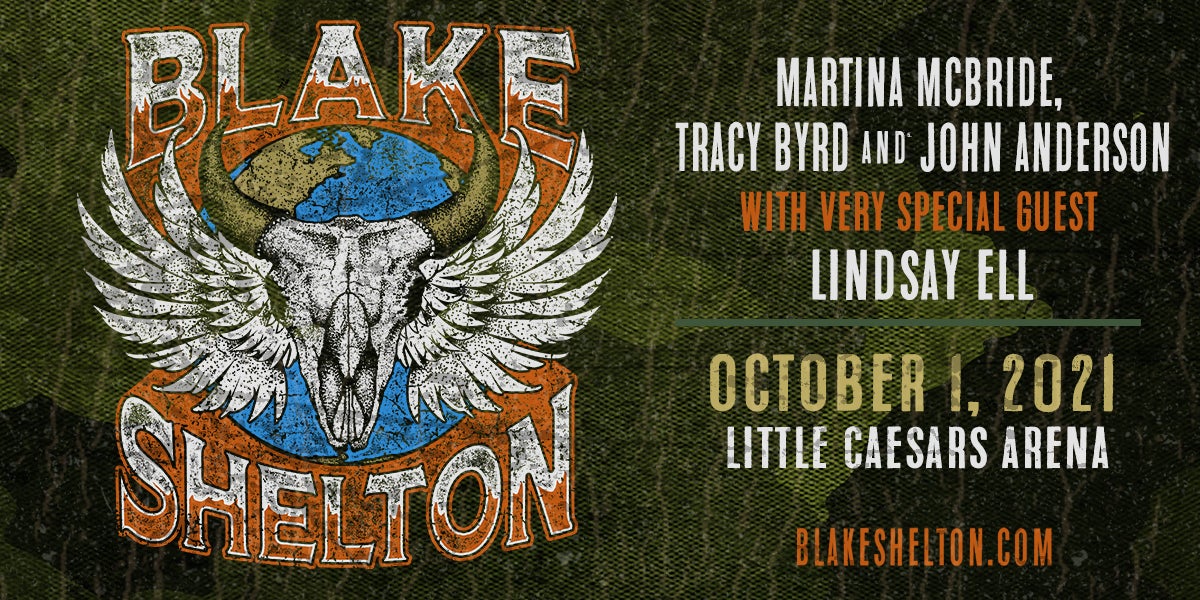 Blake Shelton
with special guest Lindsey Ell and special appearances by Martina McBride, Tracy Byrd and John Anderson
Blake Shelton
with special guest Lindsey Ell and special appearances by Martina McBride, Tracy Byrd and John Anderson
Event Details
"A little over a year ago when the world shut down and we had to postpone the tour, I was already in Omaha getting ready for the show that night," Shelton said. "I told you we would be back, and I'm thrilled to say we are kicking off the 'Friends and Heroes 2021 Tour' in Omaha. I'm giving everybody in every city plenty of notice – you might as well tell your boss you're gonna be late to work the next day and pay that babysitter overtime, because we are going to play some country music for y'all until they turn on the lights. And that might not stop us! I'm excited to welcome Martina McBride, Tracy Byrd, John Anderson and my very special guest Lindsay Ell to the 'Friends and Heroes 2021 Tour'… see you there!"
Shelton's tour announcement came ahead of his Body Language launch on Friday, May 21. The 12-track studio album includes his 28th career No.1 smash "Happy Anywhere" (with Gwen Stefani) and current Top 15 and climbing single "Minimum Wage."
Over the past 20 years since Shelton's career launched, he has cemented his place in country music history with more than 8.5 billion global on-demand streams, 11 million career album U.S. sales and award wins approaching the hundreds – all of which began with his debut single "Austin." In April, Shelton celebrated the track's 20th anniversary with a performance on the 56th ACM Awards (here).
Beyond his country music career, the multimedia entertainer has earned widespread recognition as a seven-time champion coach for the Emmy Award-winning television show The Voice. The NBC singing competition is currently in its 20th season. Shelton, a long-time Grand Ole Opry member, has also found success in his Ole Red partnership with Ryman Hospitality, with restaurant and venue locations currently in Tishomingo, Nashville, Gatlinburg and Orlando.
About Blake Shelton
Blake Shelton continues to add to his superstar status with his new album Body Language, due May 21. The album's flagship single "Happy Anywhere" (featuring Gwen Stefani) topped the Country Digital Song Sales chart, also marking his 28th No. 1 on the country airplay charts. Now he's building upon the message that it doesn't matter what you have or where you are if you have love with his latest hit "Minimum Wage," currently Top 15 on the country charts. Both tunes follow the Platinum-selling, multi-week No.1 "Nobody But You," which has now topped 240 million streams. "Nobody But You" made its TV debut on the 62nd GRAMMY Awards, where Shelton was also nominated for Best Country Solo Performance for his smash "God's Country." The 4x Platinum smash earned the 2019 CMA Award and 2020 ACM Award for Single of the Year. "God's Country" and "Nobody But You" are featured on Fully Loaded: God's Country, Shelton's seventh album to debut at No. 1 on the Billboard Country Albums chart.
As a coach for the Emmy Award-winning television show The Voice, Shelton is a seven-time champion, most recently with his contestant Todd Tilghman. The Grand Ole Opry member also remains focused on his Ole Red partnership with Ryman Hospitality, with locations currently in Tishomingo, Nashville, Gatlinburg and Orlando. With awards wins nearing the hundreds, Shelton remains a force in the industry with ACM (5), AMA (3), CMA (10), CMT (11) and People's Choice Awards (6), among many others.
For more information, please visit www.BlakeShelton.com and follow @BlakeShelton.
About Lindsay Ell
Lauded as "one of the most exciting and talented young artists in country music" (Forbes), Lindsay Ell is a triple threat: accomplished musician, unique vocalist and awe-inspiring songwriter. The Calgary native learned to play guitar while traveling with her father to country-bluegrass camps as a young girl. Ell honed her craft as a musical stylist and songwriter after being discovered by BTO and The Guess Who's Randy Bachman ("American Woman" / "Taking Care of Business") who discovered her at the age of 13. The multi-instrumentalist was soon touring alongside the likes of Luke Bryan, Buddy Guy, and Keith Urban. Ell also shared the stage with distinguished country group, Little Big Town, along with other powerhouse female artists in one the biggest moments of the 2019 CMA Awards where she was also nominated for Musical Event of the Year. Ell's nominations do not stop there. She has been nominated for New Female Artist of the Year in both 2019 and 2020, in addition to her 2020 ACM nomination of Music Event of the Year. Ell also won 2020 CCMA Interactive Artist or Group of the Year for the second year in a row. These wins and nominations are well earned after Ell exhilarated audiences as part of Keith Urban's "Graffiti U World Tour," Brantley Gilbert's "Not Like Us Tour," and Brad Paisley's "Weekend Warrior World Tour." Ell's first full-length album The Project debuted at No. 1 on the Country Album Sales Chart and was named Billboard's "Best Country Album of 2017. "What Happens In a Small Town," Lindsay's duet with Brantley Gilbert, claimed the top spot at country radio, marking her first No. 1 in the US. She has two No. 1 singles under her belt in Canada. Her new single "wAnt me back" is out now from her critically-acclaimed sophomore album, heart theory. For more information visit: www.LindsayEll.com.
About Martina McBride
Multiple Grammy® nominee Martina McBride has sold over 20 million albums to date, which includes 20 Top 10 singles and six #1 hits. She has earned more than 15 major music awards, including four wins for Female Vocalist of the Year from the Country Music Association and won three Academy of Country Music for Top Female Vocalist. Martina has been awarded 14 Gold Records. Nine Platinum honors, three Double Platinum Records, and two Triple Platinum Awards. Martina was awarded the Covenant House Beacon of Hope Award and Music Business Association's prestigious 2015 Harry Chapin Memorial Humanitarian Award for her philanthropic efforts on behalf of domestic violence. Martina has released two cookbooks – the first, Around the Table, a full-color illustrated collection of her favorite recipes, hosting tips, practical menu planning advice, and themed décor inspiration. She released her second book, Martina's Kitchen Mix: My Recipe Playlist for Real Life, in October 2018. Most recently, Martina was honored with the Cliffie Stone Icon Award at the ACM Honors event for her impactful contributions to country music.
When Martina isn't in the studio, she focuses her time on charitable causes dear to her heart. Through her Team Music Is Love charity initiative, Martina partners with non-profit causes to help many of the towns she's performing in. Martina also invites fans to join her team in making the world a better place through the power of music. Since 2011, Team Music Is Love has been responsible for many successful fundraising and volunteer projects helping causes such as hunger relief, cancer research, combating domestic violence and helping children in need.
Martina resides in Nashville with her husband, John, and their three daughters. You can keep up with her on Facebook, as well as Twitter and Instagram. For tour dates, please visit her website.
About Tracy Byrd
Tracy Byrd became a household name on the country music scene in 1993 when his third single, "Holdin' Heaven," off his self-titled debut album, hit No. 1 on the Billboard Country Charts. The album also included the remake hit of Johnny Paycheck's "Someone To Give My Love To," cementing Byrd as a traditional country troubadour. The debut album went on to be certified Gold. Byrd is also known for hits such as "I'm from the Country," and the smash, chart topping hit "Watermelon Crawl." The song "The Keeper of the Stars" shot to No. 1 on the singles charts and pushed his album, "No Ordinary Man" to Double Platinum status, which certifies sales of over two million copies. "The Keeper of the Stars" won Academy of Country Music's "Song of the Year" award in 1995. Byrd hosted TNN Television Special titled Tracy Byrd's Big Love on which Byrd invited guests Johnny Paycheck, Mark Chesnutt and Asleep at the Wheel. TNN also recruited Byrd as the TV host of their Weekend Outdoor Broadcast. Tracy, a true outdoorsman, was perfect for the job and continued his hosting responsibilities for several years. Tracy Byrd crossed into the new millennium with the release of his album 10 Rounds and the title track and party song of the year, "10 Rounds with Jose Cuervo," which shot to the top of the Billboard Charts to notch Byrd's third No. single. Next came "The Truth About Men," a team effort with Tracy's buddies Blake Shelton, Andy Griggs and Montgomery Gentry lending their talents to the song and the video. This album also released the top five smash "The Drinkin' Bone" which became a crowd favorite sing along song. Through the years Byrd had 16 Top 10 singles, over seven million albums sold and performed over 3,000 exciting shows across the United States, Canada, Mexico, Europe and Australia. Says Byrd, "These days my life has great balance, with my music being a part of it, not all of it. I can honestly say I have never enjoyed it more!" Byrd went back in the studio in June of 2016 and released All American Texan, his first project in 10 years, then in 2019 he released his first ever live album, Tracy Byrd Live at Billy Bob's Texas. Follow Tracy Byrd news at his website at www.TracyByrdMusic.com and on Facebook and Instagram @tracybyrdmusic.
Additional Ticket Information
Tickets for the previously scheduled date (March 21, 2020) will be honored for the rescheduled date and fans are encouraged to hold onto their tickets. Ticket holders unable to attend the rescheduled show now have 30 days, or until Thursday, June 17, 2021, to request a refund at point of purchase. Please email Ticket Operations at [email protected] to schedule an appointment for any box office refund inquiries.