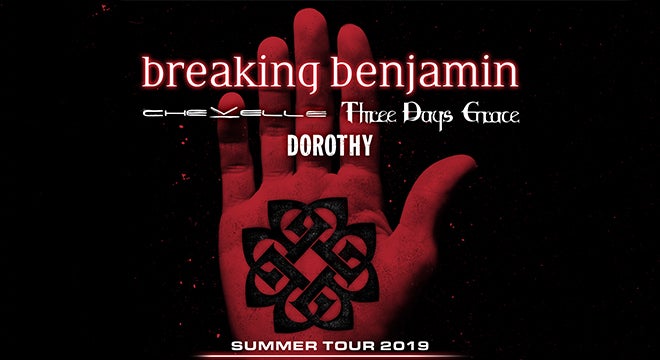 Breaking Benjamin
with special guests Chevelle, Three Days Grace, Dorothy and Diamante
Breaking Benjamin
with special guests Chevelle, Three Days Grace, Dorothy and Diamante
Event Details
Multi-platinum rock band Breaking Benjamin will bring their massive 2019 headline tour across North America this summer with special guests Chevelle, Three Days Grace, Dorothy and Diamaante to DTE Energy Music Theatre on Wednesday, July 24 at 5:30 p.m.
Produced by Live Nation, the 35-city outing kicks off July 21 in St. Louis, MO at the Hollywood Casino Amphitheatre and will make stops in Detroit, Atlanta, Austin and more before wrapping September 25 in Salt Lake City, UT at USANA Amphitheatre. The band is currently set to kick off a slew of arena dates beginning March 15th and wrapping April 10th before the extensive summer trek.
About Breaking Benjamin
Breaking Benjamin's self-produced sixth studio album, Ember debuted at #3 on the Billboard Top 200 and marks the multiplatinum band's fourth Top 5 debut on the Billboard Top 200, following 2015's #1 debut for Dark Before Dawn (Gold), 2009's Dear Agony (Platinum) at #4 and 2006's Phobia (Platinum) at #2. Ember spun off two #1 hits at Active Rock Radio with, "Torn In Two" granting the band their 9th #1 song while "Tourniquet" is currently #17 and rising at rock radio. Ember adds to a healthy 7MM+ total album units sold for Breaking Benjamin, charting Top 10 across numerous countries worldwide and topping #1 charts across multiple genres, including Top Alternative Albums, Top Rock Albums, Top Hard Rock Albums and Top Digital Albums. Breaking Benjamin boasts an impressive 6.8 billion combined audio/video streams worldwide with a social imprint of over 6.5MM, a testament to the band's global influence and loyal fan base. Purchase Ember or stream the new album here. For more information: breakingbenjamin.com, www.facebook.com/BreakingBenjamin and twitter.com/breakingbenj.
About Chevelle
Since the release of their full-length debut Point #1 in 1999, Chevelle have stood at the forefront of hard rock, consistently evolving and progressing while delivering a series of ubiquitous and inescapable anthems. 2002's breakout Wonder What's Next would go platinum, yielding smashes such as "The Red" and "Send the Pain Below," while its follow-up This Type of Thinking Could Do Us In reached gold status. In 2011, Hats Off to the Bull landed at #9 on the Billboard Top 200 and delivered "Face to the Floor." La Gárgola crashed into the Top 5 at #3 and boasted "Take Out the Gunman." 2016's The North Corridor represented new heights for the group, marking its fourth Top 10 bow on the Billboard Top 200. For more information: getmorechevelle.com, www.facebook.com/chevelle, twitter.com/ChevelleInc and www.instagram.com/getmorechevelle.
About Three Days Grace
Since 2003, Three Days Grace, the internationally acclaimed and multi-platinum certified Canadian band, has staked a spot amongst the hard rock vanguard, breaking records, toppling charts, moving millions of units worldwide. Their song "Infra-Red" off the band's most recent album, 2018's Outsider, earned them their 14th #1 single on U.S. Billboard's Mainstream Rock Songs Chart, breaking the all-time record for most #1 U.S. singles at Active Rock Radio ever. In 2015, Human marked the group's second straight #1 slot on the Billboard Top Hard Rock Albums Chart as well as their fourth consecutive debut in Top 20 of the Top 200. It spawned two #1 singles "Painkiller" and "I Am Machine," signaling their 13th overall and 5th consecutive number ones on the U.S. Active Rock Radio chart. Moreover, the four-piece consistently averaged a staggering 3.9 million monthly listeners on Spotify – remaining one of the most listened to rock bands in the world. In 2012, Transit of Venus soared to the Top 5 of the Top 200 and garnered a nod for "Best Rock Album of the Year" at the Juno Awards. The seminal One-X[2006] notched an RIAA triple-platinum certification as Three Days Grace [2003] was minted platinum and Life Starts Now went gold. To date, their veritable arsenal of number one songs includes "Chalk Outline," "The High Road," "Misery Loves My Company," "World So Cold," "Good Life," "Break," "Never Too Late," "Animal I Have Become," "Pain," "Just Like You" and "Home. The band was most recently nominated for three 2019 Juno Awards, for "Album of the Year," "Group of the Year," and "Rock Album of the Year," and is currently on tour supporting Disturbed.