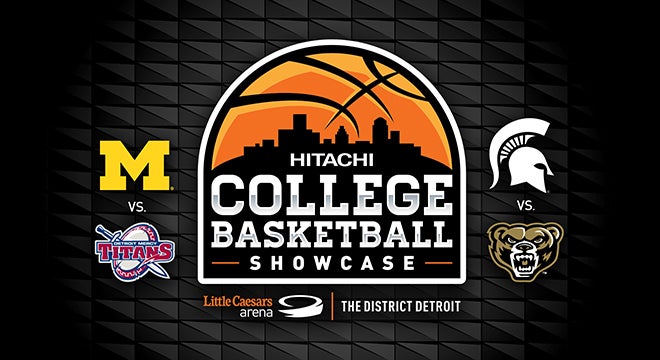 Hitachi College Basketball Showcase
Michigan, Michigan State, Oakland and Detroit Mercy at Little Caesars Arena
Hitachi College Basketball Showcase
Michigan, Michigan State, Oakland and Detroit Mercy at Little Caesars Arena
313 Presents announced the Hitachi College Basketball Showcase featuring the University of Michigan, Michigan State University, Oakland University and the University of Detroit Mercy on Saturday, Dec. 16, 2017 at Little Caesars Arena. These inaugural college basketball games at the state-of-the-art Little Caesars Arena will feature an exclusive doubleheader of in-state matchups between Michigan vs. Detroit Mercy followed by Michigan State vs. Oakland.
Michigan head coach John Beilein, Michigan State head coach Tom Izzo, Oakland head coach Greg Kampe and Detroit Mercy head coach Bacari Alexander held a press conference to make the announcement and toured the Little Caesars Arena construction site on Tuesday morning.
"On the heels of securing an unprecedented four NCAA Championship events and the major concert announcement just this morning of Paul McCartney set to play Little Caesars Arena, we're excited to announce another major sporting event in Detroit and welcome the passionate fan bases from Michigan, Michigan State, Oakland and Detroit to Little Caesars Arena and The District Detroit," said Tom Wilson, 313 Presents President & CEO. "As the list of sporting events, concerts and family shows continues to grow at Little Caesars Arena, we look forward to showcasing four of our local teams and creating memorable experiences for the student-athletes, coaches and fans – before, during and after the games."
The matchup between Detroit Mercy and Michigan will mark the first college basketball game at Little Caesars Arena – paying homage to the first event at Joe Louis Arena on Dec. 12, 1979, which saw Michigan claim an 85-72 win over Detroit Mercy.
FIRST AND SECOND ROUNDS OF 2018, 2021 NCAA MEN'S TOURNAMENT SET TO BE HELD AT LITTLE CAESARS ARENA
The NCAA announced last week that in addition to the 2018 games announced previously, Little Caesars Arena also be the host site for the 2021 First and Second Round games of the NCAA Men's Basketball Championships. The 2018 NCAA Men's Basketball Championship First and Second Round games are set for Friday, March 16 and Sunday, March 18, 2018 and will be hosted by Detroit Mercy, while the 2021 Men's Basketball Championships First and Second Round games will take place on Thursday, March 18 and Saturday, March 20 and will be hosted by Detroit Mercy and Oakland.
Fans interested in purchasing tickets for the 2018 NCAA Men's Basketball Championships can sign up to receive ticket offers and notifications by registering here.