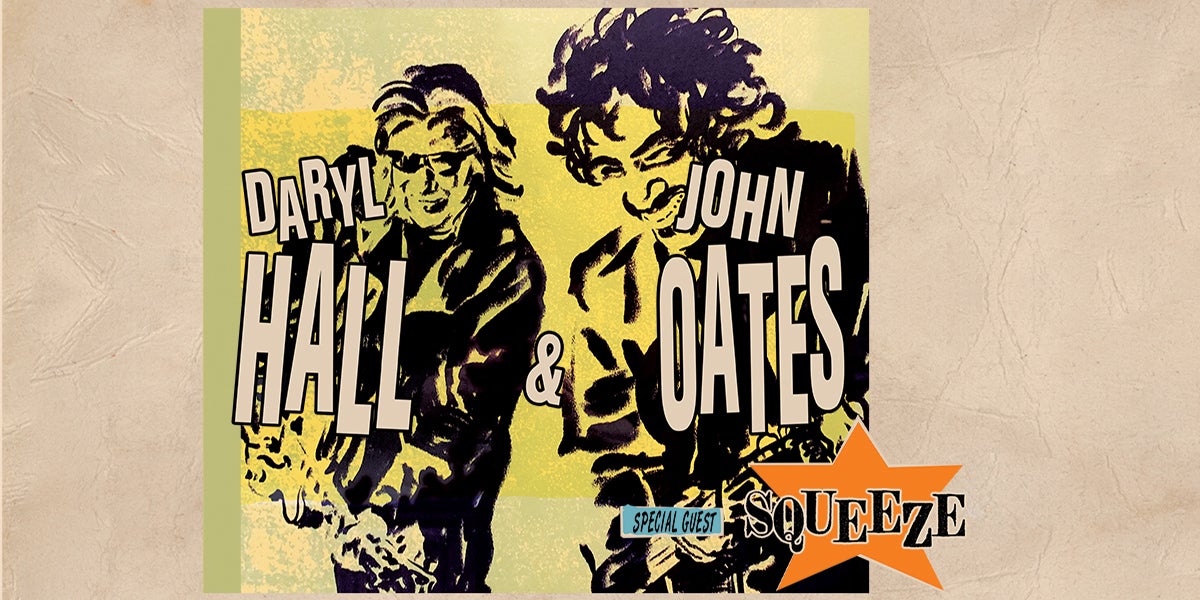 Daryl Hall & John Oates
with special guest Squeeze
Daryl Hall & John Oates
with special guest Squeeze
Event Details
Daryl Hall and John Oates' North American summer tour date with Squeeze originally scheduled for July 20, 2020 at DTE Energy Music Theatre has been rescheduled to Saturday, August 21, 2021.
Tickets for the previously scheduled date will be honored at the rescheduled date and fans are encouraged to hold onto their tickets.
"Can't wait to get out there and have some fun playing with my friends to all of my friends," says Hall.
"I'm really looking forward to a big time 2020 tour!" say Oates. "Having Squeeze on the bill with us is just gonna make for an amazing night of music. Can't wait to see you all on the road."
"I have long been a Hall and Oates fan and this tour is a real treat, a chance to hear all of those great songs each night," says Squeeze's Chris Difford. "This is a tour I'm really looking forward to."
"I am so excited and jumping for joy with the prospect of this tour with Daryl Hall and John Oates," says fellow Squeeze member Glenn Tilbrook. "They are the bees knees! I had the pleasure of seeing an awesome show of theirs in Kentucky last year, and feel that we are a match made in heaven, to be consummated at every show!"
Daryl Hall & John Oates are legends who continue to inspire today's musical trailblazers. Their influence on multiple generations of musicians and songwriters is perhaps best summarized by SPIN who claimed "Hall and Oates are the new Velvet Underground." On-the-record fans include: Cameron Crowe, Mark Ronson, Questlove, Adam Sandler, John Mayer, Booker T. Jones, Rob Thomas, Brandon Flowers, Amos Lee, Ben Gibbard and Nick Lowe.
The international multi-platinum-selling group has sold more albums than any other duo in music history. 1973's Atlantic debut Abandoned Luncheonette and 1974's Todd Rundgren-produced War Babies kicked off a record-breaking career that yielded six consecutive multi-platinum albums: Bigger Than Both of Us (1976), Voices (1980), Private Eyes (1981), H2O (1982), the greatest hits collection Rock N Soul, Part 1 (1983) and Big Bam Boom (1984).
The duo's collection of No. 1 singles include "Rich Girl" (Also No. 1 R&B charts), "Kiss on My List," "Private Eyes," "I Can't Go For That (No Can Do)" (No. 1 R&B), "Maneater" and "Out of Touch." Their Top 10 singles include "She's Gone" (No. 1 R&B), "Sara Smile," "One on One," "You Make My Dreams," "Say it Isn't So," "Everything Your Heart Desires," "Family Man," "Adult Education," "Did It In A Minute" and "Method of Modern Love." In 1987, the RIAA recognized Daryl Hall & John Oates as the number-one selling duo in music history, a record they hold to this day.
In 2003, the legendary duo was inducted into the Songwriters Hall of Fame. In 2008, they were honored at BMI's Pop Awards with the Icon Award, and in 2014, they were inducted into the Rock and Roll Hall of Fame. In 2016, they together received a star on the Hollywood Walk of Fame.
Glenn Tilbrook and Chris Difford have been compared to Lennon and McCartney since "Take Me I'm Yours," their first release in 1978, blasted the band into the forefront of the UK music scene. The legendary duo have since written all of their hits as well as recorded 15 studio albums, 14 compilation albums, four live albums, one extended play and 48 singles. Following their hits including "Tempted," "Black Coffee in Bed," "Hourglass," "Cool For Cats," "Up The Junction" and "Pulling Mussels From The Shell," they established themselves as two of the most prolific songwriters of their time with each amassing a wealth of melody-rich earworms over the past four decades as both Squeeze and solo artists. They have also received an Ivor Novello award for Outstanding Contribution to British Music, the Nordoff-Robbins Icon Award and the Mojo Icon Award.