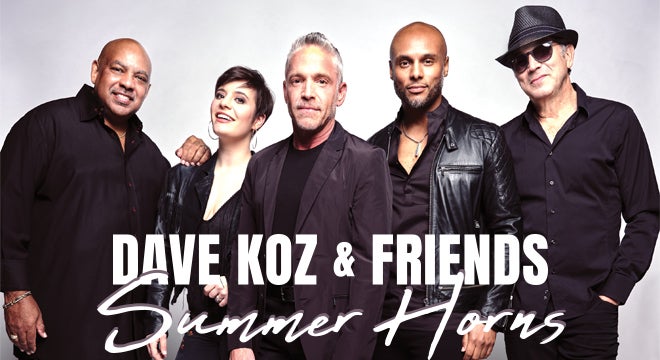 Dave Koz and Friends Summer Horns
featuring Gerald Albright, Rick Braun, Kenny Lattimore, Aubrey Logan and Adam Hawley
Dave Koz and Friends Summer Horns
featuring Gerald Albright, Rick Braun, Kenny Lattimore, Aubrey Logan and Adam Hawley
Event Details
Building on the massive success of their Summer Horns projects, Dave Koz And Friends are returning to the road with the brass-fueled, feel-good tour of the summer. Joining Grammy®-nominated saxophonist Dave Koz will be Gerald Albright (saxophone), Rick Braun (trumpet), Kenny Lattimore (vocals), Aubrey Logan (trombone and vocals) and Adam Hawley (guitarist). The tour includes a stop at Michigan Lottery Amphitheatre at Freedom Hill as part of the Fifth Third Bank Concert Series on Friday, August 30 at 7:30 p.m.
Released in 2013, Dave Koz and Friends Summer Horns (Concord Records) spent five weeks at No. 1 on Billboard's Current Contemporary Jazz Albums chart and was nominated for a Grammy®. The album featured imaginative takes from Koz, Mindi Abair, Gerald Albright and Richard Elliot on the classic hits of Tower of Power, Earth Wind & Fire, Chicago, Blood Sweat & Tears and other brassy juggernauts of the 1960's and '70s. It yielded four No. 1 hits.
On 2018's Summer Horns II From A To Z, Koz teamed up with Gerald Albright, Richard Elliot, Rick Braun and Aubrey Logan, plus guest vocalists Jonathan Butler, Kenny Lattimore and Sheléa. Debuting at No. 1 on Billboard's Current Contemporary Jazz Albums chart, it took the concept further and included an inventive mash-up of the 1939 Billy Strayhorn standard "Take the 'A' Train," made famous by Duke Ellington, and Jay-Z's "Roc Boys (And the Winner Is)."
Just in time for summer, Koz has introduced a new KOZ Rosé, available now via KOZ Wines at Whole Foods Markets in Southern California, Arizona, Hawaii and Nevada. Dave has served as global ambassador for the Starlight Children's Foundation for over 20 years and founded KOZ Wines in 2009 as another avenue to support the foundation. He donates all his proceeds from KOZ Wines to the organization and, with help from his fans, has raised over one million dollars through the Dave Koz and Friends At Sea cruise silent auction.
The sold-out Dave Koz & Friends at Sea Cruise sailed to Australia earlier this year. Both voyages of 2020's cruise to Amsterdam and the British Isles are already sold out, bringing Koz's tally of sold-out cruises to 13. He just wrapped up a tour of Japan with special guest Valerie Simpson and six shows at the Blue Note Hawaii with special guests Adam Hawley and Chris Walker.
On May 24, Koz shared "Deep Dive," the latest in the "Lost Koz" series, which highlights previously unreleased gems recorded over the years that, for one reason or another, never made it onto his albums. Check out "Deep Dive" HERE. The song is a collaboration with Jeff Lorber that dates back to the sessions for Koz's Grammy®-nominated 2009 album, Hello Tomorrow. "Deep Dive" is already topping the Smooth Jazz – Instrumental playlist, which is the #1 smooth jazz playlist on Spotify.
Koz features on "Just Dance," the new No. 1 single from Adam Hawley's second solo album, Double Vision.
About the Summer Horns:
Dave Koz has racked up an astoundingly impressive array of honors and achievements: nine Grammy® nominations, 11 No. 1 albums on Billboard's Current Contemporary Jazz Albums chart, numerous world tours, 13 sold-out Dave Koz & Friends At Sea cruises, performances for multiple U.S. presidents, a Star on the Hollywood Walk of Fame and more. A Platinum-selling artist, Koz is also known as a humanitarian, entrepreneur, radio host and instrumental music advocate.
Gerald Albright is known for his acclaimed solo recordings and performances with Anita Baker, Whitney Houston and The Temptations. Early in his career, the versatile saxophonist was often told by record labels to "be funky, but not too funky" – but after 30 years at the top of his game as one of contemporary urban jazz's core artists, the eight-time Grammy® nominee let loose like never before with his 2018 album, 30, released by his own Bright Music Records.
Rick Braun has charted over 20 No. 1 Smooth Jazz hits. Around The Horn, the latest album from the acclaimed trumpeter, composer and producer, is an adventurous mix of originals and exhilarating reinventions of hits by Coldplay, Alicia Keys and Charlie Puth and Selena Gomez. Braun has collaborated with such artists as Rod Stewart, Tom Petty, Sade, Natalie Cole, Boney James and is a member of RnR with saxophonist Richard Elliot and BWB, a powerhouse trio completed by Grammy® winners Kirk Whalum and Norman Brown.
Kenny Lattimore has garnered Grammy®, Soul Train and Stellar Awards nominations as well as the NAACP Image Award for Best New Artist. His nuanced vocals have graced projects by a diverse array of artists including Musiq Soulchild, Rachelle Ferrell, Nancy Wilson, Brian Culbertson and Kanye West. The latter sampled Lattimore's "Lately" for the track "I'm in It" from West's No. 1 album Yeezus. Lattimore's latest album, Vulnerable, includes the Top 10 hit "Stay On Your Mind."
Aubrey Logan has been hailed as "The Queen of Sass" by critics. The singer/trombonist has worked with acts as disparate as the Boston Pops, Pharrell, Josh Groban, Seth McFarlane and Meghan Trainor, and at the same time amassed a huge online following thanks to her performances with the YouTube phenomenon PostModern Jukebox. Her latest solo album, Where The Sunshine Is Expensive, recently hit No. 1 on Billboard's Current Contemporary Jazz Albums chart.
Adam Hawley is a gifted performer, sideman, and educator, known for his lithe, groove-oriented approach to contemporary jazz and R&B. After working steadily for over a decade with many marquee jazz and pop artists (including Natalie Cole, Jennifer Lopez, Manhattan Transfer and Peabo Bryson), the guitarist launched his solo career with the 2016 album, Just the Beginning, which featured three chart-topping smooth jazz singles – "35th Street," "Joy Ride" and "I Don't Mind." His second solo album, Double Vision, contains the No. 1 singles "Can You Feel It" and "Just Dance" (ft. Dave Koz).
https://www.youtube.com/c/DaveKozMusic-Videos
Twitter:@davekozmusic
Facebook.com/davekozmusic
Additional Ticket Information
Tickets can be purchased at the Venue Box Office, Little Caesars Arena XFINITY box office and Ticketmaster.com.