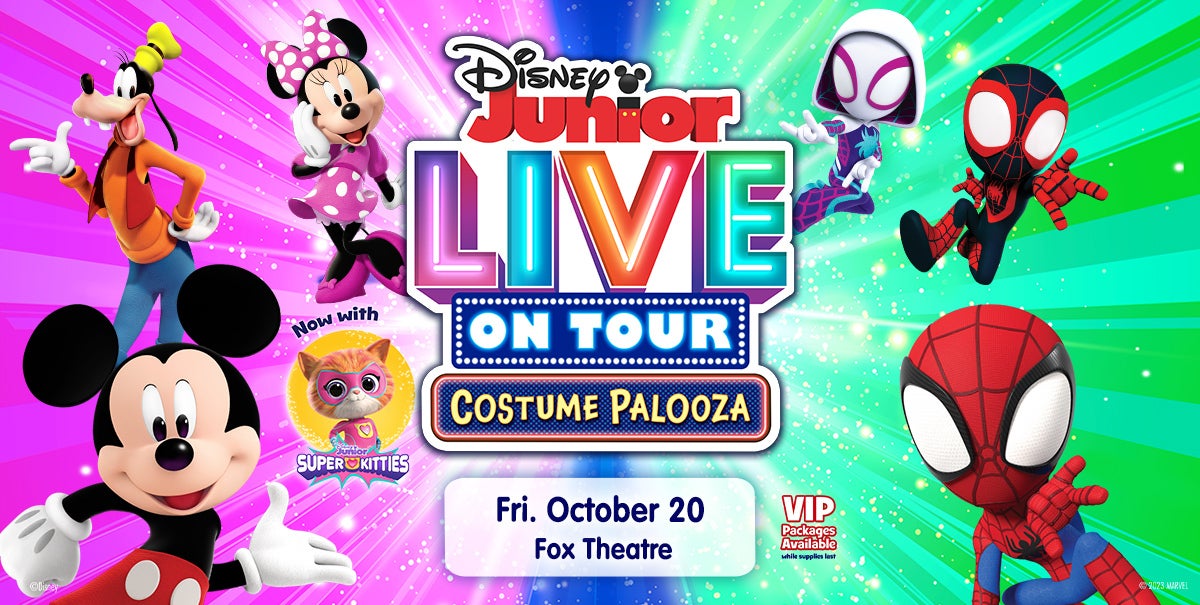 Disney Junior Live On Tour: Costume Palooza
Disney Junior Live On Tour: Costume Palooza
Disney Junior Live On Tour: Costume Palooza announced the tour will stop by the Fox Theatre on Friday, October 20 at 6 p.m. Launching Friday, September 1, the tour will embark to more than 70 North American cities. This follows a successful national tour last fall. Audiences can dress up for a fun-filled experience featuring characters from "Marvel's Spidey and his Amazing Friends" and other hit Disney Junior series including: Mickey, Minnie, Goofy, Doc McStuffins, the Puppy Dog Pals, and Bo from "Firebuds." This year, the live show will also welcome the adorable superhero kittens from new action-packed hit series, "SuperKitties." The three-time Pollstar nominated (2019, 2020, 2022) Disney Junior On Tour has visited hundreds of cities and sold over a half million tickets. Comerica Bank is the exclusive presenting partner of the Fox Theatre.
In "Disney Junior Live On Tour: Costume Palooza," Mickey, Minnie and their pals are getting ready to throw a huge costume party but mysterious weather keeps interrupting the fun. Can Team Spidey help save the Costume Palooza? The show is geared toward Disney Junior's most beloved super fans and offers an immersive, interactive concert experience that includes singing, dancing, 3D special effects and acrobatics with cirque-style performances including incredible trampoline routines from renowned acrobatic director John Brady. The live show is written and directed by Amy Tinkham and produced by Jonathan Shank of Terrapin Station Entertainment.
Disney Junior Live On Tour: Costume Palooza features songs from several popular Disney Junior series and the original song "Green Gobby Party," written by "Marvel's Spidey and his Amazing Friends" composer/songwriter Patrick Stump (Fall Out Boy). "Green Gobby Party" and the full playlist from "Disney Junior Live On Tour: Costume Palooza" can be found here.
"Our 2022 tour broke attendance records, and we are excited to bring this year's tour to over 70 cities across North America," says Jonathan Shank, producer and CEO of Terrapin Station Entertainment. "Audiences love these characters and we can't wait to share new surprises for all the eager Disney Junior fans," says Shank.
"We are thrilled to have the hit series "SuperKitties" debuting for the first time as part of the tour. The energetic world of Kittydale makes the perfect addition to the show alongside Mickey, Spidey and their favorite Disney Junior pals." says Jennifer Rogers Doyle, senior vice president, Networks Franchise Management, Integrated Planning, Licensing, Disney Entertainment.
Parents can go to DisneyJuniorTour.com to get more information.
Discounts are available for groups of 10 or more. If you are interested in bringing a group to an upcoming event, please click the "Get Group Tickets" button below to fill out our interest form and a Group Sales Executive will contact you within 48 hours. If you would like to speak with an executive directly, please call 313-471-3099. For more group sales information and FAQs, please visit 313presents.com/Groups.