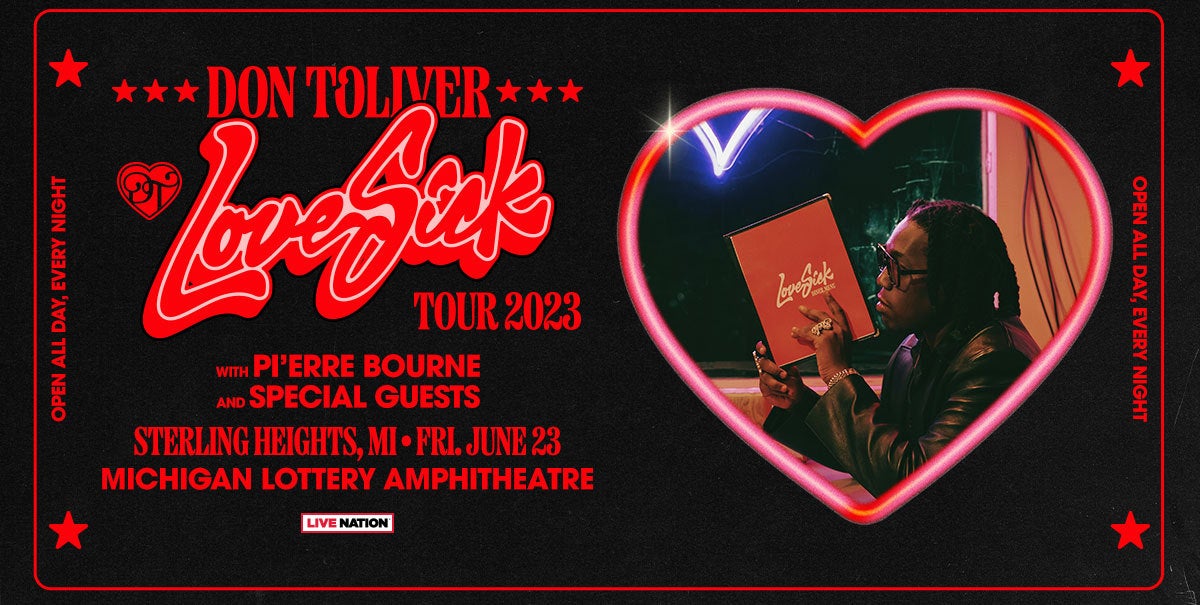 Don Toliver
"Thee Love Sick Tour 2023" with special guest Pi'erre Bourne
Don Toliver
"Thee Love Sick Tour 2023" with special guest Pi'erre Bourne
Following the release of his third studio album, Love Sick, hip-hop soul artist Don Toliver announces "Thee Love Sick Tour 2023" featuring special guests Pi'erre Bourne and more. Produced by Live Nation, the 17-city tour includes a stop at Michigan Lottery Amphitheatre on Friday, June 23 at 8 p.m.
Love Sick includes singles, "Slow Motion (Feat. Wizkid)" and "4 Me (Feat. Kali Uchis)," as well as "Leave The Club (Feat. Lil Durk & GloRilla)," and stand out track "Private Landing (Feat. Future & Justin Beiber.) The album arrived alongside a self-written short film, Love Sick, presented by Rotation – the hip-hop and R&B brand from Amazon Music – streaming now exclusively on Prime Video. Watch Here.
Love Sick was quickly upgraded into an expanded deluxe edition available now via Cactus Jack/Atlantic Records. The deluxe includes four additional tracks, including such brand new bangers as "Embarrassed (Feat. Travis Scott)," "Luckily I'm Having (Feat. Teezo Touchdown)," "No Pole," and "Geronimo," all available now for streaming and download. Expanded deluxe edition available here.
About Don Toliver
Soul singer, songwriter, and artist Don Toliver has earned worldwide attention for a unique sound that calls out his myriad musical influences of hip-hop, smoked-out R&B, ambitious pop, and even a bit of rock 'n' roll, creating a genre-bending lane of his own. After the 2018 mixtape Donny Womack, the Houston, TX native assembled his full-length debut, Heaven Or Hell, which claimed spots on mid-year and year-end lists by Complexand XXL, while Rolling Stone championed him among the "10 Biggest Breakthrough Artists of 2020." Don then joined forces with Internet Money, NAV, and Gunna for the 4x platinum banger "Lemonade," which they also performed on NBC's The Tonight Show Starring Jimmy Fallon. 2021 saw Don team with Lil Durk and Latto for "Fast Lane," the lead track on Atlantic Records' F9: The Fast Saga (Original Motion Picture Soundtrack), followed by the blockbuster release of Life of a DON, once again showcasing his fluid ability to exist in multiple soundscapes and featuring production by Mike Dean, Hit-Boy, Mustard, and more. Through it all, he has gathered billions of streams, scored platinum plaques, and received praise courtesy of everybody from such media outlets as V MAN, W Magazine, Interview, and more. 2023 now marks a spectacular new era for Don as he released his third studio album, Love Sick via Atlantic Records/Cactus Jack, alongside a self-written short film presented by Rotation—the hip-hop and R&B brand from Amazon Music—available exclusively on Prime Video.