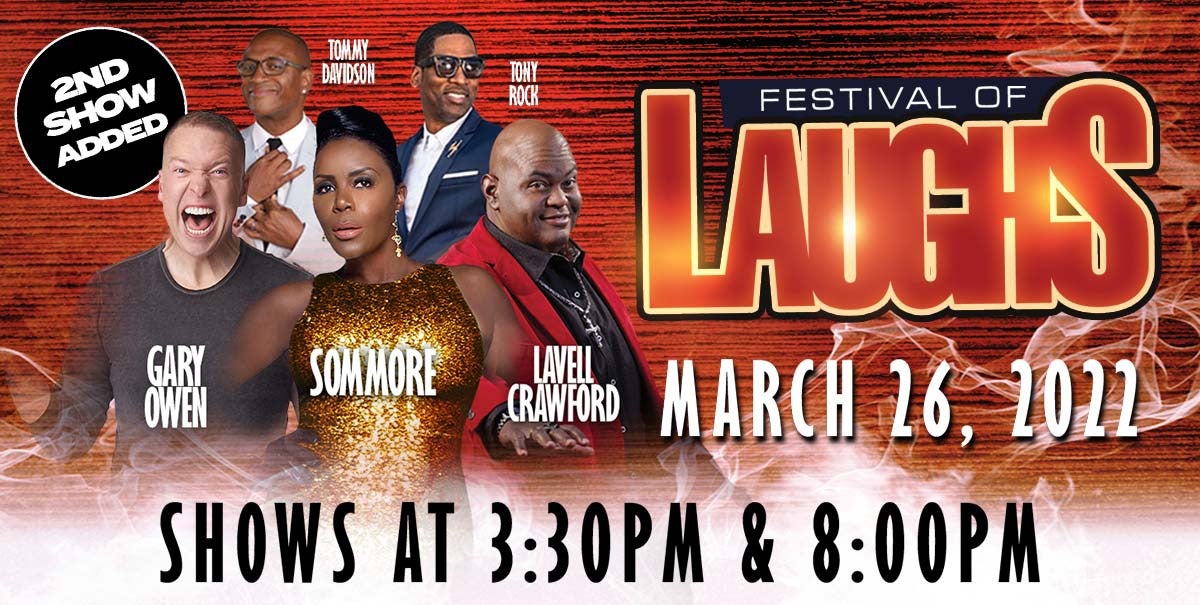 Festival of Laughs
Featuring Sommore, Gary Owen, Lavell Crawford, Tony Rock and Tommy Davidson
Festival of Laughs
Featuring Sommore, Gary Owen, Lavell Crawford, Tony Rock and Tommy Davidson
Event Details
The Festival of Laughs featuring Sommore, Gary Owen, Lavell Crawford, Tony Rock and Tommy Davidson will appear at the Fox Theatre for two shows on Saturday, March 26 at 3:30 p.m. and 8 p.m. Comerica Bank is the exclusive presenting partner of the Fox Theatre.
Please note that all purchased tickets from the three previously scheduled dates (March 21, 2020; October 3, 2020 and April 9, 2021) will be honored only for the 8 p.m. performance.
Each year, the Festival of Laughs unites some of the most popular names in comedy on stage. The highly celebrated entertainers will bring down the house with their sharp wit, unbridled humor and hysterical storytelling for a night fans won't want to miss. Lineup is subject to change. For more information, visit www.FestivalofLaughs.com.
In her more than 20-year career, award-winning comedienne of "Chandelier Status," Sommore has become a trailblazer for women in the comedy business as one of the most successful comedians in the U.S. and abroad. Sommore has been featured in a number of hit films including Soul Plane, Something New and Friday After Next. Her all-new self-produced comedy special, A Queen With No Spades, recently premiered on Showtime.
Having performed to sold-out audiences in all the major comedy clubs and theatres across the country, Gary Owen is one of America's most beloved comedians, having been proclaimed by Ebony Magazine as Black America's "Favorite White Comedian." Audiences can see Owen in his most recent comedy special, I Got My Associates currently on Showtime. Last year, Owen starred in his own docuseries The Gary Owen Show on BET, which chronicled his dynamic and interracial family life with his wife and children in small-town Ohio. Film credits include Meet The Blacks, Think Like A Man, Think Like A Man Too, Ride Along, Little Man, Daddy Day Care, and College.
Lavell Crawford is quickly climbing the comedic ranks and becoming one of the hottest stars in the biz today. Lavell first gained national exposure on NBC's hit reality series Last Comic Standing. His television appearances include Workaholics (Comedy Central), Breaking Bad (AMC), and Chelsea Lately (E! Entertainment), Shaquille O'Neal Presents: All Star Comedy Jam (Showtime) and Comic View (BET), to name a few.