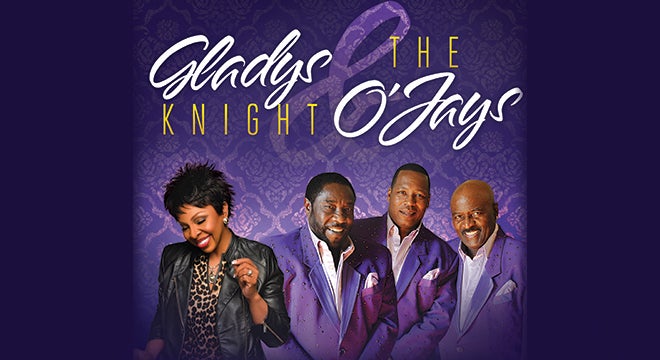 Buy Tickets
Aug

26

, 2018

Fox Theatre

Tickets start at $49.50

Tickets can be purchased at 313Presents.com, Little Caesars Arena XFINITY box office and Ticketmaster.com. To charge tickets by phone, call (800) 745-3000.
Seating Chart
Gladys Knight and The O'Jays
Aug
26
, 2018
Fox Theatre
The "Empress of Soul" Gladys Knight and The O'Jays have announced a performance at the Fox Theatre on Sunday, August 26 at 7 p.m.
The great ones endure, and Gladys Knight has long been one of the greatest. Very few singers over the last fifty years have matched her unassailable artistry. This seven-time Grammy® winner has enjoyed #1 hits in Pop, Gospel, R&B and Adult Contemporary, and has triumphed in film, television and live performance.
Fall of 2015 marked the release of Knight's first mainstream dance record, "Just A Little" in nearly twenty years. The song serves as lead single from her twelfth studio album.
Knight who is a two-time Grammy® winner in the gospel category, yet again embraced her gospel roots, releasing her inspirational album Where My Heart Belongs, in September 2014. The album was a major success and won an NAACP Image Award for "Outstanding Gospel Album."
Knight enjoyed success from her 8th solo effort, Another Journey with hit singles "I Who Have Nothing" as well as the up-tempo track "Settle," produced by Randy Jackson, with whom she previously collaborated with on her Grammy®-winning album, At Last. Knight also enjoyed the success of her song "You and I Ain't Nothin' No More" which appeared over the end credits of the critically-acclaimed Lee Daniels film The Bulter.
The O'Jays are touring history, a connection to an era and a sound that formed the soundtrack for the lives of several generations. Eddie Levert Sr., Walter Williams Sr. and Eric Nolan Grant, who joined the group in 1995, continue to thrill fans today. In 1972, Gamble & Huff, a team of producers and songwriters with whom the O'Jays had been working for several years, signed the group to their Philadelphia International label. With this magic formula, often called The Sound of Philadelphia, The O'Jays scored the first number 1 and million-seller, "Backstabbers." Subsequently, they succeeded with various chart-topping pop and R&B singles including "Love Train," "Put Your Hands Together," "For The Love of Money," "I Love Music," "Darlin' Darlin' Baby (Sweet, Tender, Love)," "Livin' For The Weekend" and "Use Ta Be My Girl." This success propelled The O'Jays to be the first black vocal group to perform in arenas throughout America during the 70s and 80s.