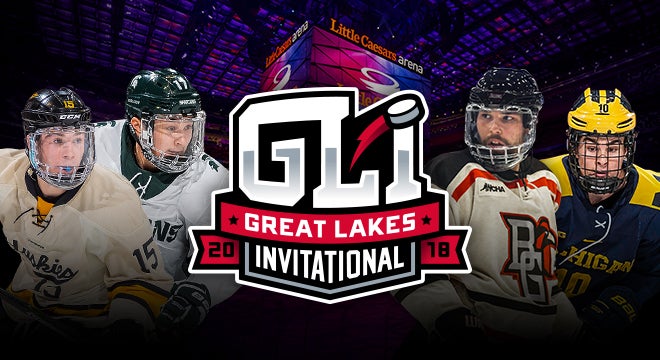 Great Lakes Invitational
Great Lakes Invitational
Event Details
Now in its 53rd year, this season's installment of the GLI will take place on Jan. 1-2, 2018, in conjunction with the Inaugural Season at Little Caesars Arena. Event host Michigan Tech, along with mainstays Michigan and Michigan State, will once again compete for the MacInnes Cup in the two-day, single-elimination tournament. Special invitee Bowling Green is set to join the field for the third time and most recent appearance since 1984.
The four-team tournament starts with a doubleheader matchup on Monday, Jan. 1 between Michigan Tech (WCHA) and Michigan State (Big Ten) at 2:30 p.m., followed by Michigan (Big Ten) against Bowling Green (WCHA) at 6:00 p.m. The winners of those contests will advance to the championship game on Tuesday, Jan. 2 at 6:00 p.m., while the puck drops on the third-place game at 2:30 p.m. on the same day.
In addition, 313 Presents and Michigan Tech have announced the next three special invitees scheduled to play in the Great Lakes Invitational alongside Michigan, Michigan State and Michigan Tech: Lake Superior State University (2018-19), Ferris State University (2019-20) and Northern Michigan University (2020-21).