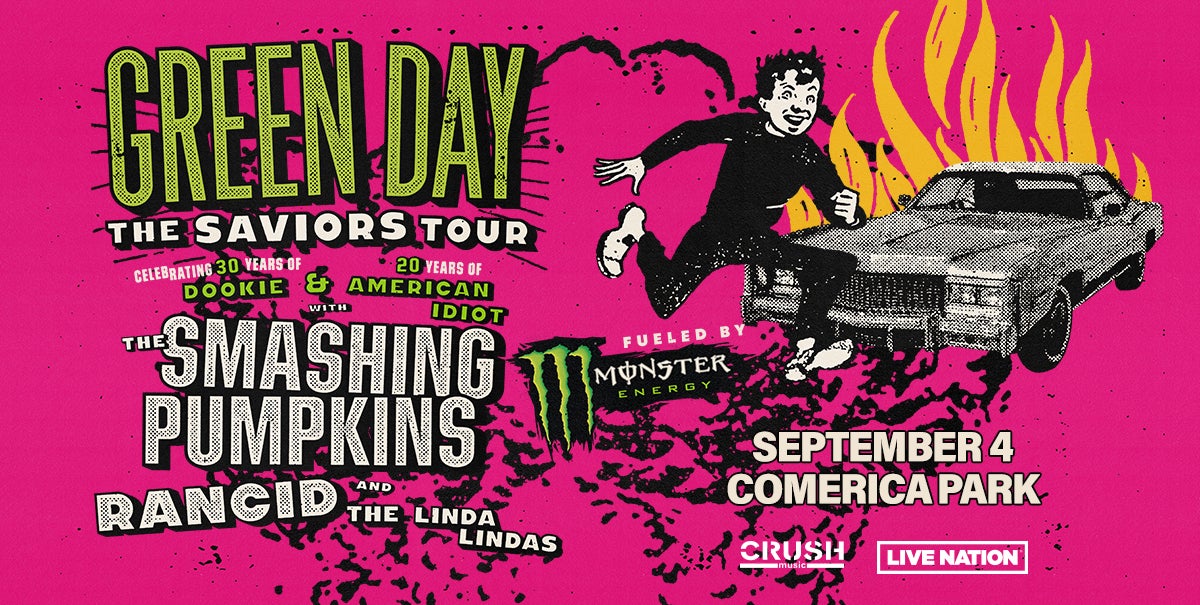 Green Day
"The Saviors Tour" with special guests The Smashing Pumpkins, Rancid and The Linda Lindas
Green Day
"The Saviors Tour" with special guests The Smashing Pumpkins, Rancid and The Linda Lindas
Global rock superstars Green Day – Billie Joe Armstrong, Mike Dirnt and Tré Cool – have officially shared details on their massive 2024 global stadium tour with support from illustrious rock luminaries The Smashing Pumpkins, Rancid, and The Linda Lindas. The Saviors Tour, fueled by Monster Energy, kicks off with the European run on May 30 in Monte De Gozo, Spain and travels through France, Germany and Italy, before reaching the UK, including a huge London show at the legendary Wembley Stadium on June 29. The North American run, produced by Live Nation, begins shortly after and includes a stop at Comerica Park on Wednesday, September 4 at 5:30 p.m.
Green Day shared, "We've never been more excited to unleash new music than with Saviors, a record that's meant to be rocked live, together. So let's thrash. We've got some amazing friends who are coming along for the ride!"

The tour will be a larger-than-life, career-spanning celebration of one of the biggest musical acts of all time and some of the most important albums in history. This year marks the 30th anniversary of Green Day's 1994 certified Diamond album, Dookie, and the 20th anniversary of 2004's juggernaut, American Idiot. Each a cultural phenomenon in its own right, these albums have remained at the forefront of punk culture since their release. With blazing guitars and electrifying vocals, Green Day are ready to bring their mind-blowing collection of hits to stadiums across the country, along with plenty of additions from their newly announced album, Saviors.

Green Day began dropping hints about their soon-to-be 14th studio album, Saviors, at a surprise show at Las Vegas' Fremont Country Club, surrounded by a crowd of 800 die-hard fans. During their Las Vegas takeover, which also included commanding headline performances at When We Were Young festival, the band debuted two killer new tracks: the first single "The American Dream Is Killing Me" and the brand new "Look Ma, No Brains!," out today. Watch the accompanying video HERE, directed by Ryan Baxley and Brendan Walter. Fans got another chance to hear the new music during Green Day's headlining Amazon Music Live concert series performance on October 26, which included the two releases along with crowd favorites from their extensive discography. With a brand new album and a nationwide stadium tour on the horizon, Green Day are ready for total domination.
VIP Packages and Experiences
The tour will also offer a variety of different VIP packages and experiences for fans to take their concert experience to the next level. Packages vary but include premium tickets, guided tours on stage, access to Green Day Hospitality Lounge, VIP entry, exclusive merch packages and more. For more information, visit greenday.com

Formed in 1986 in Berkeley, CA, Green Day is one of the world's best-selling bands of all time, with more than 75 million records sold worldwide and 10 billion cumulative audio/visual streams. The five-time Grammy Award-winning Rock and Roll Hall of Fame inductees released their breakout album Dookie in 1994, which sold over 10 million and achieved 10x Platinum Diamond status, is widely credited with popularizing and reviving mainstream interest in punk rock, catapulting a career-long run of #1 hit singles. Entertainment Weekly calls Green Day, "The most influential band of their generation," while Rolling Stone attests, "Green Day have inspired more young bands to start than any act this side of Kiss, and that doesn't seem to be changing." In 2004, Green Day released the rock opera American Idiot which captured the nation's attention, selling more than 8 million copies in the U.S. alone and taking home the Grammy Award for Best Rock Album. Mojo declared "It's exhilarating stuff, the kind of record that sets new parameters as to what is possible from a punk rock'n'roll band in the 21st century." In 2010, a stage adaptation of American Idiot debuted on Broadway to critical and commercial acclaim. Released in 2020, Green Day's thirteenth studio album Father Of All...debuted at #1 on Billboard's Album Sales Chart and #1 in both the U.K. and Australia. Pitchfork declared, "Green Day's most fetching and youthful songs in ages. The trio sounds reinvigorated, more like hungry newcomers staking their claim." In July 2021, Green Day embarked on The Hella Mega Tour (w/ Fall Out Boy & Weezer). The global tour included 29 sold-out stadium gigs – including renowned venues like London Stadium and Los Angeles' Dodger Stadium. On October 24, the band announced the release of their highly anticipated 14th studio album, Saviors, coming January 19, '24 and released their brand new single, "The American Dream Is Killing Me."