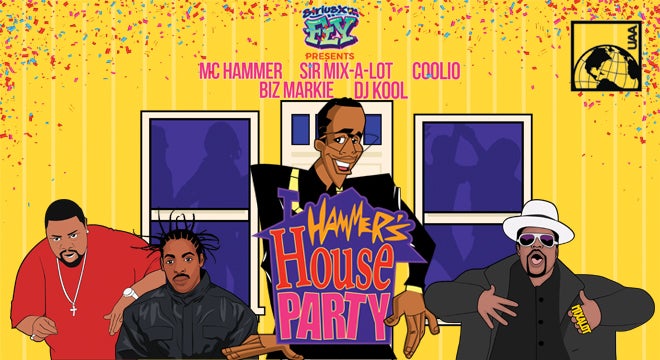 Buy Tickets
Jul

26

, 2019

DTE Energy Music Theatre

Starting at $25 and a limited number of four-packs at $75 on the United Shore lawn

Tickets can be purchased at the Little Caesars Arena XFINITY box office and Ticketmaster.com.
Seating Chart
SiriusXM FLY presents "Hammer's House Party Tour" featuring MC Hammer
With special house guests Sir Mix-A-Lot, Coolio, Biz Markie and DJ Kool
Jul
26
, 2019
DTE Energy Music Theatre
Get ready to crash the biggest party of the year with "Hammer's House Party Tour" presented by SiriusXM FLY, as MC Hammer embarks on his first major tour since 1991. Presented by Universal Attractions Agency, "Hammer's House Party" brings together some of the most recognizable Hip-Hop and R&B acts from the `80s and `90s to one stage. Hammer's pulling out all the stops for this star-studded, once-in-a-lifetime concert visiting DTE Energy Music Theatre on Friday, July 26 at 7:30 p.m.
For more information and all ticketing information please visit www.hammershouseparty.com. Exclusive MC Hammer & greet + VIP ticket packages will be available via Future Beat. For details: www.future-beat.com.
"Hammer's House Party" invites fans to reminisce with some of the most iconic names in pop, hip-hop and R&B. The featured lineup at DTE Energy Music Theatre will include performers MC Hammer, Sir Mix-a-Lot, Coolio, Biz Markie and DJ Kool who will perform the biggest hits of a generation. Audiences can expect to hear chart-topping hits like MC Hammer's "U Can't Touch This" and "2 Legit 2 Quit," Sir Mix-a-Lot's "Baby Got Back," and many, many more during this nostalgia-themed night out that will bring the hits and get you dancing. Don't miss this once in a lifetime event.
"Hammer's House Party" is the latest iconic package tour created by Universal Attractions Agency in partnership with MC Hammer. With Hammer being largely off the touring scene and deeply involved in tech, philanthropy, and prison reform (The Last Mile) over the last decade, he decided it was time to give his fans what they wanted – a proper tour. Hammer says of UAA's co-owner Jeff Epstein, "When Jeff pitched the idea to me for Hammers House Party, I loved the concept and the potential lineups, and we collectively hit the ground running. It's Hammertime."
"Hammer is one of our top clients for a very long time, and he's one of the hardest working and most giving people I know," says Epstein, "The demand for him as a performer has actually increased while he's been off the touring circuit. He truly is 2 legit to quit!"
SiriusXM FLY plays Hip Hop and R&B songs from the `90s and 2000s. Listeners will hear music from artists including Snoop Dogg, Boys II Men, Ludacris, Alicia Keys, Jodeci, Dr. Dre, Lauryn Hill, Fugees, 2Pac, Missy Elliott and Notorious B.I.G.
ABOUT MC HAMMER
One of the most recognizable names of that decade, MC Hammer burst onto the pop music scene in 1990 with his hit "U Can't Touch This." MC Hammer has since sold more than 50 million albums, won three Grammy® Awards and earned eight American Music Awards.
His 1990 album, Please Hammer, Don't Hurt 'Em spent 21 weeks atop the Billboard 200 and became the first hip-hop album to be certified Diamond (over 10 million units sold) by the Recording Industry Association of America.
BET ranked Hammer as the #7 "Best Dancer Of All Time." Vibe's "The Best Rapper Ever Tournament" declared him the 17th favorite of all-time during the first round.
Per an interview with Forbes, Hammer says "My approach to entertainment from the beginning was to do something that other rap artists at the time weren't doing – to put on a really high-energy show and to try to do a lot of other things that weren't traditional."
Not only an artist, he's also a record producer, actor, choreographer, reality TV star, startup entrepreneur, tourism spokesman for The City of Oakland, angel investor, public speaker, social media expert, father, husband and humanitarian. One of Hammer's latest projects includes The Last Mile of which he was the first board member. The Last Mile is a vocational rehabilitation program that trains prisoners in technology skills to improve their chances of employment upon release and just received a grant from Google.org in the amount of $2 million in funding.