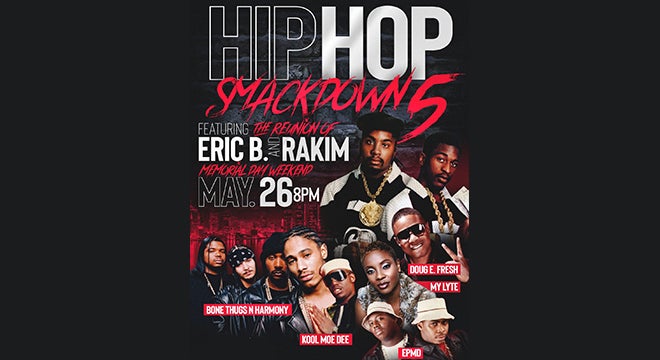 "Hip Hop Smackdown 5!"
with Kool Moe Dee, EPMD, MC Lyte, Doug E. Fresh, Bone Thugs-N-Harmony and Eric B. & Rakim
"Hip Hop Smackdown 5!"
with Kool Moe Dee, EPMD, MC Lyte, Doug E. Fresh, Bone Thugs-N-Harmony and Eric B. & Rakim
The most anticipated rap show of the summer is heading to the Fox Theatre on Memorial Day Weekend as New Day Entertainment presents "Hip Hop Smackdown 5!" This year's lineup includes some of the most memorable names in Hip Hop including Kool Moe Dee, EPMD, MC Lyte, Doug E. Fresh, Bone Thugs-N-Harmony, and will feature the long-awaited reunion of Eric B. & Rakim. "Hip Hop Smackdown 5!" comes to the Fox Theatre on Saturday, May 26 at 8 p.m. Lineup subject to change.
The iconic hip-hop duo Eric B. & Rakim are the most recognized DJ/MC team in all of rap history. Not only is their chemistry unparalleled, but individually they each represent the absolute state of the art in their respective skills. Eric B., a highly influential DJ and beatmaker known for his hard-hitting James Brown samples and Rakim, acclaimed for his flawlessly crafted poetic rhymes. Together, the pair have advanced the art form of hip-hop with some of their revered tracks like, "Paid in Full," "I Ain't No Joke," "Move the Crowd" and "My Melody."
Legendary rap group Bone Thugs-N-Harmony has made substantial contributions to music since first being signed by renowned rapper Eazy-E in 1993. The Cleveland natives had their mainstream debut in the early 90's and received one of the first album nominations for the inaugural Best Rap Album at the 1996 Grammys®. They later won a Grammy® for Best Rap Performance by a Duo or Group. Bone Thugs-N-Harmony's hit tracks include Grammy® award winning "Tha Crossroads," "1st of Da Month," and "East 1999" dedicated to their late executive producer Eazy-E.
The first human beatbox in the rap world, and still the best of all time, is none other than Doug E. Fresh. His beatbox style continues to wow audiences. His note-perfect imitations of drum machines are unsurpassed in the hip-hop world. His hits have been featured on soundtracks including New Jack City, CB4 and Brown Sugar. Doug E. Fresh is known for his signature dance "the Dougie" and signature songs "Keep Risin To The Top," "Cut That Zero" and Slick Rick collaborations "Ladi Dadi" and "The Show".
Hailed as one of the smoothest female lyricists in all of rap history, MC Lyte is esteemed in hip-hip for her outspoken style. She paved the way for other female rappers and has taken bold stands against violence and sexism. MC Lyte's gift has made for her not only as an acclaimed rapper, but as an activist and actress as well. Her chart toppers include: "Lyte as a Rock," "Poor Georgie," "Cappuccino" and "Ruffneck".
Rap Duo Erick Sermon and Parrish Smith make up the highly celebrated team EPMD. These two emcees are credited for delivering music that combines a feel-good groove with no nonsense verses. They created numerous hip-hop classics including "It's My Thing," "You Gots to Chill," "Get the Bozack," "Strictly Business" and "Rampage."
Renowned rapper Kool Moe Dee not only coined the phrase "How Ya Like Me Now," but he turned into a hip-hop staple when he became the rap artist to ever perform at the Grammy® Awards. His playlist also includes "Wild Wild West," "I Go to Work" and "Go See the Doctor."