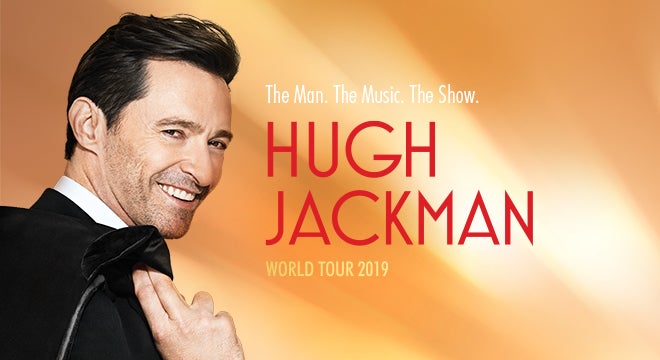 HUGH JACKMAN
The Man. The Music. The Show. World Tour
HUGH JACKMAN
The Man. The Music. The Show. World Tour
Event Details
Academy Award®-nominated, Golden Globe- and Tony Award-winning performer, Hugh Jackman, recently announced his first world tour. The Man. The Music. The Show. will see Jackman performing hit songs from The Greatest Showman, Les Misérables and more from Broadway and film, accompanied by a live orchestra. The Man. The Music. The Show. will visit Detroit on Monday, June 24 at Little Caesars Arena. The tour is produced by AEG Presents and TED-Dainty.
Hugh Jackman has made an impression on audiences of all ages with his multi-hyphenate career persona, as successful on stage in front of live crowds as he is on film. From his award-winning turn on Broadway as the 1970s singer/songwriter Peter Allen, to his metal claw-wielding Wolverine in the blockbuster X-Men franchise, Jackman has proven to be one of the most versatile actors of our time.
Jackman garnered his first Academy Award® nomination, for Best Actor, for his performance in Tom Hooper's Les Misérables, based on the popular stage show created from Victor Hugo's famous novel of the same name. Jackman's standout performance as protagonist Jean Valjean also earned him a Golden Globe Award for Best Actor in a Comedy/Musical, as well as Screen Actors Guild (SAG) Award® nominations, for both Best Ensemble and Best Male Actor in a Leading Role, and a BAFTA Award nomination. Most recently, he was nominated for his role as P.T. Barnum in The Greatest Showman. Sales for the soundtrack to the film have broken records the world over and reached multi-platinum status in many countries including the UK and America.
About AEG Presents
AEG Presents is one of the world's largest live music companies. The company is dedicated to all aspects of live contemporary music performances, including producing and promoting global concert tours, regional music events and world-renowned festivals. AEG Presents operates in North America, Europe and Asia with 15 regional offices. Touring artists include Taylor Swift, Paul McCartney, The Rolling Stones, Justin Bieber, Katy Perry, Elton John, Celine Dion, Kenny Chesney and more. The festival roster includes the iconic Coachella Valley Music & Arts Festival, New Orleans Jazz & Heritage Festival, Stagecoach, Desert Trip, Firefly, Hangout, and British Summertime at Hyde Park, totaling more than 40. The company owns, manages or exclusively promotes in more than 75 clubs and theaters worldwide, including Agora Theatre, Cleveland; Forest Hills Stadium and Webster Hall, New York; Shrine Auditorium and The Fonda, Los Angeles and Eventim Apollo, London. AEG presents more than 12,000 shows annually and conducts business under such globally renowned brands as AEG Presents, Goldenvoice, The Bowery Presents, Concerts West, Messina Touring Group, Marshall Arts LTD, and Madison House Presents. For more information visit www.aegpresents.com.
About TEG-DAINTY
TEG-DAINTY produces and promotes shows across Australia and New Zealand, South East Asia and South Africa. Tours include Guns N Roses, Katy Perry, Phil Collins, Michael Bublé, Bon Jovi, Eminem, Queen and Adam Lambert, Paul McCartney, Rolling Stones, George Michael, U2, Yusuf (Cat Stevens), Neil Diamond, Tony Bennett, Jerry Seinfeld, Chris Rock, Hugh Jackman, Oprah Winfrey and many more. Sports entertainment, Live Events include World Wrestling Entertainment. Theatrical Productions and investments include Jersey Boys, Mamma Mia!, Billy Crystal's 700 Sundays, Hairspray the Musical, The Rocky Horror Show. For more information visit http://www.tegdainty.com.