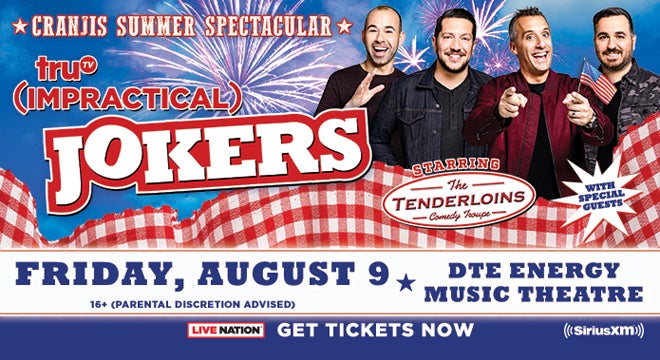 Impractical Jokers "Cranjis Summer Spectacular" Starring The Tenderloins
with special guests Chris Distefano, Gary Vider and more
Impractical Jokers "Cranjis Summer Spectacular" Starring The Tenderloins
with special guests Chris Distefano, Gary Vider and more
Event Details
The critically-acclaimed, world-renowned stars of truTV's hit series Impractical Jokers – comedy troupe The Tenderloins – have announced three very special 2019 live performances as part of their current tour – "The Cranjis McBasketball World Comedy Tour." Produced by Live Nation, Q, Sal, Murr and Joe are excited to kickoff "The Cranjis Summer Spectacular" at DTE Energy Music Theatre on Friday, August 9. Special guests Chris Distefano and Gary Vider will join as support.
These over-the-top Summer Spectacular shows include their newest "Cranjis McBasketball" show that is currently selling out across America – *PLUS* – the addition of special guest performers and fun activities on the concourse.
In addition to the Cranjis live performances, The Tenderloins have an action-packed 2019 planned. They recently wrapped shooting their Impractical Jokers Movie directed by Chris Henchy and produced by Funny or Die. In February, the group will be setting sail with Sixthman on their 3rd annual SOLD-OUT Impractical Jokers Cruise from Tampa to the Bahamas. Later in the year, The Tenderloins are starring in TBS' The Misery Index, a brand-new game show co-starring Jameela Jamil (from NBC's The Good Place). All the while, truTV will be airing Season 8 of Impractical Jokers, with all 26 brand new episodes airing before the year is out.
About The Tenderloins
The Tenderloins, is a New York-based comedy troupe, whose four members – Joe Gatto, James Murray, Brian Quinn and Sal Vulcano – are the creators, executive producers and stars of truTV's hit series, Impractical Jokers. Now in its seventh season, Impractical Jokers follows The Tenderloins as they compete top embarrass each in public while being filmed by hidden cameras. With each new season, the show continues to take dares to outrageous levels with new over-the-top hijinks. In addition to the top-rated television show, the Troupe has toured steadily over the last five years with its highly-successful, "Where's Larry?" & "Santiago Sent Us," tours playing to hundreds of thousands of fans in the US and UK, including three sold-out nights at Radio City Music Hall, a sold-out Madison Square Garden, and five sold-out shows at London's O2 Arena. Natives of Staten Island, NY, Vulcano, Gatto, Murray and Quinn met while attending high school and later formed The Tenderloins Comedy Troupe in 1999. After years of performing live improv and sketch comedy shows, The Tenderloins crossed over to the web, garnering millions of views for their internet sketches, eventually creating the runaway success Impractical Jokers for truTV. Impractical Jokers is top 5 in its timeslot on cable in the US and is the #1 show on Comedy Central in the United Kingdom and India.
Lineup subect to change.