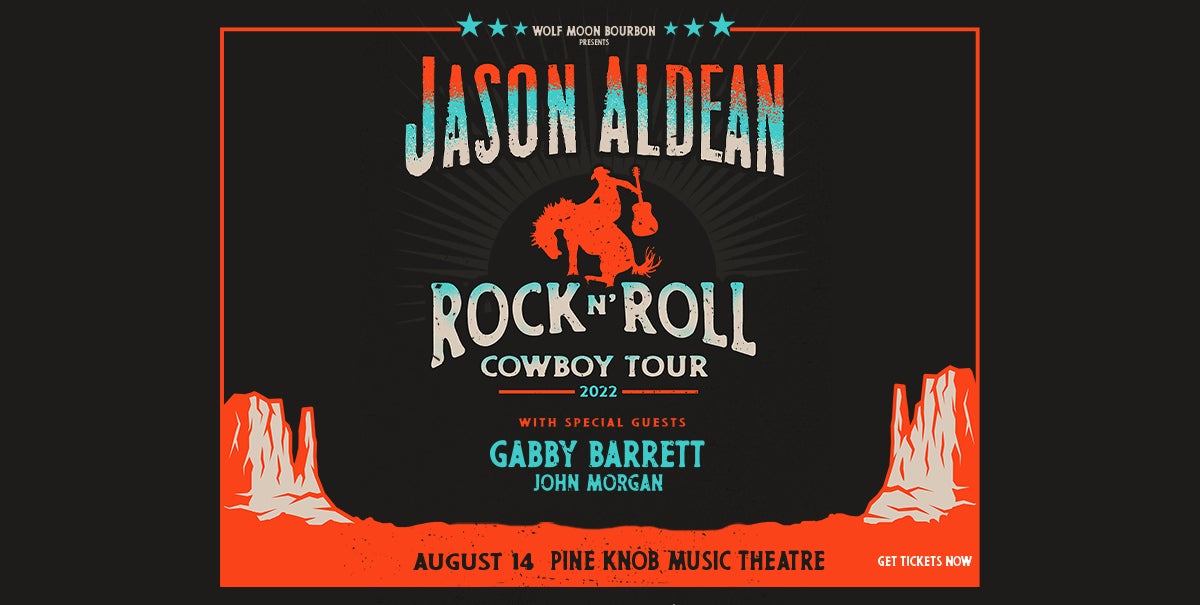 Jason Aldean
"Rock N' Roll Cowboy Tour" with special guests Gabby Barrett and John Morgan
Jason Aldean
"Rock N' Roll Cowboy Tour" with special guests Gabby Barrett and John Morgan
Event Details
Multi-Platinum entertainer Jason Aldean announces today that he will gear up for the road this summer with his "Rock N' Roll Cowboy Tour," produced by Live Nation. The 34-city trek will visit Pine Knob Music Theatre with special guests Gabby Barrett and John Morgan on Sunday, August 14 at 7:30 p.m. Pine Knob Music Theatre is presented by Proud Partners United Wholesale Mortgage, Trinity Health and Ally.
"I'm ready to get back out and feel the nights come alive," Aldean said. "We are already thinking about the setlist…there will be some songs off the new record like 'Rock And Roll Cowboy,' which felt like a great tour name because it's all about knowing you belong on the road."
This year's CRS Humanitarian Award recipient built the "Rock N' Roll Cowboy Tour" namesake from his recently released heavy-hearted dispatch track "Rock And Roll Cowboy" off his upcoming expansive 10th release double-album Macon, Georgia (Macon Music/Broken Bow Records), available in its entirety on April 22. As "Macon exhibits Aldean's dynamic approach to Country music" (American Songwriter), it is sure to translate onstage as "he knows how to augment and enrich the fan experience with dazzling light shows and pyrotechnics," (Spokesman Review).
The three-time ACM "Entertainer of the Year" has bolstered 26 No. One hits, 15 billion streams and more than 20 million albums sold as "he has blended his own recipe and it's one that has vaulted him to the pinnacle of Country music success," (Atlanta Journal Constitution). Notably, seven of Aldean's previous studio albums have been certified Platinum or more and he has the most Top 10 song on Billboard's Hot Country Songs chart, more than any other artists, since making his chart debut in 2005. The current Grammy® nominee continues be one of a card-carrying member of Country's elite headliners whose incendiary tours are nearing legendary status as his shows are "filled with the perfect mix of rockin' anthems and raucous drinkin' songs," (Herald Extra). The multi-Platinum singer also founded Wolf Moon Bourbon, an 80 proof bourbon that has been distilled from Midwestern grains and aged for four years offering a finish of caramel, oak and spice. For more information, visit www.JasonAldean.com.
Warner Music Nashville's multi-Platinum star Gabby Barrett is setting the trend in Country music. Amassing nearly two billion global streams to her credit, Barrett's expanded version of her acclaimed debut album, GOLDMINE (DELUXE), features current single "Pick Me Up." Breaking out with her top-streaming Gold LP, the wildly-praised collection launched her meteoric 5X Platinum "I Hope" – the most-streamed Country song of 2020; four-week Hot AC #1 crossover "I Hope (feat. Charlie Puth)" – which earned the iHeartRadio Titanium Award for reaching over one billion radio spins; and Platinum three-week #1 "The Good Ones." Next to be honored at Billboard's 2022 Women in Music Awards with the "Rising Star Award" presented by Honda, ACM's reigning "New Female Artist of the Year" is also set to co-host the 57th Academy of Country Music Awards™ and nominated for "Female Artist of the Year." Adding even more elite wins to her goldmine of accolades from American Music Awards, Billboard Music Awards, iHeartRadio Music Awards, and CMT Music Awards, Barrett was recognized as one of the five 2021 CMT Artists of the Year. For more information visit www.gabbybarrett.com.
John Morgan brings a blue-collar toughness to Country that's pulled straight from the only life he knows. Hailing from a tiny town called Sylva, deep in the Great Smoky Mountains of North Carolina, John Morgan grew up immersed in Bluegrass tradition and even toured the festival circuit each summer in a family band, before diving into songwriting, inspired by six-string legends from Tony Rice to John Mayer. More than a year after selling everything he had to follow his dream, an only-in-Nashville story involving Uber drivers and impressive demos led to a writing session with Kurt Allison and Tully Kennedy—two incredible songwriters and longtime bandmates of Aldean. That session led to the superstar cutting eight songs written by John, including "If I Didn't Love You". Aldean signed John to Night Train Records, his imprint with BBR Music Group and his debut track, "Coldest Beer In Town" was released in 2021. For more information visit www.johnmorganmusic.com.
About Live Nation Entertainment
Live Nation Entertainment (NYSE: LYV) is the world's leading live entertainment company comprised of global market leaders: Ticketmaster, Live Nation Concerts, and Live Nation Sponsorship. For additional information, visit livenationentertainment.com.