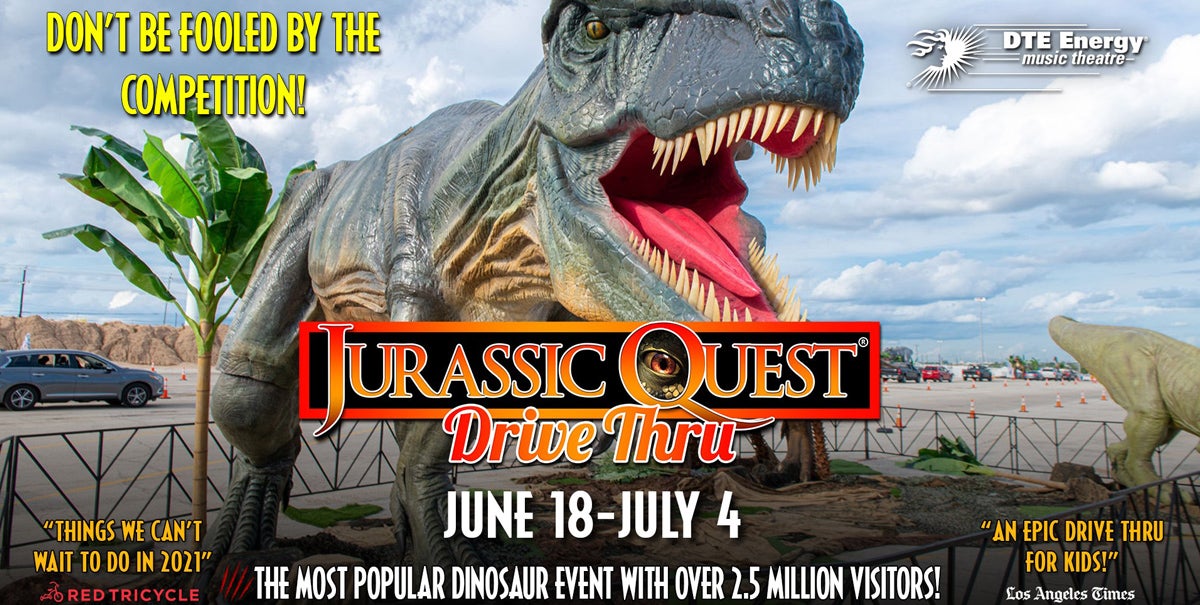 Jurassic Quest Drive Thru
Jurassic Quest Drive Thru
Event Details
ATTENTION Detroit dinosaur lovers! Our dinosaurs are having a RAWRIN' good time on the road and want to continue the DRIVE THRU FUN at DTE Energy Music Theatre parking area Friday, June 18 through Sunday, July 4.
Experienced by over 1.5 million guests and as featured in the Wall Street Journal, Jurassic Quest Drive Thru in the ultimate interactive drive thru experience, featuring over 70 MOVING and ROARING dinosaurs and our 50 - foot - long Megalodon!
Jurassic Quest Drive Thru is a safe family outing experienced through the safety and comfort of your own car. Purchase with confidence as all tickets are 100% guaranteed!
GO ON A QUEST with our online audio tour that will take you throughout our exhibit where you will encounter some of the largest dinosaurs to ever roam the earth, and some of the eeriest marine creatures to ever lurk the ocean's depths!
Come see Jurassic Quest's first drive thru edition, featuring some of the largest & most realistic dinosaurs in North America!
Our drive thru edition features:
- A drive-thru quest, which includes over 70 dinosaurs that are true-to-detail (and size)!
- Your own personal audio tour guide that will accompany you throughout the journey!
- Our incredibly realistic and interactive baby dinosaurs as part of the tour!
- A FREE SOUVENIR PHOTO (one per vehicle) that will be available online!
- Our very own dino doctor that will be available via text for all of your prehistoric questions!
Timeslots and hours will vary by day. Tickets are good for entry at any time during your time slot. Be sure to secure your spot online before it sells out, as we do foresee a quick sell out.
Tickets will be sold ONLINE ONLY at JurassicQuest.com. Tickets will not be available for purchase at the gate.
Discounts are available for groups of 10 or more. If you are interested in bringing a group to an upcoming event, please click the "Get Group Tickets" button below to fill out our interest form and a Group Sales Executive will contact you within 48 hours. If you would like to speak with an executive directly, please call 313-471-3099. For more group sales information and FAQs, please visit 313presents.com/Groups.
Jurassic Quest will continue to take extra precautionary measures to provide a clean and safe event. Food or beverage will not be available for purchase onsite, so guests are encouraged to bring their own snacks to enjoy during the ride. Merchandise will be available for purchase at the Dino Store, and all transactions are cashless and touchless, as staff will deliver items to vehicles. Guests are to remain in vehicles and wear masks in the event they exit the vehicle in allowed areas to use the restroom prior to or after the ride. Social distancing rules will be requested of all guests and maintained by Jurassic Quest crew, who will be sanitizing equipment, dinosaurs and workstations more frequently and thoroughly throughout the entirety of the event. Employees will be applying hand sanitizer and washing their hands regularly throughout each day, in addition to wearing masks. Guest safety and enjoyment is Jurassic Quest's top priority.
Guests must travel through the drive-thru in the comfort of their own vehicle - no rentals or golf carts will be provided and walkers are not allowed. To ensure participant safety, all guests must ride inside their vehicles (yes, pets inside vehicles are allowed), no riders in truck beds, however. Trailers are also not allowed – as they might tempt the hungry dinos too much. Oversized vehicles and vehicles with more than nine riders are allowed (at $80 per vehicle plus fees), but vehicles must be under 10 feet tall and under 25 feet long.