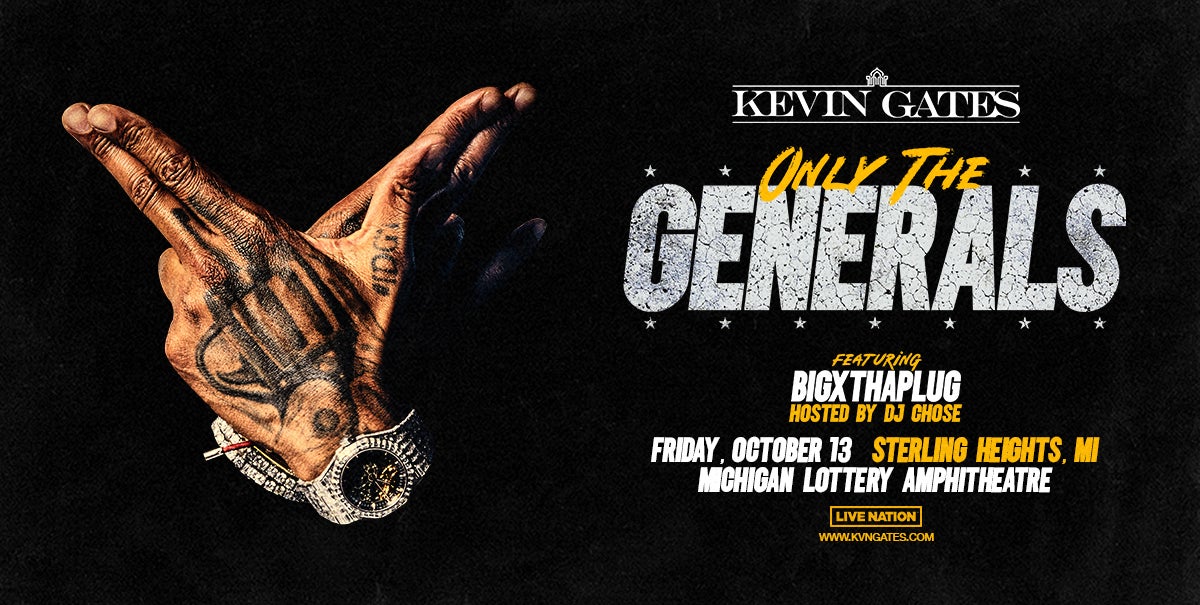 Kevin Gates
"Only The Generals Tour" with BigXthaPlug & Hosted by DJ Chose
Kevin Gates
"Only The Generals Tour" with BigXthaPlug & Hosted by DJ Chose
RIAA multi-platinum certified rap superstar, Kevin Gates, brings his new 'Only The Generals' national tour to Michigan Lottery Amphitheatre on Friday, October 13 at 8 p.m. The tour will span 30 shows and will kick off in Portsmouth, VA on October 6 with direct support from BigXthaPlug and Hosted by DJ Chose. The tour announcement comes on the heels of Kevin's previously released single and visual, "Do It Again." Kevin kicked the year off with the single and visual "Breakfast" and the re-release of his debut mixtape, The Luca Brasi Story (A Decade of Brasi) to celebrate the 10-year anniversary of the project.
Party Boxes
Upgrade ticket experience to a private party box. This experience comes with access to the MotorCity Casino Hotel VIP Club, a complimentary buffet dinner and select alcoholic beverages (for up to 2 hour after doors), and 2 VIP Parking passes. Boxes can accommodate 12 to 20 people.
Season Memberships
Amplify your concert experience all summer long with access to the MotorCity Casino Hotel VIP Club, a complimentary buffet dinner and select alcoholic beverages (for up to 2 hour after doors), VIP parking, and more!
Kevin Gates transformed into one of the game's most impactful and inimitable rappers by simply being Kevin Gates. Nearly 15 years into an unbelievable career, he doesn't chase trends. He doesn't censor himself. He doesn't hold back. Instead, he speaks his mind and fulfills every promise. It's why the Baton Rouge, LA native has racked up over 6 billion streams, 6 billion views, and dozens of multiplatinum, platinum, and gold certifications. It's why his 2013 song "Thinking With My Dick" reached Billboard's Hot 100 for the first time in 2022 and became #1 overall sound on TikTok. It's why he's logged four Top 5 entries on the Billboard Top 200 in addition to seven Top 5 entries on both the Top Rap Albums Chart and the Top R&B/Hip-Hop Albums Charts. It's why he's sold-out successive headline tours, delivered show-stopping sets at Rolling Loud and JMBLYA, and ignited arenas with Cardi B. It's why he's received various high-profile award nominations. It's why he's reached rarified air, emerging as the second best-selling hip-hop artist of 2016 only behind Drake. It's why he's also spawned countless think pieces. Among those, Pitchfork described 2019's gold certified I'm Him as "another showcase for the Baton Rouge rapper's fully formed and gloriously weird personality" and praised, "The hooks are magnificent, his most boisterous and fine-tuned since Islah." As always, he doesn't compromise on 2021's Only The Generals Part II [Bread Winner Alumni/Atlantic Records] and more music on the horizon. He's only gotten better at being Kevin Gates. Kevin continues his reign with the release of his third full-length LP, KHAZA. Since the album's release Kevin has released several singles to keep the momentum building including: "Big Lyfe," "Bad For Me," "Intro," "Metro," "Major League," and his explosive "Super General (Freestyle)." His KHAZA national tour supported the album with several sold-out dates across the country first kicking off in Dallas, TX.