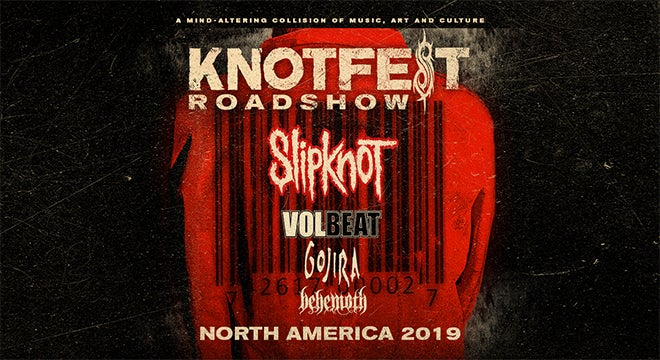 Buy Tickets
Aug

12

, 2019

DTE Energy Music Theatre

Starting at $39.50 and a limited number of four-packs at $100 on the United Shore lawn

Tickets can be purchased at the Little Caesars Arena XFINITY box office and Ticketmaster.com.
Seating Chart
Knotfest Roadshow featuring Slipknot
with special guests Volbeat, Gojira and Behemoth
Aug
12
, 2019
DTE Energy Music Theatre
Slipknot have announced their live return, unveiling details of their massive "Knotfest Roadshow" headline tour set to traverse across North America this summer. Volbeat, Gojira and Behemoth will join as special guests on all dates. Produced by Live Nation, the 29-city outing will visit DTE Energy Music Theatre on Monday, August 12 at 5:30 p.m.
IN ADDITION TO THE VENUE POLICIES, PLEASE NOTE THE FOLLOWING ITEMS ARE PROHIBITED FOR THIS EVENT:
Any and ALL WEAPONS, including but not limited to: firearms, knives, fireworks, Laser Pointers/Pens and Glow Sticks
Glass or glass bottles
Cans
Plastic Bottles
Coolers
Chairs
Outside food of any kind
Umbrellas
Audio or video recording devices including Go-Pros, iPad, Selfie Sticks or Detachable Lens Cameras
Tablets/Pads
Liquid
Purses or drawstring bags larger than 14" x 14" x 6"
Backpacks/Waist-packs
Large purses
Large belt buckles
Large blunt objects
Chain wallets
Illegal drugs or substances
Pets (Service dogs exempt)
Candles, whistles, horns or any noise making devices
Inflatable items such as beach balls
Bicycles, Scooters or Segway's
Outside sponsorship CD's or promotional flyers
Signs of any size and kind
Spiked bracelets, belts, neck collars, spiked boots, chains, sharp pointed rings, or jackets
Masks are allowed inside the venue. They cannot be worn through security, and they cannot be worn while patrons are walking about the venue for safety reasons.
Professional photography equipment UNLESS ACCOMPANIED WITH A VALID PHOTO PASS
Slipknot have also revealed that they will release their long awaited new studio album on August 9. Each pair of tickets purchased online for Slipknot's 2019 tour comes with a digital copy of their upcoming new album, scheduled for release August 9, 2019. Further instructions will be available upon purchase with additional album details to be revealed in the coming weeks. For more information visit www.slipknot1.com.
Slipknot shocked fans around the globe last year with the release of a brand new track, "All Out Life." Reaction to the unrelenting track was staggering, with the official music video – directed by the band's own M. Shawn Crahan – trending Top Ten of all videos worldwide on YouTube in it's first day on the band's official YouTube channel. In the four months since release, "All Out Life" has already racked up over 30 million streams worldwide across digital service providers and 30 million YouTube views. "All Out Life" is available now at all digital service providers.
Slipknot are at once popular and critically recognized, despite their unflinching and uncompromising pursuit of their art. Emerging 20 years ago from Des Moines Iowa, the band's 1999 eponymous debut album is widely regarded as a modern day classic and was honored by Metal Hammer magazine as the 'Best Debut of the Last 25 Years.' The release quickly racked up double RIAA platinum certification in the US, with many of Slipknot's subsequent releases achieving platinum status around the globe. To date, the band have been nominated for 10 Grammy® Awards (winning in 2006 for 'Before I Forget'), as well as scoring 13 Platinum and 44 Gold record certifications around the world, 30 million unit sales and over 2.5 billion YouTube views to date. Slipknot's fanbase is as unwavering as it is ubiquitous – the band's last studio album, 2014's .5: The Gray Chapter debuted Top 5 in the Official Album Charts of 19 countries around the world, including the US (#1), UK (#2), Japan (#1), Australia (#1), Russia (#1) & Germany (#2).
For more information on SLIPKNOT, visit:
Official Website | Facebook | Twitter | Instagram | YouTube
Apple Music | Spotify | Amazon Music | Roadrunner Records
About Volbeat
Volbeat emerged from Copenhagen in 2001. Since then, they've tirelessly clawed their way to hard rock's upper echelon with endless touring and a string of six beloved full-length albums. Their 2010 album Beyond Hell/Above Heaven, which features hit singles "A Warrior's Call" and "Heaven Nor Hell," received RIAA Gold Certification. 2013's Outlaw Gentlemen & Shady Ladies bowed at #9 on the Billboard Top 200 upon release marking the highest U.S. chart entry for a Danish Act since 1997 until the band's 2016 album Seal The Deal & Let's Boogie topped it by debuting at #4. Most recently the band released Let's Boogie! Live From Telia Parken, which commemorates and immortalizes Volbeat becoming the first Danish band to headline and sell out their hometown venue, Denmark's Telia Parken, with over 48,250 people in attendance. The 26-track album and concert film includes live versions of Volbeat's chart-topping hits and features special guests on the album including (in order of appearance) Mille Petrozza, Johan Olsen, Mark "Barney" Greenway, Lars Ulrich, boxer Mikkel Kessler and Danko Jones.
About Gojira
Gojira, comprised of brothers Joe Duplantier [vocals, guitar] and Mario Duplantier [drums], Christian Andreu [guitar], and Jean-Michel Labadie [bass], have challenged themselves and heavy music since forming in 1996. The band's most recent release, Magma, shook the world in 2016, staking its claim amongst the year's best albums and earning Gojira their first ever Grammy® nominations for Best Metal Performance and Best Rock Album. Magma took the #1 spot on Billboard's Hard Rock Albums chart upon debut, making Gojira the first French band to hold the #1 spot on the chart in its 12 year existence. A true global phenomenon, Magma marked the highest chart debuts of Gojira's career landing them Top 25 on the Billboard 200, with career high chart positions around the globe including; Top 10's in France, Canada, Switzerland, Austria, Finland and Norway, with Top 15 debuts in Australia and Germany. Magma received Metal Hammer's coveted "Album of the Year" title, while also landing on Rolling Stone's "Top 20 Metal Albums of 2016," Consequence of Sound's "Top 50 Albums of 2016" / "Top 10 Metal Albums of 2016" lists, and Pop Matters' "Best Metal of 2016" recap. Additionally, "Stranded," the lead single off of Magma, was named one of Stereogum's "100 Favorite Songs Of 2016."
About Behemoth
Over the last two years, Behemoth have transformed themselves in to just that. Leading the charge within the extreme metal world on the back of their brand-new release I Loved You At Your Darkest, we have seen Behemoth and their Legions grow in unanticipated numbers. Having just completed their most successful European and North American headline tours to date, Behemoth now bring their sacrilegious swarm back to open the biggest metal tour of the year. Behemoth began in 1991 through founding member and band leader, Nergal in his home town of Gdansk, Poland. After many years of hard work and tenacity, Behemoth began to create their own traction releasing the extremely successful releases, Demigod and Evangelion. Since, the momentum has steadily built up to their break-through record, The Satanist which gave Behemoth worldwide recognition, no longer confided to underground sub-genres. I Loved You At Your Darkest takes us to date and another step in the evolution of Behemoth.