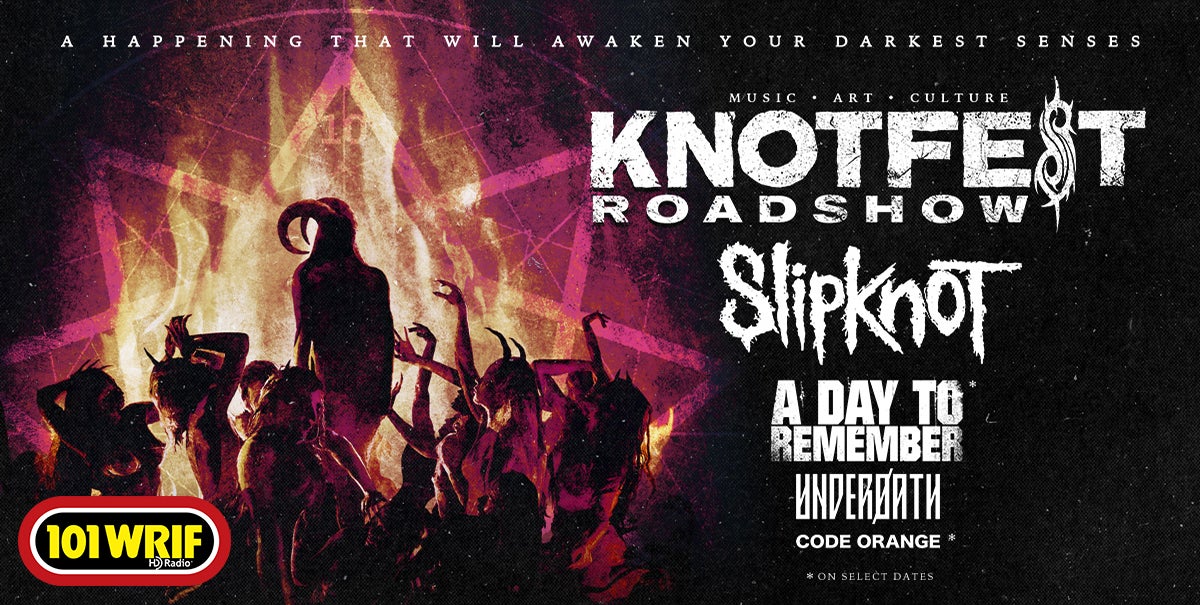 Knotfest Roadshow 2020 featuring Slipknot
with special guests A Day to Remember, Underoath and Code Orange
Knotfest Roadshow 2020 featuring Slipknot
with special guests A Day to Remember, Underoath and Code Orange
Event Details
Following the enormous success of 2019's inaugural "Knotfest Roadshow" tour, the multi-platinum, Grammy® Award-winning hard rock band, Slipknot have announced that they will once again be hitting the road this summer to headline the "Knotfest Roadshow 2020 North American Tour" to include a performance at DTE Energy Music Theatre on Monday, June 8 at 5:30 p.m. Produced by Live Nation and locally presented by 101 WRIF, support joining Slipknot and rounding out a killer line-up showcasing the best the world of heavy music has to offer, will be special guests, A Day To Remember, Underoath and Code Orange.
Slipknot have once again gone all out on their VIP packages for "Knotfest Roadshow 2020" offering fans 4 separate tiers. For Further information and to purchase VIP packages when they go on sale on Friday, February 7 go to slipknot1.lnk.to/vip.
Last year's "Knotfest Roadshow" saw Slipknot play to the biggest U.S. crowds in their history, hitting 30 cities across North America throughout the summer. This year, "Knotfest Roadshow 2020" begins in Syracuse, NY on May 30th and hits a further 15 cities before culminating at The Woodlands, TX on June 25th. Much like last year's "Knotfest Roadshow" and Slipknot's current European tour, expect tickets for this year's event to be in colossal demand, so don't waste any time in securing your entry to what's destined to be one of the biggest tours of the summer.
Speaking on the latest "Knotfest Roadshow" announcement, Slipknot frontman Corey Taylor had the following to say:
"We set a precedent last year – Knotfest is a showcase where you never know what to expect. This year is no exception. The bands we have represent all corners of our musical world, just like we do. And they're exciting as hell. I can't wait to watch and enjoy them along with the rest of the fans."
Adding to this, A Day To Remember guitarist Neil Westfall says:
"We are stoked to share the stage with a band that has defined heavy music for an entire generation. This tour will be one of the best live shows this year."
Underoath's Chris Dudley says:
"When Slipknot asks you to come along for a summer of insanity, there are exactly zero questions to ask. You say yes. This is absolutely going to be one for the books....and we're ready."
And drummer and vocalist of Code Orange, Jami Morgan states:
"We're very grateful to get the opportunity to do a full tour with Slipknot on the Knotfest Roadshow. Slipknot is one of the bands that we have had at the top of our list to be able to open for and hopefully be exposed to their amazing, cultural crowd that's been around for a really long time. We're very much looking forward to showing some new people what we can do."
Slipknot continues to traverse the world to capacity crowds in support of their No.1 album, We Are Not Your Kind. Their live show continues to get bigger, to fill bigger arenas, and to blow minds around the world– reviews of the current sold out European arena rolling in, and are unanimous in their praise – Kerrang gave the London o2 Arena show its highest rating, saying "there is no better metal band on earth than this." Full dates and info on the European tour are available here.
The "Knotfest" brand continues to expand around the globe, with landmark events held in the US, Japan, Mexico, and Colombia, as well as 2019's debut collaboration with French destination festival, "Hellfest" for "Knotfest Meets Hellfest." In additional new territory for 2020, the inaugural "Knotfest At Sea" cruise will set sail from Barcelona on August 20, 2020 and the first ever "Knotfest U.K." will take place at The National Bowl, Milton Keynes on August 22nd. Both events will be headlined by Slipknot, with line-ups still to be announced. "Knotfest At Sea" will see Slipknot perform two sets on board the ship and will include various on-board experiences, including a live Q&A with members of the band, a Sid DJ/MC Set, a Slipknot Whiskey Tasting & Discussion with Clown (limited capacity) and more. See all experiences at KnotfestAtSea.com.
We Are Not Your Kind is highlighted by the current single "Nero Forte", "Solway Firth," and the LP's lead single "Unsainted." The three tracks feature an M. Shawn Crahan directed official music video, and each trended worldwide on YouTube (all videos, not just music) – "Unsainted" at #1 worldwide for a full 24 hours.