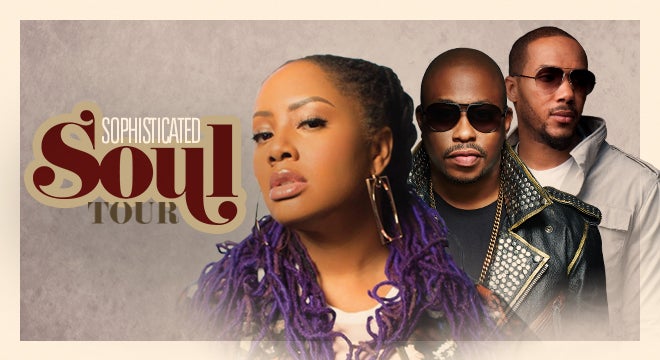 Buy Tickets
Feb

16

, 2019

Fox Theatre

Tickets start at $64

Tickets can be purchased at the Fox Theatre and Little Caesars Arena XFINITY box offices and Ticketmaster.com. To charge tickets by phone, call (800) 745-3000.
Seating Chart
Lalah Hathaway
"The Sophisticated Soul Tour" with special guests Raheem DeVaughn and Lyfe Jennings
Feb
16
, 2019
Fox Theatre
Celebrate the season of love with Lalah Hathaway, the five-time Grammy® Award winner and daughter of the legendary Donny Hathaway, as she brings "The Sophisticated Soul Tour" to the Fox Theatre on Saturday, February 16, 2019 at 8 p.m. The special Valentine's weekend performance will showcase Hathaway's irrepressible and boundary-defying voice, complemented by special guests Raheem DeVaughn and Lyfe Jennings, as she performs selections from her eighth studio album, honestly, and many more.
"I am excited and anxious to rock with Lalah Hathaway on the Sophisticated Soul Tour especially during Black History," said DeVaughn. "I feel like the timing, title, and talent are perfect combined. Fans will leave with their souls filled with love."
Born to Donny Hathaway, one of the most influential soul artists of the eighties, and Eulaulah Hathaway, an accomplished musician in her own right, Lalah Hathaway first put pen to paper, "with the music," as a 10th grader. Later, as a student at Berklee College of Music, she recorded her self-titled debut in 1990, which spawned the hits "Baby Don't Cry," "Heaven Only Knows" and "I'm Coming Back." The Chicago native returned four years later with A Moment, followed by the much-lauded The Song Lives On, her duet album with Joe Sample in 1999, the same year she began growing her now-signature, cinnamon-hued 'locs. By 2004, she'd deliver her fourth album, Outrun the Sky, garnering Hathaway her first number one single, the Rex Rideout-produced cover of Luther Vandross' "Forever, For Always, For Love," which was also featured on the critically-acclaimed Vandross tribute album of the same name. Although she has created a space for herself, it's not surprising that Hathaway remains connected to her late, great father and his classic sound. In between album projects, Hathaway - who's recorded collaborations with Marcus Miller, Meshell Ndegéocello and Mary J. Blige, among them - keeps her creativity nourished by taking to the global stage and contributing her voice to Daughters of Soul, a musical mélange founded by comrade, Sandra St. Victor, and featuring Nona Hendryx, Joyce Kennedy as well as Indira and Simone, daughters of Chaka Khan and Nina Simone, respectively.
Raheem DeVaughn's story begins with music—his mother's vinyl collection to be exact. "I always loved music so I would sneak into her record collection when she wasn't around and play her stuff," says DeVaughn. Although his parents were not together, his father, noted jazz musician Abdul Wadud, was an influence as well. "Music was just always around me," says DeVaughn. "I can remember at a very young age, standing in my mother's living room, listening to music and saying to myself, 'I'm going to be an entertainer.' It was that simple for me. I think I just always knew."
Lyfe Jennings is a platinum-selling American R&B and soul singer-songwriter, record producer, and instrumentalist. He plays the guitar, bass, and piano, which he integrates into his music. The New York Times referred to him as a "socially minded R&B singer." Without prefabricated hype, glossy ad campaigns or sexed up videos, Lyfe's message has become a phenomenon. He offers, "You can talk about something real and relevant and still get some record spins." Lyfe has cemented that relationship with his live performances; ones that possess you with the spirit to share the lived-in truths learned first-hand from his relationships, betrayal and the streets.
Follow Lalah Hathaway:
Website: www.lalahhathaway.com
Facebook: www.facebook.com/LalahHathaway
Twitter: @lalahhathaway
Instagram: www.instagram.com/lalahhathaway
YouTube: www.youtube.com/user/TVLalah
Follow Raheem DeVaughn:
Facebook: www.facebook.com/RaheemDeVaughn
Twitter: @Raheem_DeVaughn
Instagram: www.instagram.com/raheem_devaughn
Follow Lyfe Jennings:
Facebook: www.facebook.com/LyfeJennings
Twitter: @officiallyfe
Instagram: www.instagram.com/lyfejennings