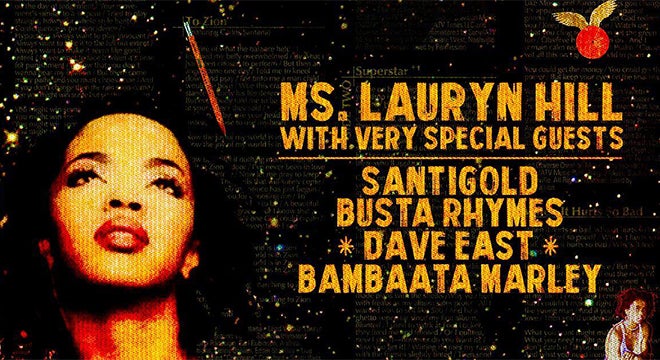 Ms. Lauryn Hill
The Miseducation of Lauryn Hill 20th Anniversary Tour with special guests Santigold, Busta Rhymes, Dave East and Bambaata Marley
Ms. Lauryn Hill
The Miseducation of Lauryn Hill 20th Anniversary Tour with special guests Santigold, Busta Rhymes, Dave East and Bambaata Marley
Event Details
Ms. Lauryn Hill is celebrating 20 years of her anthemic debut solo album The Miseducation of Lauryn Hill with a newly announced World Tour produced by Live Nation. The Grammy® Award-winning artist brings her North American summer leg of "The Miseducation of Lauryn Hill 20th Anniversary Tour" with special guests Santigold, Busta Rhymes, Dave East and Bambaata Marley to Michigan Lottery Amphitheatre at Freedom Hill as part of the Fifth Third Bank Concert Series on Friday, July 20 at 6 p.m.
Exclusive VIP experiences will be available for all tour dates. VIP experiences include a meet and greet with Ms. Hill, complete with photo opp and autograph signing, as well as a package where fans will have an opportunity to watch a portion of the show from on stage. VIP experiences can be purchased as an upgrade when buying tickets. Limited edition specialty merch items, designed by Ms. Hill, will also be available at all shows and online. For more details on VIP experiences, please visit www.MsHillVIPs.com and www.MsLaurynHill.com.
More details will be announced soon, including international dates, as well as the full lineup with Special Guest performers at each show on the tour "Ms. Lauryn Hill – Celebrating The Miseducation of Lauryn Hill" is set to appear
Ms. Hill uses her platform to raise money and awareness for frontline charity initiatives through touring. A portion of the ticket sales go towards the MLH Fund, which directly contributes support for education, health, agriculture, technology, and community based businesses and development initiatives throughout the Diaspora. Your contribution will be put to use through donations made from ticket sales to support community building worldwide. See the full list of charities below.
Of the tour Ms. Hill notes, "This album chronicled an intimate piece of my young existence. It was the summation of most, if not all, of my most hopeful and positive emotions experienced to that date. I Loved and believed deeply in my community's ability to both Love and heal itself provided it received the right amount of support and encouragement. Our world today, both complex and changing, is in need of the balance between moral fortitude and cathartic expression. I hope the Love and energy that permeated this work can continue to inspire change with Love and optimism at the helm."
In addition to her scheduled tour dates, Ms. Lauryn Hill will also be playing at the iconic Apollo Theater on Tuesday, May 1 exclusively for Citi cardmembers. The tickets will be $20 in honor of the 20th anniversary of The Miseducation of Lauryn Hill album. All ticket proceeds will go directly to the MLH Fund.
The Citi Presents Ms. Lauryn Hill at the Apollo Theater show will be powered by Verified Fan – the newest technology to ensure tickets get directly to the most passionate fans. Not scalpers or bots. Starting Tuesday, April 17 at 10 a.m. ET, Citi cardmembers can register through Thursday, April 19 at 10 p.m. ET to unlock access to tickets and use their Citi card to complete the ticket purchase if verified. Only fans that have received a unique code will have the chance to purchase tickets for performances on Monday, April 23 at 10 a.m. ET. Register now for the Citi Presale powered by Verified Fan at: citiprivatepass.com and for additional information.
Multi-platinum artist Ms. Lauryn Hill rose to prominence with The Fugees and took the world by storm two decades ago as a solo artist with The Miseducation of Ms. Lauryn Hill. Singles including "Doo Wop (That Thing)" and "Everything Is Everything" catapulted her to superstardom, ultimately lauding her with 10 Grammy® nominations and five Grammy® Award wins.
List of Charities supported by MLH Foundation:
Colorado Coalition For Genocide Awareness and Action
Nyakitonto Youth For Development
WAMA Foundation Schools
Africa Philanthropic Foundation
Appetite for Change
International Peace Initiative
Haiti Cultural Exchange
Urban Underground
We Rhythm Trust
Leaders Of A Beautiful Struggle
Prodev
Black Parents Workshop
Y.O.G.A. for Youth
CYD Center for Youth Dialogue (CYD)
Naledi Fashion
Soronko Academy
SOUTHERN AFRICA TRUST
Muzdalifah Charitable Organization
Prometra
Africa Got Game Foundation
Christian Solidarity International
World Pulse
Star of Hope Transformation Centre, Trash to Treasure Project
Pearl Community Empowerment Foundation, Rural Girl Child Mentorship (RGCM Uganda)
The Malkia Foundation
Cure Violence
Apps & Girls
CCBRT
She Codes For Change (SCC)
Child Support Tanzania
Al Noor Charitable Agency
Alfatah Charitable Agency
Habesha Inc
#YesWeCode
#GreenForAll
#cut50
Faith Matters Network
Greening Youth Foundation
Mission: Launch
Baltimore Algebra Project
Baltimore Community Foundation
Equal Justice Initiative
Her Many Voices Foundation
Garden of Eden Foundation
Michigan Lottery Amphitheatre at Freedom Hill thanks our sponsor

Additional Ticket Information
Tickets can be purchased at 313Presents.com, Livenation.com, Little Caesars Arena XFINITY box office and Ticketmaster.com. To charge tickets by phone, call (800) 745-3000.