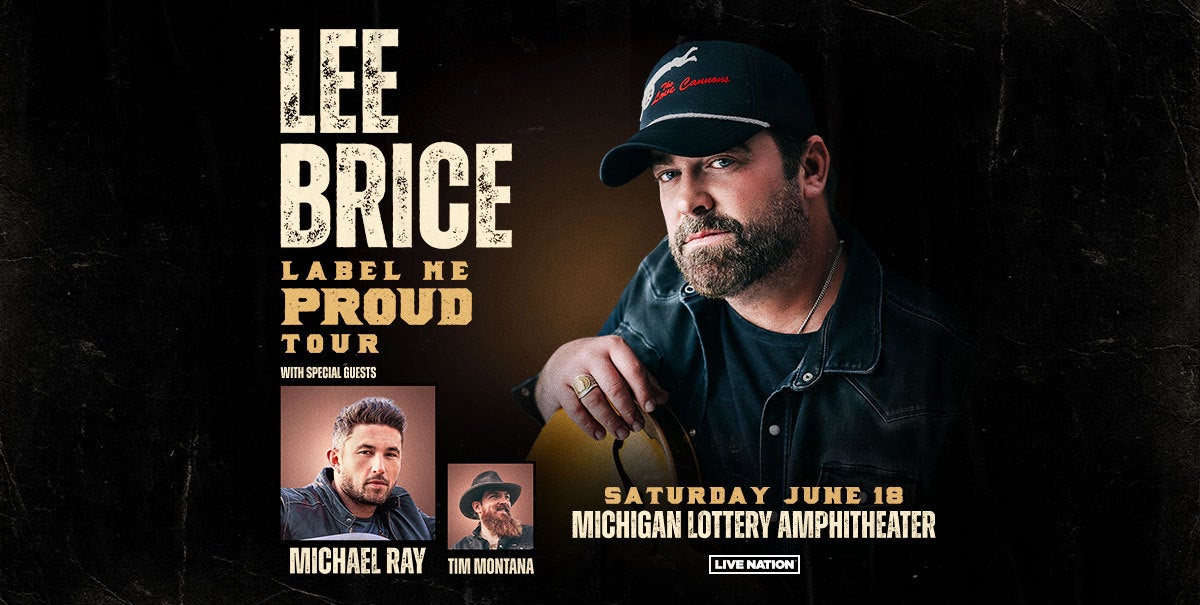 Lee Brice
"Label Me Proud Tour" with special guests Michael Ray and Tim Montana
Lee Brice
"Label Me Proud Tour" with special guests Michael Ray and Tim Montana
Event Details
One of Country music's biggest names and Grammy® nominated artist, Lee Brice, has announced he will be headlining his highly awaited "Label Me Proud Tour" produced by Live Nation. Kicking off this June, Brice will bring his "Soul" to 23 markets, including a visit to with special guests Michael Ray and Tim Montana to Michigan Lottery Amphitheatre on Saturday, June 18 at 7 p.m.
The tour will have Brice performing for all the fans who have been clamoring for live music again the way only he can do it – by throwing one hell of a party!
"Man, it feels good to announce this tour! It's been a while since we've all been back out on the road and to have my good buddy, Michael Ray, join me is a blessing," says Brice. "Can't wait to be back in all these places I've grown to love over the years with fans that are bar none the best ones out there! See y'all this summer!"
Since the release of Brice's latest album, Hey World, the CMA and ACM Award winner has landed three consecutive #1 hits including "I Hope You're Happy Now" with Carly Pearce, "One of Them Girls," and "Memory I Don't Mess With" – bringing him to an impressive nine #1 career singles. His masterful storytelling and way of bringing a song to life is on full display with his history making track "One of Them Girls" for which he swept the 2021 ASCAP, BMI and SESAC Awards as "Country Song of The Year" – the first time one song took all three awards in the same year.
Supporting Brice out on the road this summer is his good friend and artist, Michael Ray, who is coming off his RIAA Platinum-certified multi-week No. 1, "Whiskey and Rain," and whose current single "Holy Water" continues to climb the Country charts. For select dates, Tim Montana will also be making appearances during the Label Me Proud Tour.
When Curb Records recording artist, Lee Brice, isn't selling out arenas, writing and recording songs, or building new brands like American Born whiskey, you'll find the family man with his wife Sara, two young boys, and daughter. Meanwhile, with over three billion on-demand streams, and over 3.6 billion spins on Pandora, Brice continues to enjoy massive success at country radio, digital streaming services, and on the road. He recently reached #1 at Country Radio with "Memory I Don't Mess With," which consecutively follows three prior #1s: ASCAP's 2021 Country Song of the Year "One of Them Girls," "I Hope You're Happy Now" with Carly Pearce, and "Rumor," which was nominated in the category Single of The Year at the 55th Annual ACM Awards. One of the most-played country artists of all time on Pandora, he was the second country artist behind Keith Urban to receive the Pandora Billionaire plaque. Lee is also a Grammy® nominee, a CMA and ACM award winner, and he's taken nine radio singles to Number One: "A Woman Like You," "Hard to Love," "I Drive Your Truck," "I Don't Dance," "Drinking Class," "Rumor," "I Hope You're Happy Now," "One of Them Girls," and "Memory I Don't Mess With." Garth Brooks, Jason Aldean, Kenny Chesney and others have recorded his songs, and he's performed on numerous TV shows, including NBC's Today, ABC's The Bachelor, NBC's The Voice and FOX's Miss USA 2018. Lee performed as part of the Library of Congress Gershwin Prize for Popular Song honoring Garth Brooks, aired on PBS March of 2020. At the 54th Annual CMA Awards, Lee took home the prize for Musical Event of the Year for his song with Carly Pearce, "I Hope You're Happy Now." At the 56th ACM Awards, "I Hope You're Happy Now" won Single of the Year and Music Event of the Year, and Lee and Carly Pearce performed the song live. Lee's latest album, Hey World, features new radio single "Soul."
For Michael Ray, music is his grandfather singing and sweating on a rural Florida stage. It's the childhood refuge he found during the pain of his parent's divorce. It's family and stories, history and hope. Ray says music saved him, but it did even more: Music made him. In five short years, Ray has built an impressive foundation: four No. 1 songs – RIAA Platinum-certified "Think a Little Less," RIAA Gold-certified "Kiss You in the Morning," RIAA Gold-certified "One That Got Away" and RIAA Gold-certified "Whiskey And Rain" – plus "Get to You" and "Her World or Mine," brings his tally to five Gold-certified singles. Ray has garnered over one billion global streams, over 650,000 album equivalents, over 100 million YouTube views, and has performed at the Grand Ole Opry over 60 times. Now, two hit albums into that all-too-rare blend of critically acclaimed and commercially successful career, Ray has released Higher Education, a seven-song collection produced by Grammy®-nominated producer Ross Copperman. Proof that heartbroken wallowing can feel good if it swings, "Whiskey And Rain" marked his first multi-week No. 1, cementing Ray as the ideal bridge between vintage country cool and modern country's best sounds. His latest single "Holy Water" is impacting Country radio now. Learn more about Ray at MichaelRayMusic.com.
Chiefly considered a Country rocker, Tim Montana is a true Renaissance man, moonlighting as a TV personality, marksman, father, husband, foodie, hot sauce connoisseur, hell-raiser and businessman. His sound, befitting of the off-the-grid thrill-seeker who grew up without electricity (in where else but Montana), draws influence from the rural lifestyle with a hint of adrenaline. His music has been selected as the theme song for World Series Championship runs, PBR, NHL games, NASCAR telecasts and action movies and has earned him spots opening for Kid Rock and performing alongside the Foo Fighters' Dave Grohl.
Now signed to Music Knox Records/BBR Music Group, Tim released his first label album Long Shots in April of 2021. The 12-song collection blends Country with rock electric guitar and influences from the West and embraces hard and fast living, the American experience and the blue-collar way. It is an ode to the underdog and screams "hard work pays off." He recently released sister songs "Good By Me" and "I Ain't Ashamed" which continue that sentiment and celebrate good character. In addition to starring in his own show, Tim Montana's Wild Side on Velocity Outdoor Channel and performing in several acts including the Whisker Brothers alongside ZZ Top's legendary Billy Gibbons, Tim has also found a great deal of success as a businessman. The Montana native has longstanding partnerships with Ravin, CenterPoint, Crosman, Benjamin, Polaris, Black Rifle Coffee, Fender, Gerber, Indian Motorcycles, K&N, Kicker Performance Audio, Orange Amplifiers, Snap On, Traeger Grills and more. His second annual Tim Montana & Friends American Thread Sporting Clays Shoot and raised $450,000 for two charities that benefit our military, doubling the amount raised in its first year (and then some). For more information visit timmontana.com.