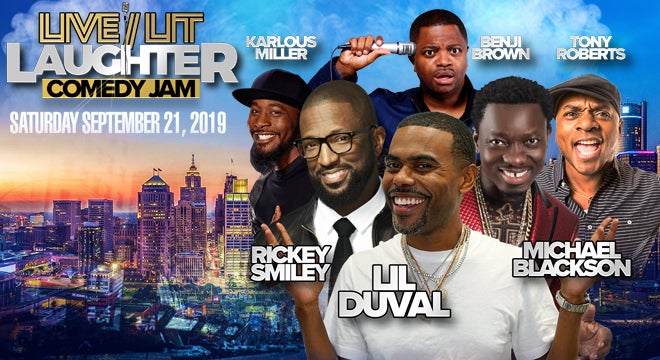 Live, Lit, Laughter Comedy Jam
Starring Lil Duval, Michael Blackson, Tony Roberts, Karlous Miller, Benji Brown hosted by Rickey Smiley
Live, Lit, Laughter Comedy Jam
Starring Lil Duval, Michael Blackson, Tony Roberts, Karlous Miller, Benji Brown hosted by Rickey Smiley
Event Details
"Live, Lit, Laughter Comedy Jam" starring Lil Duval, Michael Blackson, Tony Roberts, Karlous Miller, Benji Brown and hosted by Rickey Smiley will perform at the Fox Theatre in The District Detroit on Saturday, September 21 at 8 p.m.
Lil Duval was a finalist on BET's comedy competition series Coming to the Stage in 2005. Duval was a series regular on the MTV2 shows Guy Code and Hip Hop Squares. He also hosted the video show, Ain't That America, on MTV2 from 2013 to 2014.
Michael Blackson has been called one of the most original stand-up comics in the country, and his performances leave audiences laughing in tears. Blackson, aka, "The African King of Comedy," has been entertaining audiences across the country and around the globe for more than a decade. Inspired by the stand-up comedy of Eddie Murphy, Blackson began to develop his comedic talent in 1992 in the unkind comedy clubs of Philadelphia, Pennsylvania.
Originally from Detroit, comedian, actor, writer and (sometimes) director, Tony Roberts has been blessed with the coveted honor of being the, "Comedians-comedian." The guy other performers love to watch work. His hilarious and refreshing energetic comedy style has granted him respect and created a huge demand for him on the comedy circuit, here in the states and abroad. The Henry Ford High School alum first stepped onto the stage at Mark Ridley's Comedy Castle in Royal Oak and has appeared on HBO's Def Comedy Jam, BET's ComicView, and It's Showtime at the Apollo.
Karlous Miller is a comedian/actor most known for being a veteran cast member on MTV's Wild 'N Out with Nick Cannon. NBC's Last Comic Standing alum, Miller can also be seen on MTV's Joking Off, MTV2's Uncommon Sense, BET's Comic View and Bill Bellamy's Who's Got Jokes. Every week, Miller hosts the hit 85 South Show podcast with DC Young Fly, which has gained a fanbase across the globe. He most recently filmed for HBO's stand-up series All Def Comedy (reboot of Russell Simmons' Def Comedy Jam) as well as his 30-minute special on Kevin Hart's Laugh Out Loud network. He has also guest starred in the sitcom Family Time for BounceTV.
Benji Brown has been heating up the national comedy scene through his candid and comedic performances. He has appeared on BET's Comic View, Laffapalooza hosted by Academy Award Winner Jamie Foxx, and Nick Cannon's Wild n' Out on MTV, and has performed on 1st Amendment Stand Up presented by Martin Lawrence on STARZ and Tyler Perry's "Meet the Browns Tour." Brown has worked alongside a list of headliners including Chris Rock, Steve Harvey, Rickey Smiley and Monique.
Rickey Smiley is a celebrated comedian, television host and top-rated nationally-syndicated radio personality who has earned a reputation for making audiences laugh both on and off stage for 27 years. Smiley has recorded eight best-selling albums, including iTunes #1 comedy album, Rickey Smiley: Prank Calls Number 6. In addition to being featured on Dish Nation, his nationally syndicated morning radio show can be heard in over 65+ U.S. markets. Smiley's major feature film roles in urban classics include All About The Benjamin's, Friday After Next and hit romantic comedy Baggage Claim.
Lineup subject to change.