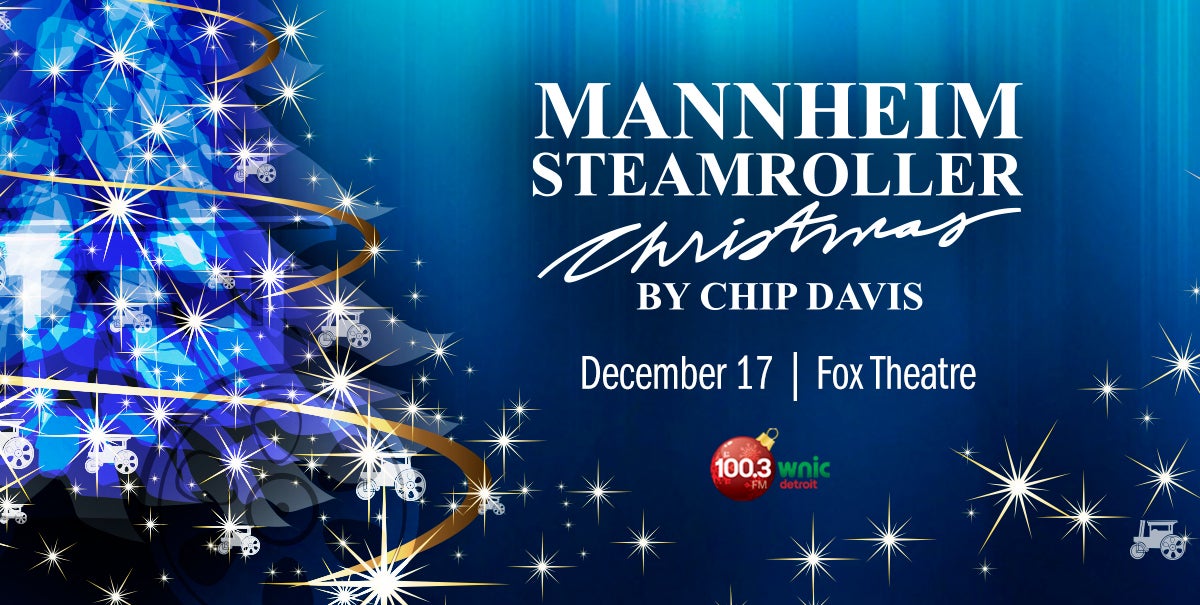 Mannheim Steamroller Christmas by Chip Davis
Mannheim Steamroller Christmas by Chip Davis
Mannheim Steamroller Christmas by Chip Davis is the longest running consecutive tour in the music industry. Experience the magic as the spirit of the season comes alive with the signature sound of Mannheim Steamroller and dazzling multimedia effects in an intimate setting at the Fox Theatre on Sunday, December 17. Comerica Bank is the exclusive presenting partner of the Fox Theatre.
Additional Ticket Information
Group Tickets
Discounts are available for groups of 10 or more and are on sale now! For more group sales information and FAQs, please visit 313presents.com/Groups.
Fox Theatre Series Subscription Packages
The Fox Theatre Series presented by Comerica Bank features an incredible lineup of award-winning Broadway musicals, interactive stage shows and treasured holiday favorites.
Select three shows in the lineup and save up to 20%! You will also enjoy several exclusive benefits.
About Chip Davis and Mannheim Steamroller
From his longtime home in Omaha, Neb., Mannheim Steamroller creator and founder Chip Davis makes innovative music inspired by the sounds of another age. This former teacher and jingle writer founded the music industry's largest independent recording label, American Gramaphone, in 1974 when industry executives said Davis' innovative 18th century instrumental rock sound would never sell. In addition to a Grammy Award, Davis is largely credited with establishing the New Age music category.
His first Christmas album in 1984, revolutionized the making and marketing of holiday music, the album's success made Christmas records a "must do" for all music artists. With more than 30 million Christmas albums sold, Davis is the #1-selling Christmas artist of all time with Elvis coming in at a distant 17 million holiday records sold. Having 19 gold, 8 multi-platinum and 4 platinum-certified records, Davis is among an elite group of music artists with this number of RIAA records. He is also one of the most successful entrepreneurs in the music industry, offering a rich array of lifestyle products on www.mannheimsteamroller.com including hot chocolate, food, apparel and novelty items. His latest achievement is creating a cutting edge psychoacoustic technology that is being used in major medical institutions such as Mayo Clinic.