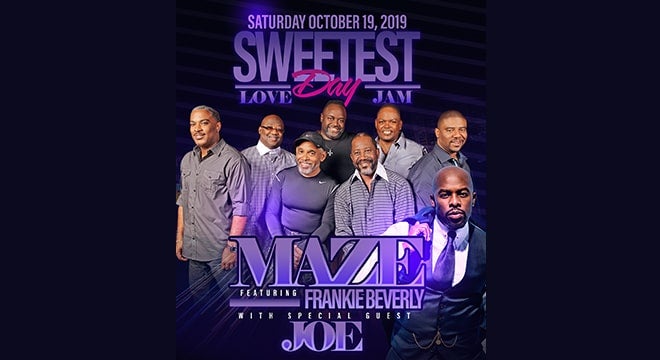 Maze featuring Frankie Beverly
"Sweetest Day Love Jam" with special guest Joe
Maze featuring Frankie Beverly
"Sweetest Day Love Jam" with special guest Joe
Event Details
Soul and R&B band Maze featuring Frankie Beverly announced the Sweetest Day Love Jam with very special guest Joe at the Fox Theatre in The District Detroit on Saturday, October 19 at 8 p.m.
Maze released 9 Gold albums from 1977 to 1993. Their well-known songs include "Happy Feelin's," "While I'm Alone," "Golden Time Of Day," "Southern Girl," "The Look in Your Eyes," "Joy and Pain," "Before I Let Go," "We Are One," "Back in Stride," "Can't Get Over You" and "The Morning After".
R&B superstar Joe solidified his reputation in the 2000s with hits such as "All That I Am," "I Wanna Know," and "No One Comes Close." The seven-time Grammy® nominee's memorable collaborations with Mariah Carey ("Thank God I Found You"), Big Pun ("Still Not a Player") and G-Unit ("Wanna Get to Know You") further underscores his musical versatility. His latest album My Name Is Joe Thomas was released in 2016.