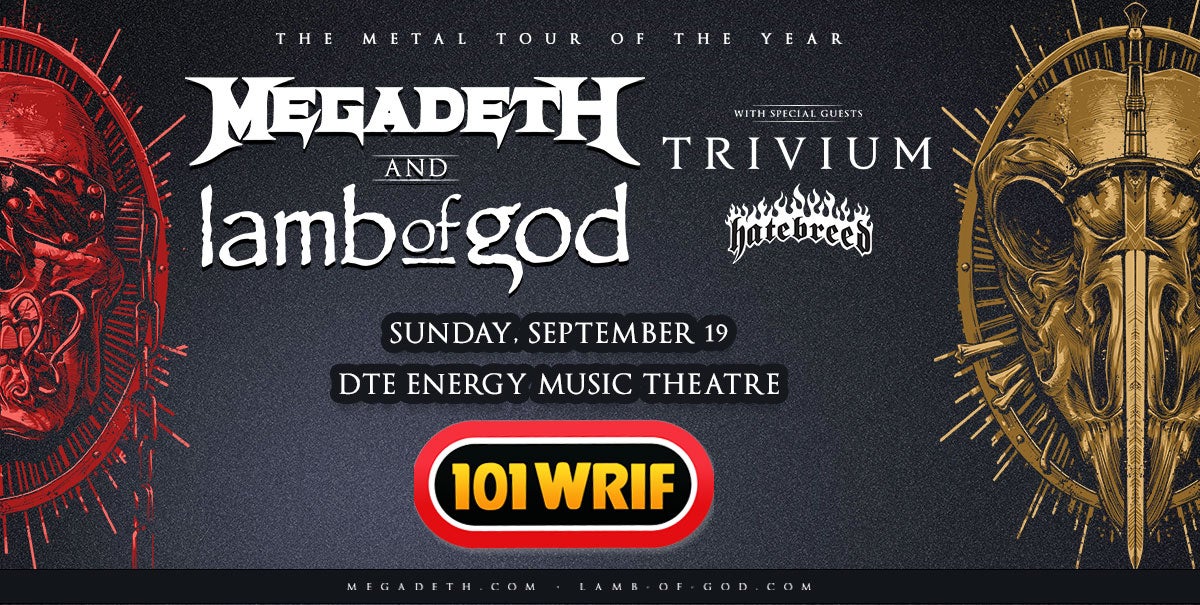 Megadeth and Lamb Of God
101.1 WRIF presents RIFF Fest 2021 with special guests Trivium and Hatebreed
Megadeth and Lamb Of God
101.1 WRIF presents RIFF Fest 2021 with special guests Trivium and Hatebreed
Event Details
Megadeth and Lamb Of God's co-headlining tour with special guests Trivium and Hatebreed at DTE Energy Music Theatre on July 9, 2021 has been rescheduled to take place as part of 101.1 WRIF presents RIFF Fest 2021 on Sunday, September 19, 2021.
Two of the biggest bands in heavy metal – Megadeth and Lamb Of God – will be joining forces on a co-headline tour across North America this year. Adding to the firepower of this already formidable tour, Trivium and Hatebreed are joining, making this THE must-see heavy music package of the year.
It was over 30 years ago that Dave Mustaine founded Megadeth, in the process pioneering the sound that would become known the world over as thrash metal. And from the very beginning, the band proved to be the most lethal and audacious unit on the heavy music scene, pushing thrash to the limits of musical ferocity and instrumental virtuosity on early efforts like their 1985 debut, Killing Is My Business…And Business Is Good! and 1986's seminal Peace Sells…But Who's Buying?.
Additional Ticket Information
Tickets for the newly rescheduled date goes on sale on Friday, May 7 at 10 a.m. at 313Presents.com, LiveNation.com and Ticketmaster.com. VIP Packages are also available. Radio and venue presales begin on Wednesday, May 5 at 10 a.m. and run through Thursday, May 6 at 10 p.m. To receive the radio presale access code, tune into 101.1 WRIF and follow on Twitter at @101wrif. To receive the venue presale access code, fans can sign up to receive emails at www.313presents.com/contact-us/email-sign-up and by following DTE Energy Music Theatre on Twitter at @DTEEnergyMusic.
Tickets purchased for the previously scheduled dates (July 1, 2020 and July 9, 2021) will be honored for the newly scheduled date and fans are encouraged to hold onto their tickets. Ticket holders unable to attend the rescheduled date now have 30 days, or until Tuesday, June 1, 2021, to request a refund at point of purchase. All venue box offices are currently closed.
Please email Ticket Operations at [email protected] to schedule an appointment for any box office refund inquiries.
have taken their place as one of metal's most influential and respected acts—not to mention among its most successful. They have gone on to sell more than 38 million albums worldwide, earning numerous accolades including a 2017 Grammy® Award for "Best Metal Performance" for the title track "Dystopia," 12 Grammy® nominations, and scoring five consecutive platinum albums. With sheer determination and a relentless recording and touring schedule, Megadeth worked their way up from headlining clubs to headlining arenas, festival and stadiums, cementing a legacy that continues to grow and spread throughout the world. Megadeth are slated to release their 16th studio album later this year.
propelled heavy metal into the new millennium two decades ago with the prophetically titled New American Gospel. They followed with 2003's As the Palaces Burn, which made the Rolling Stone list of the Top 100 Greatest Metal Albums of All Time. Ashes of the Wake, released in 2004, was the first Lamb Of God album to be certified gold by the RIAA, as was 2006's Sacrament, which also made a Top 10 Billboard 200 chart debut. In 2009, Lamb Of God released Wrath, their first with Wilbur at producer, and earned the number one album spot on Billboard's Hard Rock, Rock, and Tastemaker charts, with a number two position on the Billboard 200.
Those number one positions were repeated with 2012's Resolution, which swung effortlessly between thrash, traditional metal, sludgy doom, with flashes of crust punk swagger and bravado. Lamb Of God's last album, VII: Sturm und Drang (2015) made its debut on the Billboard 200 at number three and finished number 2 in the world charts, reaching Top 5 in five countries and six addition Top 15 positions.
In 2020, Lamb Of God is re-energized and unrelenting, ready to lay claim to the metal throne.