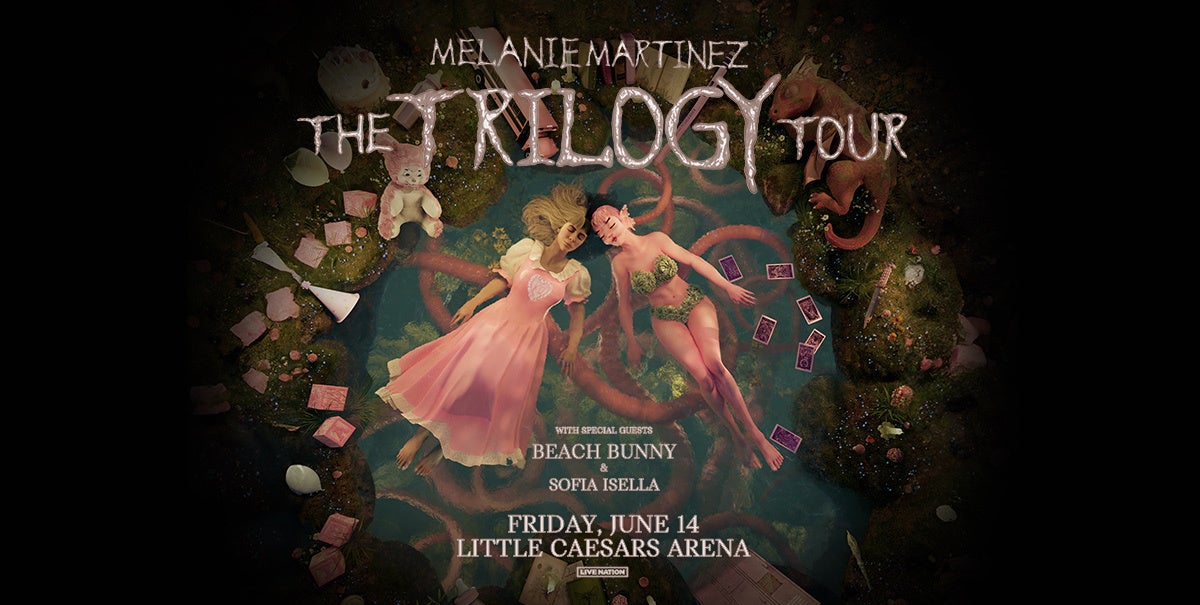 Melanie Martinez
"The Trilogy Tour" with special guests Beach Bunny and Sofia Isella
Melanie Martinez
"The Trilogy Tour" with special guests Beach Bunny and Sofia Isella
Multi-Platinum alternative-pop phenom Melanie Martinez has unveiled plans for her most ambitious concert tour to date. The Trilogy Tour will see the evolution of Martinez's alter ego "Cry Baby" performed live. It will include hits from all three of her Top 10 groundbreaking albums: Cry Baby, K-12 and Portals which have collectively amassed over 14 billion streams worldwide. The tour will visit Little Caesars Arena with special guests Beach Bunny and Sofia Isella on Friday, June 14 at 7 p.m.
The tour gets underway on May 10, 2024 at Seattle WA's Climate Pledge Arena and then visits arenas across North America through mid-June. Highlights include such historic venues as Inglewood, CA's Kia Forum (May 15), New York City's Madison Square Garden (June 5) and Toronto, ON's Scotiabank Arena (June 9). Joining the tour will be special guests Men I Trust, Beach Bunny and Sofia Isella on select dates.
Martinez is currently traveling the globe on the European leg of her blockbuster PORTALS Tour, continuing tonight in London with a sold-out show at UK's famed OVO Arena Wembley and then making stops in Wolverhampton, Manchester, Glasgow, Dublin, Brussels, Amsterdam, Warsaw, Berlin, Dusseldorf, Paris, Madrid and Lisbon. Martinez will then bring the tour to Asia and Australia, beginning January 19, 2024 in Tokyo.
The PORTALS Tour – which played to sold-out houses across North America though the summer – celebrates the arrival earlier this year of Martinez's new album, PORTALS, available now in an expanded deluxe digital edition featuring three additional tracks HERE. Hailed by Rolling Stone as an "effortlessly inventive, mature record" from "an artist unafraid to start from scratch and tackle complex, difficult ideas," the album proved Melanie's highest charting debut on the Billboard 200 upon its March 2023 release, arriving at #2 with 142,000 equivalent album units earned in its first week – Martinez's third consecutive Billboard 200 Top 10 album debut. PORTALS further debuted at #1 on Billboard's Current Alternative Albums, Current Pop Albums, Top Album Sales, Current Album Sales, Internet Albums, Digital Albums and Top Alternative/Rock Albums charts, along with a #2 debut on the Top Vinyl Albums chart. An instant global sensation, the album proved Martinez's first #1 album debut in Australia, also landing at #1 in New Zealand, #2 in the UK, #3 in Canada and Ireland, and top 10 chart placements in Germany, The Netherlands, Belgium and Spain.
PORTALS includes the brand new single, "EVIL," as well as the hits, "VOID" and "DEATH," both of which made history as Martinez's first original songs to debut on the Billboard Hot 100. "DEATH" is joined by a cinematic companion video – directed, conceived, and costume designed by Martinez herself – which trended #1 on YouTube's Trending Top Music Videos chart and now boasts over 31 million official views. The song was first teased with a series of eerie clips revealing the rebirth of Martinez's character "Cry Baby," quickly sparking a frenzy of theories and garnering over 115 million views across all socials. The track and its compelling companion visual earned praise from the likes of Billboard, which raved, "The avant-garde pop auteur creates bold, expansive worlds with each project…While the dramatic five-minute track can be connected to her artistic reawakening, the kinetic drums and electronic elements will also make listeners feel reborn, too."
Martinez recently partnered with boutique fragrance company Flower Shop Perfumes Co. to launch a new four-fragrance collection, Portals Parfums. With pre-sales launched at 11 a.m. on November 1, the direct-to-consumer scents completely sold out late the following evening, in less than 48 hours. Portals Parfums follows Martinez's wildly successful 2016 debut fragrance, Cry Baby Perfume Milk, which quickly sold out and can now be found only on reseller platforms for up to $2,000 a bottle. Working with IFF perfumers Natasha Côté, Patty Hidalgo and Laurent Le Guernec, Martinez was deeply involved in all aspects of development for the new fragrance collection. Much like Cry Baby Perfume Milk, which arrived creatively packaged in a replica vintage baby bottle, Portals Parfums comes in a striking art sculptured bottle at a full one-foot tall, with a many-eyed creature head that opens like a nesting doll to reveal four glass vials inside. Transporting the wearer to different worlds with just a little spritz, each unique scent is designed to reflect the four classical elements: Water of Intuition, Air of Clarity, Fiery Passion and Earthy Abundance. Portals Parfums is available as a four-fragrance set, 60 ml total (15 ml each of four scents) in Eau de Parfum spray. Individual refill vials (15 ml) and full-sized bottles (50 ml each) in Eau de Parfum will follow in 2024. The Portals Parfums fragrance collection will serve as a foundation for other Portals products, including a broad collection of scented candles. To be informed of a restock and other product launches visit PortalsParfums.com.
Additional Ticket Information
Please note: All ticket delivery will be delayed until 72 hours prior to the event. Mobile Tickets Only.
Melanie Martinez is a multi-Platinum, 12 billion-streaming alt-pop phenomenon. Portals marks the 27-year-old NYC-born singer-songwriter-filmmaker's first full-length release in nearly four years following her 2 billion-streaming, RIAA Gold-certified second album, K-12. K-12 proved a sensation upon its release, entering the Billboard 200 at #3 with further debuts at #1 on the Alternative album chart, and #1 on the Soundtrack album chart. Hailed by Forbes as "a perfect conceptual album in the streaming age," K-12 also serves as a soundtrack companion to an eerily enchanting musical film written, directed, and starring Martinez. K-12 the film debuted as the 6th highest grossing film in the US on the day of its September 3, 2019 theatrical release, with one-night-only screenings in over 425 cinemas in 32 countries. Martinez truly set forth on what has proven a remarkable creative journey with her 2015 debut album, CRY BABY. CRY BABY took on a stunning second life in 2020 when the longtime fan-favorite "Play Date" exploded into a true alt-pop sensation with millions of user-generated videos across TikTok. Now boasting over 1 billion worldwide streams along with 2x RIAA Platinum certification, "Play Date" propelled CRY BABY back onto the upper half of the Billboard 200 more than five years after its initial release. Named to Forbes' "30 Under 30 2021" thanks in part to the renewed success of "Play Date," Martinez has brought her idiosyncratic vision to an array of diverse enterprises, including last year's instantly sold-out collaboration with footwear brand Koi. In addition to her myriad musical and visual efforts, Martinez has also shown herself to be an unforgettable live performer via sold-out headline shows and festival performances around the planet.