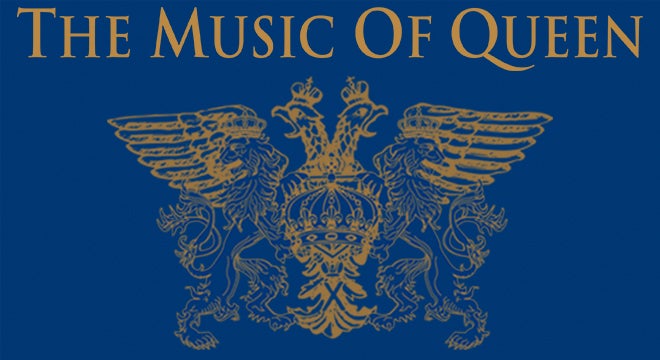 The Music of Queen featuring the Detroit Symphony Orchestra
The Music of Queen featuring the Detroit Symphony Orchestra
Event Details
Bridging the gap between rock 'n' roll and classical music, conductor and arranger Brent Havens will return to the podium with the acclaimed Detroit Symphony Orchestra to present The Music of Queen at Meadow Brook Amphitheatre on the campus of Oakland University on Sunday, July 14 at 7:30 p.m. The orchestra's performance will also be joined by a full rock band and vocals to showcase Queen's distinct sound while presenting familiar and new musical colors.
PLEASE NOTE, SHOW WILL BEGIN AT 7:30 P.M. SHARP.
EARLY ARRIVAL IS STRONGLY ENCOURAGED. PARKING LOTS WILL OPEN AT 3:30 P.M.
"When I sat down to begin scoring the show, it was amazing how comfortably the orchestra fit within the structure of the music. Innovative chord progressions, wonderful melodies and the astounding vocals of Freddie Mercury make the music a perfect choice to orchestrate. And having world class musicians in every city we present the show makes the music even that much more compelling."
As with the other shows, Havens understands that Queen fans want to hear the original, familiar elements of the music. He therefore followed exact line arrangements and used the orchestra for enhancement.
"As always, we wanted to keep the foundation of the music as close to the originals as we could and then add additional colors to enhance what Queen had done," says Havens. "The wonderful thing with an orchestra is that you have an entire palette of sounds to call upon. The band is reproducing what Queen did live, as closely as possible within the constraints of personnel, and then having an orchestra behind the band gives the music richness, a whole new feel, a whole different sense of color but still preserving the wonderful music that they originally produced."
Delivering a fabulous rendition of Freddie Mercury's vocals is Las Vegas star Brody Dolyniuk. "When he came out to audition for the show we knew immediately that he had something special. He not only knew the music, but he had clearly listened to every aspect of Freddie's performances," states Havens. "His inflections were spot-on and even the wailing rock sound had that Freddie resonance. Clearly, there will never be another Freddie Mercury but close your eyes and listen to Brody and you're going to get something very close."
The show has also proven a great way to introduce rock fans to the symphony experience. "As with our other shows, I'm sure there are people who are going to come out who have never seen their city's symphony orchestra, and this allows them to experience something new along with the music that they already love," says Havens.
About Brent Havens
Berklee-trained arranger/conductor Brent Havens has written music for orchestras, feature films and virtually every kind of television. His TV work includes movies for networks such as ABC, CBS and The Family Channel, commercials, sports music for networks such as ESPN and even cartoons. He worked with the Doobie Brothers and the Milwaukee Symphony, arranging and conducting the combined group for Harley Davidson's 100th Anniversary Birthday Party Finale attended by over 150,000 fans. Havens most recent film work includes the score for the film "Quo Vadis," a Premier Pictures remake of the 1956 gladiator film. Havens is Arranger/Guest Conductor for four symphonic rock programs – the Music of Led Zeppelin, the Music of the Doors, the Music of Pink Floyd and the Music of the Eagles and now the Music of Queen.
About Brody Dolyniuk
Guest vocalist Brody Dolyniuk remembers mimicking voices even as a child, listening to old records and tapes. He is a gifted, self-taught musician, capable of playing several instruments, with a knack for capturing the voices and mannerisms of classic characters from music, TV, and movies. His first professional gigs were at piano bars in several U.S. cities, where he learned to charm audiences and expand his musical repertoire. With a longing to perform the music of the many rock bands that inspired him, Brody assembled Yellow Brick Road, unquestionably Las Vegas' most successful classic rock band. Since 1997, YBR has been reshaping the casino entertainment scene by bringing a rock concert atmosphere to showrooms previously reserved for Top-40-style lounge acts. Along the way, Brody has made numerous radio and TV appearances and earned a spot in the finals of two national singing competitions, and even self-produced several large rock production-style shows utilizing multimedia, lasers, comedy and special effects. In 2007, Brody lent his vocal talents by singing several tracks on the mega-hit video game Guitar Hero III: Legends of Rock and has already done several more for the Konami game Rock Revolution. As a devout classic rock/Queen fan, Brody's enthusiasm, vocal ability and on-stage energy were the perfect fit for The Music of Queen show.
Additional Musicians:
Bass/Vocals – Daniel Clemens
Drums/Vocals – Powell Randolph
Guitar/Vocals – George Cintron
Keyboards/Vocals - Bart Kuebler