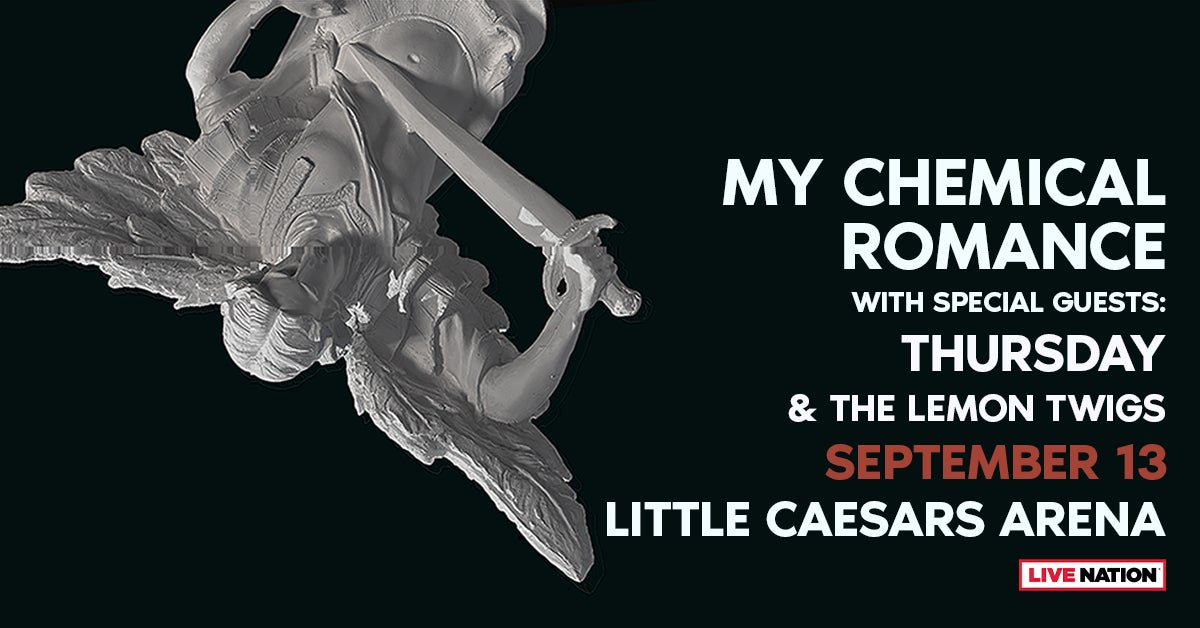 My Chemical Romance
with special guests Thursday and The Lemon Twigs
My Chemical Romance
with special guests Thursday and The Lemon Twigs
Event Details
My Chemical Romance performance at Little Caesars Arena has been rescheduled to take place on Tuesday, September 13, 2022.
After performing a sold-out show at the landmark Shrine Expo Hall in Los Angeles on December 20, 2019, My Chemical Romance will perform a full U.S. tour that will kick off at Detroit's Little Caesars Arena. The uncompromising rock group previously announced multiple overseas performances for March, including shows in Milton Keynes, England - two of which sold out (65,000 tickets) in under an hour.
In celebration of the band's December return, watch the USC Marching Band perform "Welcome To The Black Parade" outside of the Shrine Expo Hall show here.
Formed in Newark, NJ, My Chemical Romance made its debut in 2002 with the independently released album I Brought You My Bullets, You Brought Me Your Love. The band signed to Reprise Records the following year and made its major label debut with 2004's Three Cheers for Sweet Revenge, now 3x certified Platinum. The album contained the Platinum hit "I'm Not Okay (I Promise)," the Gold-certified "Helena," and "The Ghost of You." Rolling Stone hailed their third studio album, The Black Parade (3x Platinum) as one of the top albums of 2006. Lead single "Welcome to the Black Parade" topped both Billboard's Alternative Songs chart and the UK's Official Singles chart and is now 3x Platinum. The band toured extensively behind the album – appearing as characters from The Black Parade – and released the live album The Black Parade is Dead! in 2008. Danger Days: The True Lives of the Fabulous Killjoys was released in 2010 and topped Billboard's Alternative Albums and Top Rock Albums charts. It was followed by a series of singles which made up the Conventional Weapons release in 2013. My Chemical Romance's songs continue to rack up half a billion global streams each year.
Additional Ticket Information
Please note: This show is mobile only and all ticket transfers will be delayed
until 72 hours prior to the event.
Watch USC Marching Band perform "Welcome To The Black Parade"