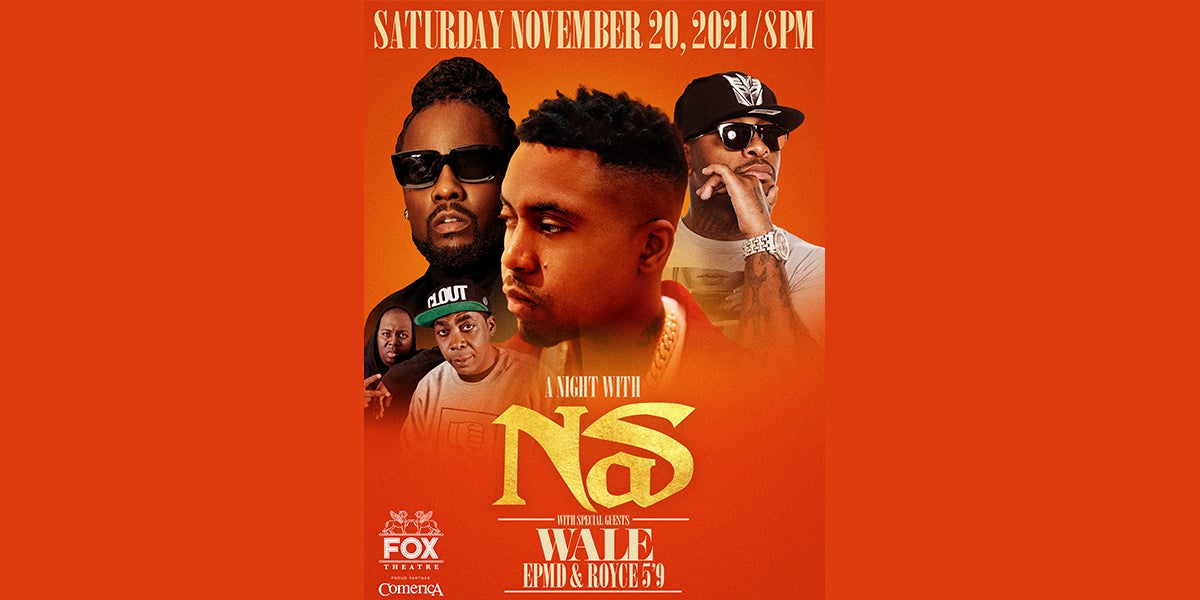 Mix 92.3 Presents A Night with Nas
with special guests Wale, EPMD and Royce 5'9
Mix 92.3 Presents A Night with Nas
with special guests Wale, EPMD and Royce 5'9
Event Details
Mix 92.3 presents A Night with Grammy® Award winner Nas with special guests Wale, EPMD and Detroit's own Royce 5'9 at the Fox Theatre on Saturday, November 20, 2021 at 8 p.m.
A hip-hop icon since the early 1990s, Nas emerged from the Queensbridge neighborhood of Long Island City, a hotbed of rap artist since the 1980s. The son of jazz trumpeter Olu Dara, Nas has since gone on to sell over 20 million albums worldwide over the span of his legendary career and has acted as an ambassador for hip-hop culture throughout the globe.
Since the release of his 1994 debut studio album Illmatic, Nas has released 25 Billboard Hot 100 tracks, including two top 10 hits. His albums I am..., Hip-Hop Is Dead, Life Is Good and Untitled each peaked at #1 on the Billboard 200 chart.
Nas released King's Disease in August 2020 and the album earned him his first Grammy® for Best Rap Album. He recently released the sequel album, King's Disease II, on August 6 and it debuted at #3 on the Billboard 200.