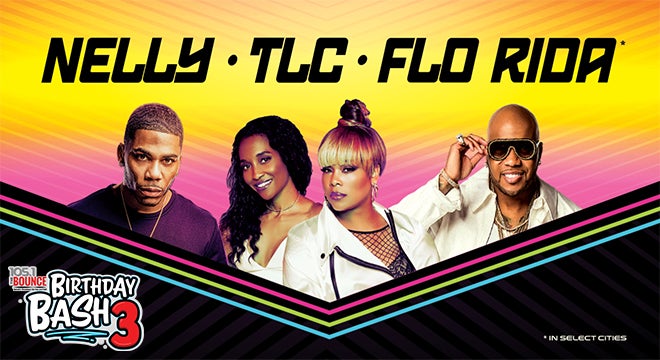 Nelly, TLC and Flo Rida
105.1 The Bounce's Third Annual Birthday Bash
Nelly, TLC and Flo Rida
105.1 The Bounce's Third Annual Birthday Bash
Event Details
Music icons Nelly, TLC and Flo Rida have announced they will be hitting the road together for an epic tour across North America. The Billboard chart-topping hitmakers will join forces to bring a show like no other to outdoor amphitheater stages all summer long to include DTE Energy Music Theatre as 105.1 The Bounce's Third Annual Birthday Bash on Saturday, August 17 at 7 p.m. Fans can expect an incredible, non-stop party with each artist delivering hit after hit all night long.
About Nelly
Nelly is a diamond-selling, multiplatinum, Grammy® award-winning rap superstar, entrepreneur, philanthropist and TV/film actor. Within the United States, Nelly has sold more than 22.5 million albums, on a worldwide scale, he has been certified gold and/or platinum in more than 35 countries, estimates bring his total record sales to over 40 million sold. Whether it is recording the hottest summer anthem, starring on a top TV show or sharing his passionate opinions as a sports commentator on Fox Sports, Nelly has continually raised the bar for the entertainment industry since stepping on the scene in 2000 with his distinctive vocals and larger-than-life personality. Some of his biggest music hits include: "Hot in Here," "Dilemma" (feat. Kelly Rowland), "Country Grammar," "Ride Wit Me," "Just a Dream," "Cruise" reached diamond status, "The Fix" (sampling Marvin Gaye) and "Millionaire" with Cash Cash and Digital Animal Farm. In 2018 Nelly headlines multiple orchestra nights and headlined the first "family audience" in Saudi Arabia. The music Icon being awarded two diamond-selling titles, one for his Country Grammar album and secondly for his song "Cruise" with Florida Georgia Line - a title only shared by 6 other rap artists. In 2016 Nelly was one of few artists with three television shows (Nellyville, Real Husbands of Hollywood and Undisputed) airing at one time. As an entrepreneur, philanthropist and actor his resume grows exponentially from his highly successful Apple Bottom women's clothing line, Vokal mens clothing, Pimp Juice energy drink, CEO of his own label, Derrty Ent. and co-owner of the Charlotte Bobcats with Michael Jordan. He has been a spokesman for Cheerios, Underarmour, Nike, Axe, Mike and Ike and many more.
About TLC
One of the greatest legacies in music history can be summed up by just three letters—TLC.
Those characters merely hint at the talent of Tionne "T-Boz" Watkins, Rozonda "Chilli" Thomas and the late Lisa "Left Eye" Lopes, but they immediately evoke an unparalleled journey nonetheless. That journey encompasses immortal anthems such as "Waterfalls," "Creep," "No Scrubs" and "Unpretty," to name a few, as well as sales of 70 million records worldwide, four Grammy® Awards, two RIAA diamond-certified albums among a total of four multiplatinum albums, ten Top 10 singles and four Number 1 singles. Meanwhile, the VH1 original film CrazySexyCool: The TLC Story chronicled their rise and broke records as the highest-rated television film premiere of 2013 and the highest-rated original premiere on the network between consistent touring.
Given the legacy behind this timeless moniker, it's fitting the undisputed "best-selling American girl-group of all-time" chose the name TLC for their fifth and first album in 15 years. TLC went as hard as ever in the booth. As a result, the music picks up exactly where they left off just sharper, smarter, sassier and even a little sexier than before. The same inimitable chemistry simultaneously drives all twelve tracks, which shot the album straight to the #1 spot on the Billboard Top 100 Chart.
About Flo Rida
Flo Rida is one of today's most vibrant and recognizable superstars, a true international icon and history-making hip-hop hero. Since bursting out of the gate a decade ago in 2007 with the RIAA 7x platinum certified hit, "Low (Feat. T-Pain)" – which spent 10 consecutive weeks atop the Billboard "Hot 100" – the Miami-based rapper has unleashed an undeniably amazing string of record-breaking, multiplatinum certified singles, including the worldwide #1 favorite, "Right Round (Feat. Ke$ha)" (5x platinum), "In The Ayer (Feat. will.i.am)" (2x platinum), "Club Can't Handle Me (feat. David Guetta)" (3x platinum), "Good Feeling" (4x platinum), "Wild Ones (feat. Sia)" (2x platinum), "Whistle" (2x platinum) and "I Cry" (2x platinum). In addition, Flo has made myriad guest appearances on such blockbuster tracks as David Guetta's platinum certified "Where Them Girls At (feat. Flo Rida & Nicki Minaj)," Olly Murs' platinum certified "Troublemaker (feat. Flo Rida)" and Taio Cruz' planetary chart-topper, "Hangover (feat. Flo Rida)." All told, Flo Rida has sold well over 100 million singles worldwide