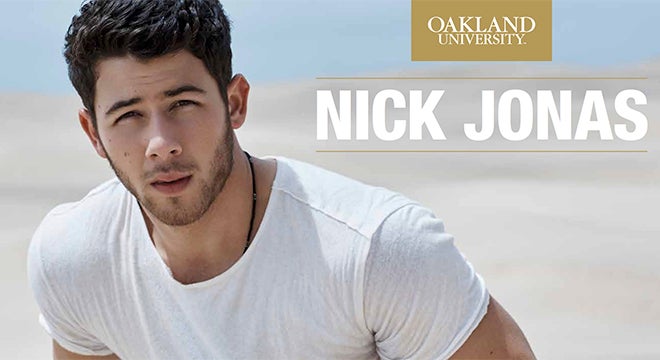 Nick Jonas
Nick Jonas
Event Details
Due to the anticipated damp conditions of the main lawn parking lot at Meadow Brook Amphitheatre, guests attending the Nick Jonas performance Saturday, April 14 at 7 p.m. will be directed to park in paved lots on the campus of Oakland University, and will be provided shuttle bus transportation to the amphitheatre.
Guests are advised to arrive early and park at Lots P35 and P37 located on the university's grounds at 253 Pioneer Drive, Rochester, MI 48309. Parking attendants and police will be stationed along the route to provide additional directional guidance. Shuttle buses will run from 3 p.m. until 1 a.m., picking up and dropping off patrons within the two designated surface lots.
Guests can access lots P35 and P37 as outlined in the attached map and advised below:
• Guests Traveling from I-75 are advised to use the University exit (exit 79) and proceed eastbound on University Drive onto Oakland University's campus; turn right at the traffic circle to southbound Meadow Brook Road; turn left on to Pioneer Drive.
• Guests arriving from westbound Walton Boulevard will be directed to turn onto southbound Squirrel Road; turn left onto Pioneer Drive.
CLICK HERE to download map.
313 Presents, Oakland University Student Program Board and Student Activities Funding Board present Nick Jonas at Meadow Brook Amphitheatre on the campus of Oakland University on Saturday, April 14 at 7 p.m.
Oakland University student tickets ($10 on the lawn, $20 in the pavilion and $30 general admission pit) are on sale now at the Center for Student Activities Service Window. For additional information, call the Student Program Board office at (248) 370-4295 or visit Oakland.edu/Concert.
"The Student Program Board is excited to be bringing Nick Jonas to OU for the return of the Spring Concert," said Stephanie Jurva, assistant director of Student Organization Programs at OU. "It has been a few years since we have brought a concert to campus and we are happy to be bringing the tradition back. We are looking forward to a fun night with the OU community!"
Jonas released his self-titled debut album in November 2014. The critically-acclaimed album included the double-platinum and No. 1 U.S. radio hit, "Jealous" and his sultry chart-climbing radio single, "Chains." A recipient of the Songwriters Hall of Fame's prestigious Hal David Starlight Award, Jonas released his third studio album, Last Year Was Complicated, in June 2016. The album includes the platinum hit "Close" featuring Tove Love.
In September 2017, Jonas released a new single, "Find You," off his upcoming album. He also co-wrote an original song titled "Home" for the movie Ferdinand, which was released by 20th Century Fox Animation. The song was nominated for a 2018 Golden Globe in the category of Best Original Song.
As an actor, Jonas garnered unanimous critical praise for his lead role in the 2016 Sundance Film Festival favorite, Goat. He also appeared in a guest-starring role in the Fox horror-comedy series, Scream Queens, and starred in the gritty television show Kingdom, a mixed martial arts drama that premiered in the fall of 2014. Most recently, Jonas starred alongside Dwayne Johnson, Kevin Hart and Jack Black in Jumanji: Welcome to the Jungle, which surpassed $650 million in worldwide box office sales within its first month. Jonas most recently completed production on Lionsgate's post-apocalyptic thriller, Chaos Walking, which also stars Daisy Ridley and Tom Holland, and is scheduled for release in March 2019.
The concert will feature Uno the Activist, an Atlanta-based rapper known for hits such as "Parkin' Lot Pimpin," "Whole Thang" and "Every Since," with the latter two racking up over one million streams online. The other opener will be chosen at the 2018 "Battle of the Bands," which takes place at Oakland University on Friday, April 6.