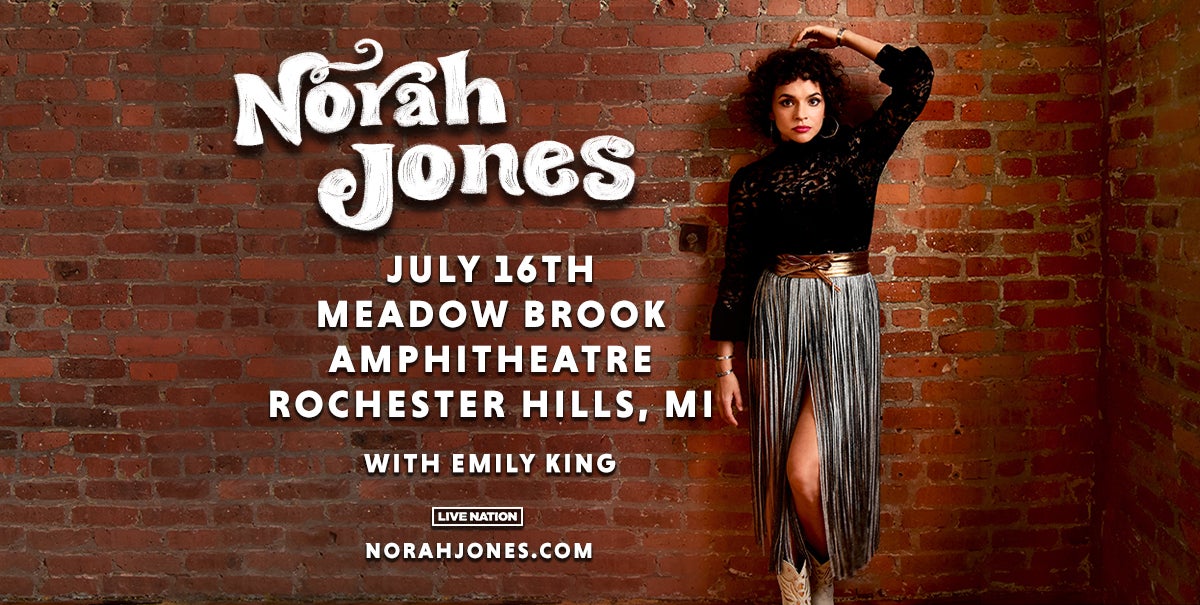 Norah Jones
with special guest Emily King
Norah Jones
with special guest Emily King
Event Details
Norah Jones will return to the concert stage this year for her first tour dates since 2019. The 9-time GRAMMY®-winning singer, songwriter, and pianist has just announced a summer U.S. tour which includes a performance with special guest Emily King at Meadow Brook Amphitheatre on the campus of Oakland University on Saturday, July 16 at 8 p.m.
This year marks the 20th anniversary of Norah's debut album and April 29 will see the release of Come Away With Me: 20th Anniversary Super Deluxe Edition, an expanded 4-LP, 3-CD, and digital collection that reveals for the first time the full story of the making of this now-classic album. In addition to a remaster of the original album, the Super Deluxe Edition also includes 22 previously unreleased tracks including the original demos that Norah submitted to Blue Note, the complete First Session demos she made after being signed, and the first version of the album that Norah made with producer Craig Street, most of which has never been heard before.
Norah's 2021 live album 'Til We Meet Again is nominated for Best Traditional Pop Vocal Album at the 64th Annual GRAMMY® Awards. The album presented globe-spanning performances of songs spanning Jones' career including favorites like "Don't Know Why," "Sunrise," "Flipside," and songs from her more recent singles series before closing with a stunning solo piano performance of Soundgarden's "Black Hole Sun" in tribute to Chris Cornell.
Additional Ticket Information
Entry requirements are subject to change. By purchasing tickets to this event you agree to abide by entry requirements in effect at the time of the event. Check the venue website leading up to your event for the latest protocols.
Norah Jones first emerged on the world stage with the February 2002 release of Come Away With Me, her self-described "moody little record" that introduced a singular new voice and grew into a global phenomenon, sweeping the 2003 GRAMMY® Awards. Since then, Jones has become a nine-time GRAMMY®-winner, sold more than 50 million albums, and her songs have been streamed six billion times worldwide. She has released a series of critically acclaimed and commercially successful solo albums—Feels Like Home (2004), Not Too Late (2007), The Fall (2009), Little Broken Hearts (2012), Day Breaks (2016), Pick Me Up Off The Floor (2020), the live album 'Til We Meet Again (2021), and her first-ever holiday album I Dream Of Christmas (2021)—as well as albums with her collective bands The Little Willies, El Madmo, and Puss N Boots featuring Sasha Dobson and Catherine Popper who released their second LP Sister in 2020. The 2010 compilation …Featuring Norah Jones showcased her incredible versatility by collecting her collaborations with artists as diverse as Willie Nelson, Outkast, Herbie Hancock, and Foo Fighters. Since 2018 Jones has been releasing a series of singles including collaborations with artists and friends such as Mavis Staples, Jeff Tweedy, Thomas Bartlett, Tarriona Tank Ball, Rodrigo Amarante, and Brian Blade, some of which were compiled on the 2019 singles collection Begin Again